Wilderness protection rules restored
December 24, 2010 - 12:00 am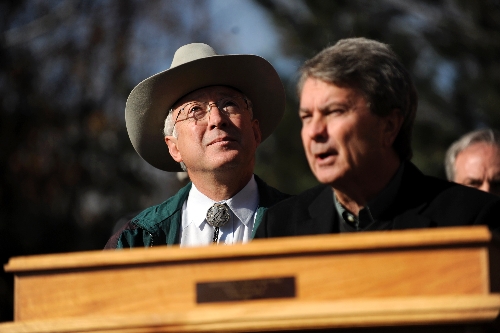 DENVER — The Obama administration plans to reverse a Bush-era policy and make millions of undeveloped acres of land once again eligible for federal wilderness protection, Interior Secretary Ken Salazar said Thursday.
The agency will replace the 2003 policy adopted under former Interior Secretary Gale Norton, Salazar said. That policy stated that new areas could not be recommended for wilderness protection by the U.S. Bureau of Land Management and opened millions of acres in the Rocky Mountain region to potential commercial development.
That policy "frankly never should have happened and was wrong in the first place," Salazar said Thursday.
Salazar said the agency will review some 220 million acres of BLM land that is not under wilderness protection to see which should be given a new "wild lands" designation, a new step for land awaiting a wilderness decision.
Congress would decide whether those lands should be designated permanent wilderness areas, Salazar said.
Congressional Republicans pounced on the announcement as an attempt by the Obama administration to close land to development without congressional approval.
Nevada Rep. Dean Heller said, "This action is a blatant attempt by this administration to circumvent Congress and create de facto wilderness. If a portion of land is truly deserving of a wilderness designation, this administration should not be afraid to engage Congress."
BLM Director Bob Abbey said a decision hasn't been made on how many acres are expected to be designated as wild lands and whether those acres will be off-limits to motorized recreation or commercial development while under congressional review.
The BLM has six months to submit a plan for the new wilderness evaluations.
Lynn Davis, Nevada field office manager for the National Parks Conservation Association, said the change would appear to "open dialogue" about what public lands should be further protected.
"In Nevada, where 85 percent of the land is owned by the federal government, dialogue is good," Davis said. "Gale Norton's order arbitrarily shut down that dialogue."
The wild lands would be separate from Wilderness Study Areas that must be authorized by Congress. Wild lands can be designated by the BLM after a public planning process and would be managed with protective measures in a land use plan.
Ranchers, oil men and others have been suspicious of federal plans to lock up land in the West, worrying that taking the BLM land out of production would kill rural economies that rely on ranchers and the oil and gas business.
The 2003 policy was an out-of-court deal struck between Norton and then-Utah Gov. Michael Leavitt to remove protections for some 2.6 million acres of public land in that state. The policy allowed oil and gas drilling, mining and other commercial uses on land under consideration as wilderness areas.
Peter Urban from the Stephens Washington Bureau contributed to this report.