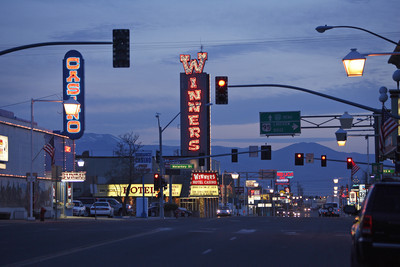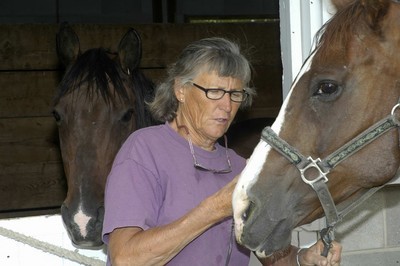 WINNEMUCCA — Although the J.C. Penney store closed a decade ago during a mining bust, there's still a Wal-Mart and a couple of Western clothing stores. The Martin Hotel offers excellent Basque food, but the next best dining choice may be the Pizza Hut.
There's one theater in town — this week offering either "The Dark Knight" or the latest Mummy installment.
And there's a 4-H horse show at the fairgrounds this weekend.
Laugh if you want, but Winnemucca has something almost every other place in Nevada wishes it had — jobs and relative prosperity.
Humboldt County's unemployment rate is 4.5 percent, far below the 6.4 percent statewide average.
In the past 11 months, sales by businesses have increased by 6.8 percent compared with the previous year. During the same period, statewide sales have declined by 2.1 percent.
Winnemucca, which sits along Interstate 80 three hours east of Reno, is the Humboldt County seat. More than 80 percent of the county's 18,000 residents live within 20 miles of the town of 7,000 named after an Indian chief.
Humboldt is one of only a few Nevada counties — all of them rural — where business sales increased compared with the same period a year ago.
For Winnemucca, it's easy to explain.
"It's gold mining that has brought us prosperity," said Richard Stone, a Winnemucca City Council member who owns a dry cleaning business. "When the stock market goes down, gold goes up. Our mines are doing really well."
On Tuesday afternoon, the parking lot for Newmont Mining Corp. was jammed with vehicles. Residents park their cars there before each shift and ride buses 70 miles east to the Phoenix mine near Battle Mountain.
Gold sold for $880 an ounce Wednesday morning on the New York commodity markets. Estimates are it costs Nevada mining companies $300 to $400 to produce each ounce. Gold peaked at $1,000 in March.
Century 21-Sonoma Realty owner Pat Gray can count on two hands the number of foreclosures in Humboldt County in the last year.
His business sells on average of five homes a week. Most are in the $150,000 to $250,000 range.
Many of the properties, however, are manufactured homes in unincorporated county areas, some of which are unsightly. But Winnemucca itself is a clean, kept-up town with many newly paved streets.
Beautiful, 4,000-square-foot homes on 5-acre lots in nice neighborhoods can be had for less than $500,000.
"We were in a full foreclosure market six years ago when gold was $200 to $250" an ounce, Gray said. "But mining went up. There are some excellent job opportunities today."
He and other civic leaders advise people to check out the Web site www.winnemuccaworks.com if they are interested in employment.
Stone realizes many urban residents would not like Winnemucca because of its isolation.
"If they want shopping malls and stuff, don't come here," he said. "You'd experience a little culture shock. This is a small, rural community; a safe, family community."
But there are other good reasons to move here.
Winnemucca has lots of water. Water your lawn whenever you want.
"We have never had water rationing," Gray said. "We have a large underground aquifer."
And the pay for mining jobs is decent, about $20 an hour.
"Why wouldn't you move here if you are making $9 an hour in Vegas and could make $21 an hour in Winnemucca and not worry about having your house repossessed?" asked Sal Romero, owner of Burdette's shoe store.
Romero grew up in Southern California and discovered Winnemucca when J.C. Penney transferred him there in 1975 to take over its department store.
"We had four department stores here then," he said with a sigh. "Now we have a Wal-Mart."
Romero went out on his own. His shoe store today is six times larger than it was when he first started out.
"Business has been good, but not all the time. We have seen some major mining busts. It got so bad one time that I had to take a second job to keep the shoe store open."
Newmont mechanic Jim Long also has seen his share of booms and busts. His daughter, Caitlin 15, has gone to a dozen different schools.
Long even turned to cowboying in Idaho after a mining bust in 2000 forced them to move from Battle Mountain. They moved to Winnemucca 3 1/2 years ago.
Unless there is another bust, he intends to stay at least until the last of his five children graduates high school.
He anticipates the current mining boom will last several more years.
"There are a lot of mining jobs available, but everything is going up in price," Long said. "It is a good economy right now."
Caitlin Long said young people "have to make up stuff to do" if they are going to like living in a small town like Winnemucca.
She and her 12-year-old sister, Harley, were helping a Christian rock band, Remedy Drive, set up its equipment for an evening concert in a local park.
Band member Phillip Zach said the Nebraska-based group performs 36 shows a year. He has seen signs of depression in other states and at times performs shows for free.
"Our major problem is the price of diesel fuel," Zach said. "We drive a bus. We are booking as many shows as ever. Our best shows are in places out in the middle of nowhere. When someone comes to town, everybody gets excited."
High fuel prices also have hurt ranchers.
Leonard Creek Ranch owner Susie Montero recently paid $6,000 to fill up her ranch tank — used to fuel the tractors and other farm equipment — with diesel fuel.
"I have to sell 12 calves to pay that $6,000," said Montero as she washed and cleaned up horses for her granddaughters, who will ride in the 4-H horse show at the fairgrounds. "I look at everything in terms of cattle."
Leonard Creek is 90 miles north of Winnemucca. Until a few years ago, it had one of the few remaining one-room schools in Nevada. Montero exists without the Internet and McDonald's. Occasionally, she turns on her TV.
Fuel prices have risen so high that Montero has started to lock up the pumps for the first time in 45 years. She gives fuel to her hired hands, but they recently were caught selling it to their friends.
"All the ranchers are locking their pumps. I'm scared for the future of ranching. I don't know how much more we can take. We are not getting more for our cattle, but everything else is increasing in price. Gas prices are hurting everyone."
The horses she is prettying up for her granddaughters are from the ranch.
"They are tools of the ranch. The price of gas being what it is, we might be going back to working horses more on the ranch."
Not everybody in Humboldt is sold on the idea their area is booming.
Dewayne Evans hasn't been able to sell his 700-square-foot, 1950s home for two summers. He winters in Hawaii and will to move there permanently once he sells the house.
People have made offers, but they cannot qualify for loans, according to Evans.
"They think they can get it for the price of a rental. A lot of poor people have come up, but they don't have $10,000 to put down. They come down from Oregon, where they were making $7 an hour, and make $20 an hour in mining and find they are barely squeaking by at $20 an hour."
Gray readily concedes the days of easy credit are gone forever in Winnemucca and elsewhere. He said federal lending requirements restrict people to no more than four mortgages.
That has prevented investors from gobbling up foreclosed homes.
"You could have the best credit in the world, but you aren't going to get another mortgage if you already have four," Gray said. "It was way to easy to get a mortgage before. But they overcorrected in my opinion."
He predicts the national and state economy will pick up after the November election.
For now, Gray isn't complaining. He is still selling homes. But like everyone else around Winnemucca, he keeps a wary eye on the price of gold.
Contact reporter Ed Vogel at evogel@reviewjournal.com or 775-687-3901.