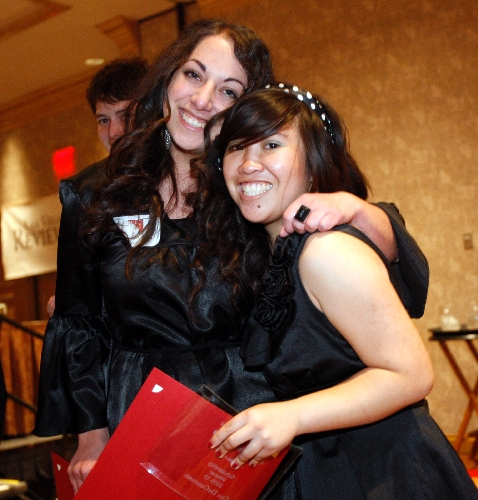 Bonanza, Faith Lutheran and Green Valley high schools took top honors in the Las Vegas Review-Journal's 34th annual High School Journalism Awards contest.
The Review-Journal honored student journalists from 26 high schools in 31 categories on Friday during a luncheon at the Suncoast ballroom.
The newspaper also presented $2,000 college scholarships to Kim DeGuzman of Advance Technologies Academy and Jade Vakilzadeh of Coronado High School.
Green Valley High won for best newspaper in a standard format, and Faith Lutheran was named best newspaper using a reduced format.
Bonanza High won for best news website, a new category.
Clarke Knight and Olivia Steinberg, co-editors of the Green Valley High InvestiGator, praised their staff's effort, including working many Saturdays and putting out an extra Christmas edition.
"We never rested on our laurels," Knight said. "We always worked just as hard from one day to the next and we never think about the past."
"We definitely put in a lot of time," Steinberg said.
Steinberg has been accepted to the University of Southern California's Annenberg School for Communication and Journalism and is considering a career in fashion media.
Knight, who reads two print newspapers a day in addition to online news, said she'll probably work at the school paper when she goes to Smith College in Massachusetts, but she plans to major in chemistry.
This was the first year advising Faith Lutheran's Crusader Chronicle for Lisa McAllister, which made it doubly great to take top honors, said editor Marc Davies.
"She had experience in journalism, but I think it was the first time she taught the class, so to come in and win it her first time was special," he said.
The paper made a special effort to use page design to reach its teen readers, said Davies, who shared the award with editors Damon Kecman, Jakub Cernoch and Jordan Mazzocato.
"Kids tend to not really want to delve into a story with just text, so when they see a cool graphic or a layout it draws them into a story," Davies said.
Hopefully, those "kids" will be his readers one day, because Davies intends to study journalism at Niagara University in New York. Though the industry is in turmoil now, he said Review-Journal managing editor Charlie Zobell helped convince him there's still a future.
"He feels like the future is going electronic, and there's always a need to write," Davies said.
Bonanza's students started from scratch when building their website, said adviser Jody Wilber. The students learned how to use Dreamweaver, a Web design program.
"We were able to make everything unique and neat," she said.
"We had a ton of pictures on there. Our goal was to get at least one of every kid during the year," she said, adding they got about 70 percent of the way there.
As befits a digital generation, her students were far more interested in getting the paper online than in crafting a print edition. Only about 10 of her 25 students are interested in journalism as a career, she said.
"The design of an online paper is what's cool," Wilber said. "Online is what was appealing to them, and then that's where they would get into the reporting and the design."
Ryanne Issacs is the editor of Bonanza's paper edition. The website is www.bengalnewsnow.site11.com .
Contact reporter Alan Choate at achoate@reviewjournal.com or 702-229-6435.