Woman dead, 11 people injured in single-car crash on I-15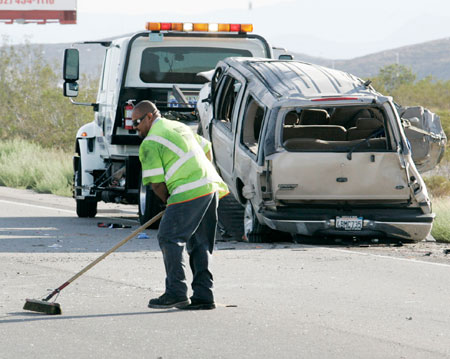 One woman died and 11 other people were injured early today when the Ford Expedition they were all riding in blew a tire and turned over on Interstate 15 near Sloan Road, Nevada Highway Patrol said.
The accident occurred just before 2:30 a.m. on northbound I-15 when the sport utility vehicle blew its right rear tire, NHP spokesman Sgt. Kevin Honea said.
According to witness reports, the SUV veered sharply across both travel lanes and rolled over in a desert patch of land. Multiple passengers were thrown from the vehicle.
One woman was pronounced dead at the scene.
Five people were taken to University Medical Center, five were taken to Sunrise Hospital and Medical Center and one person was taken to St. Rose Dominican Hospital's Siena campus.
Honea said the SUV had California license plates and seat belts for nine passengers. Twelve occupants were riding inside the vehicle at the time of the crash.
Northbound I-15 was closed to traffic until about 6:45 a.m.