World Series of Poker nears finish
November 8, 2008 - 10:00 pm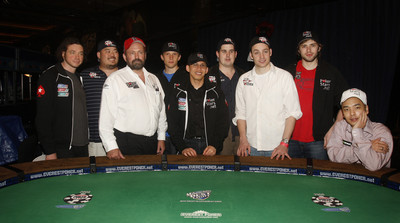 Dennis Phillips figures his replica St. Louis Cardinals baseball cap has another two days of life left in it.
Adorned with the autographs of professional poker's elite, Phillips will retire the cap sometime Tuesday. A prime spot inside the Phillips home in St. Louis is reserved for the headwear, which will be shielded by a glass case.
By then, Phillips may be able to add his signature.
The World Series of Poker's great experiment, known as the 117-day break, ends Sunday. The nine remaining players in the $10,000 buy-in no limit hold'em World Championship event pick up where they left off in the early morning hours of July 15 at the Rio.
The players, five Americans, two Canadians, a Russian and a Dane, all with varied degrees of professional poker experience, resume their quest for poker's Holy Grail, as well as a $9.12 million payday.
Phillips, a 53-year-old account manager for a commercial trucking company, who ended play in July as the table's leader by almost 1.9 million in tournament chips over Ivan Demidov of Moscow hopes to resume his earlier success.
He knows, however, his next hand will be nothing like the previous hundreds of hands he played back in July.
"The whole dynamics of the game will change because we've been broken apart for 117 days," Phillips said. "You can not go back to the table and expect people to play the same type of game with the same strategy."
Phillips' poker experience going into the Main Event was 21/2 years of live table and tournament play at regional casinos in the Midwest and South. His entire career winnings were less than $5,000, half the amount of the Main Event buy-in. He captured a seat in the field of 6,844 players by winning a satellite tournament at Harrah's St. Louis. He was given $1,000 spending money for the trip to Las Vegas.
He parlayed his efforts into the Top 10 chip leaders by Day 4 and held his own. He's watched the competition unfold on ESPN over the last few months. And, Phillips said he would change his strategy.
"You have to re-evaluate all eight of the other players," Phillips said. "When I left, I had a pretty good read on all of them. I was comfortable going ahead and finishing right then. Now, you're going to have to take a step back reanalyze it. It's going to be totally different."
World Series of Poker officials are happy with the four-month layoff. Ratings are up on ESPN. The episode that showed the field cut from 27 to the final nine had a 42 percent higher rating than last year's show. The telecasts are drawing the most viewership since 2006.
"You have to point to the new model," said World Series of Poker Marketing Director Ty Stewart. "We don't have a high-profile signature professional. But we have nine players' great stories. Overall, this new model has been more efficient."
On Election Day, ESPN televised an hour-long Final Table preview show.
During the break, players went their own ways.
Phillips used his four months away from the Rio to enhance his poker skills, hiring a pair of coaches, scrimmaging with poker playing friends, and playing in tournaments in Atlantic City and London. He also gained his share of notoriety. The fact he wore the signature-laden St. Louis Cardinals cap during the World Series of Poker, which also contained the logo of his online poker sponsor, was picked by his hometown.
St. Louis media ate up Phillips' story. Features were written about him in most of the city's magazines and sporting publications. The St. Louis Post-Dispatch newspaper wrote a feature piece on Phillips and is sending a reporter to Las Vegas to cover the final table action. During August and September, it seemed like you couldn't turn on a St. Louis-area television news show and not see a story about Phillips.
"I never knew poker was so popular in St. Louis," he said.
For a time, Phillips, who continued to work selling and leasing Ford commercial trucks, was more recognized than St. Louis Cardinals all-star first-baseman Albert Pujols.
In September, Phillips met Pujols. The Cardinals invited Phillips to throw out the ceremonial first pitch at a home game at Busch Stadium. He was joined on the field by his family, including his parents who are lifetime Cardinal fans.
"It was unbelievable. People were taking pictures and asking for autographs," said Phillips, who received a Cardinals jersey with his name on the back and an autographed bat from Pujols. "It was an amazing experience."
Other players at the final table have also experienced upticks in their celebrity status over the past four months.
Craig Marquis, a 23-year old college student from Arlington, Texas, said he has trouble keeping up with interview requests. Canadian Scott Montgomery's friends put together a fan club.
Kelly Kim, 32, a professional poker player from Whittier, Calif., who had a modest degree of success over the last four years, gained a little more respect in the poker rooms. He clung to the ninth seat at the final table by the narrowest of margins. He trails Phillips by almost 24 million in tournament chips, but his place at the table has raised his profile.
"Just being there has been a tremendous experience," Kim said. "There has been a lot of attention, a lot of interest from poker players. It's an opportunity of a lifetime for me. I have chances for additional sponsorships."
The time off allowed players to test their skills in additional tournaments.
In October, Demidov made the final table of the World Series of Poker — Europe Main Event. He was eliminated in third place, winning $608,995.
Primarily an online poker player, Demidov switched to live table play because of the financial freedom.
"I can now afford to play any offline event I want and whenever I want," Demidov said. "I'll be traveling a lot more now, in fact I won't be back home for almost four months."
No one, however, has picked up in the publicity department like Phillips. He has become a poker ambassador. He committed to give 1 percent of whatever he wins at the World Series of Poker to the Bad Beat on Cancer charity. PokerStars, his online sponsor, agreed to match the donation.
He's also donated to the bottom line of Southwest Airlines. He joked that the flight between St. Louis and Las Vegas will be renamed in his honor because of the number of round-trips he's made in the past four months. Also, he's expecting about 200 or 300 friends and family members to travel from St. Louis to the Rio to root him on.
"I've got this little window of opportunity in which I can take advantage," Phillips said. "I was on a good roll and was ready to keep on playing four months ago. But the break has been good for me and good for the game."
Contact reporter Howard Stutz at hstutz@reviewjournal.com or 702-477-3871.