Yolanda King named Clark County's new top executive officer
September 20, 2016 - 5:29 pm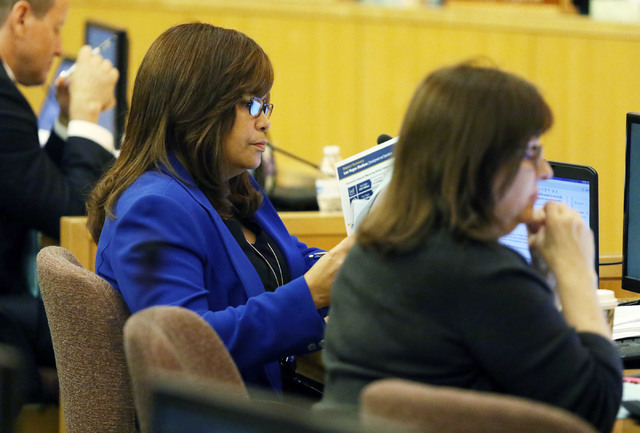 Clark County's newest county manager will be its chief financial officer.
County commissioners voted unanimously Tuesday to appoint Yolanda King, 48, as the next chief executive officer.
"It's truly a blessing to serve for the community that I have grown up in," said King, a Las Vegas native and county employee for more than 30 years. "I could not have done this without my team and my staff."
She will replace Don Burnette who plans to resign after the Nov. 8 general election. Burnette, 51, has held the position since 2011.
"I've got great confidence in Yolanda," Burnette said. "She's demonstrated to me over the years that she has what it takes to take this county to the next level."
Further details, including King's salary and start date, will be included in an employment agreement that she and Burnette will draft.
King said Tuesday that she will prioritize seeking the state Legislature raising its cap on property tax increases.
"There are some fixes that we have to make to that property tax cap so we are able to see some growth from property tax revenues so we can provide services to all of our constituents," she said.
Commissioners took time during their Tuesday meeting to lavish King with praise before appointing her.
"You can definitely hold your own, and you can definitely hold us accountable, and you will bring your own nuances to the county," Commissioner Marilyn Kirkpatrick said. "I think you will bring great things."
Commissioner Lawrence Weekly said the county made the right move by promoting from within rather than conducting a costly and time-consuming national search for its next manager.
"It's amazing how we can go all around the world and our blessings are right in front of us," he said.
Commissioner Chris Giunchigliani said she was heartened that King was favored for the position, because it would bring "a little more color and diversity" to county leadership.
King holds a dual bachelor's degree in accounting and management information systems from UNLV. She also holds a master's degree in business administration from the University of Phoenix.
King began her career with the county in 1986 as a part-time parking toll collector at McCarran International Airport. She became the county CFO in January 2014 and also served as an assistant county manager.
Contact Michael Scott Davidson at sdavidson@reviewjournal.com or 702-477-3861. Follow @davidsonlvrj on Twitter.