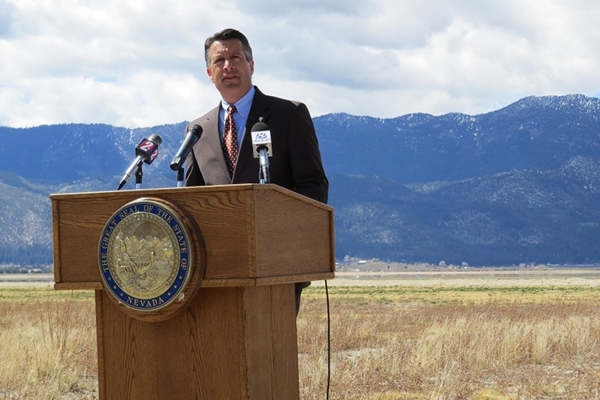 Persistent drought throughout Nevada and the West has politicians diving into the murky depths of water law.
As reported by the Review-Journal's Sandra Chereb, last month's drought summit and statewide public workshops on water use set the stage for a broad water agenda at the 2017 Nevada Legislature. It promises to be more divisive and parochial than this year's tax debate in Carson City.
The eight-member Nevada Drought Forum, chaired by Department of Conservation and Natural Resources Director Leo Drozdoff, will submit a list of water conservation and drought preparedness recommendations to Gov. Brian Sandoval by the end of the year. In addition, a legislative committee is conducting an interim study on water. Some of the ideas floated in forum discussions appear to be buoyant; others are certain to sink.
Lawmakers will face a huge policy conundrum: Water is a state resource subject to state law, but local governments have control over the land-use decisions that drive water consumption.
Which is to say lawmakers can expect an earful from rural and environmental interests who'll call for all urban swimming pools to be filled and for new home construction to be halted. And, in response, some urban interests might point out that the economic output of the state's water-guzzling ranchers and farmers pales in comparison with the highly water-efficient Las Vegas Valley.
That conversation is wasted breath. It will be a heavy enough lift to make small changes to water law, such as tweaks to priority-based water rights, which allow properties with the oldest water rights to be first in line regardless of drought. Changing that system would amount to a taking that should require compensation. And the state isn't drowning in tax dollars.
Las Vegas is doing more than its part to conserve as the level of Lake Mead continues to drop. We're reducing our net water use even as our population grows, thanks to recycling and conservation. And a proposed pipeline that would move rural groundwater to urban Las Vegas is nowhere near the horizon.
The Legislature can take steps to empower local governments to do more to conserve and store water, and it can change the way water rights are recognized and enforced, but lawmakers will overreach if they try to micromanage local planning and water management.