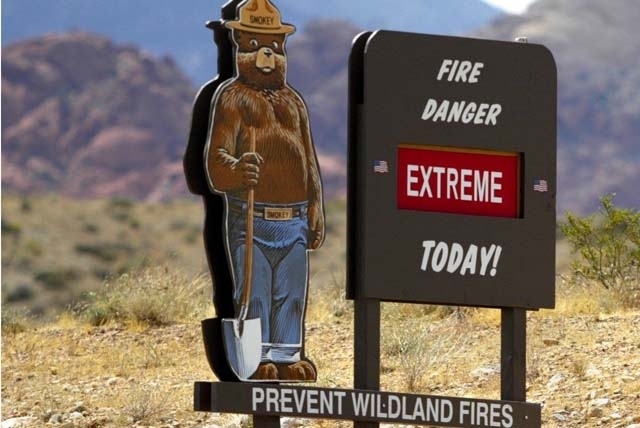 Decades ago, when Smokey Bear became an icon, his mantra was, "Only you can prevent forest fires." The warning has since evolved into, "Only you can prevent wildfires."
But as we learned with the devastating Carpenter 1 Fire, which was started by a lightning strike and scorched 28,000 acres of Mount Charleston last month, preventing wildfires can exacerbate them.
Scott Abella, a forest ecologist, research professor and expert on forest fires, says such fires are ever more devastating because of the way forests throughout the West are managed by the federal government.
"When U.S. policy became fire is bad — Smokey Bear and all that — there was a huge increase in tree density and underbrush," Mr. Abella told the Review-Journal's Henry Brean last month. Translation: Lots of fuel to facilitate the growth and duration of a wildfire, thereby increasing the threat to the forest, property and people.
In the case of the Carpenter 1 Fire, Mr. Brean reported, the Ponderosa pine forest of old featured more widely spaced trees and light ground cover that was regularly swept clean by low-intensity fires in the Spring Mountains.
That's no longer the case, leading to the overgrowth that Mr. Abella said sets the stage for massive "forest-killing type fires" such as Carpenter 1.
The solution, according to Mr. Abella and a growing number of scientists, is smarter land management policy: thinning trees and brush so the landscape can be allowed to safely burn in the healthy, renewing way it once did before the government got carried away with preservation.
Sen. Dean Heller, R-Nev., has co-sponsored legislation to simplify such a process. According to Sen. Heller's office, the Stewardship Contracting Reauthorization and Improvement Act would make it easier for the Bureau of Land Managment and the U.S. Forest Service "to enter into contracts with public or private entities to carry out a variety of land-management projects, including those that can reduce the risk of wildland fire." If the bill isn't passed, the Interior Department's authority to enter such contracts expires at the end of September.
Some people disagree with forest thinning, stating that it's "logging disguised as restoration," Mr. Abella said. And so what if it is? If there's an economic benefit to go with the safety benefit, that makes thinning a doubly good policy.
The Spring Mountains have mostly low-quality wood that isn't marketable, so costs of thinning couldn't be recouped. But as Mr. Brean noted, the government just spent $15 million putting out the Carpenter 1 outburst, and without a better policy, taxpayers could be coughing up similar sums on a regular basis. If the Spring Mountains wood can't be sold, give it away to those who have wood-burning fireplaces. Find a reasonable location to haul the wood to, and invite the public to come and take it all away.
It surely beats the alternative of another devastating blaze that fills our skies with ash. And the next one might not spare Mount Charleston's homes and residents.