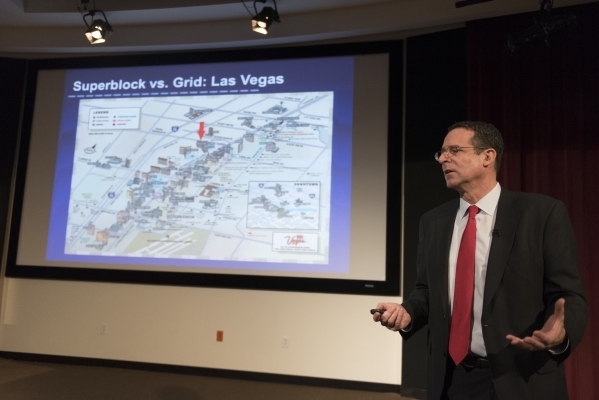 The push is on to develop a plan and build out a light-rail transportation system from McCarran International Airport to the Strip, and perhaps to downtown and points far beyond. As the Review-Journal's Richard Velotta reported in a pair of articles earlier this month, the Strip is especially seen as a prime location for light rail, based on current public transit usage.
David Swallow, a senior director with the Regional Transportation Commission of Southern Nevada, told the Las Vegas Convention and Visitors Authority board of directors on Jan. 12 that bus fares from routes along the Strip represent about 34 percent of all transit revenue and that the Strip line far outperforms most public transit systems. In fact, if the Strip is broken out separately, farebox revenue provides 163 percent of operational costs.
So the resort corridor has the density and customer demand to potentially be a viable line. Couple that density and demand with the Strip's close proximity to the airport — another high-density, high-demand area — and getting to hotels can be a difficult and unnecessarily long process that makes a light-rail line worthy of consideration. We're not talking about more than 40 miles of line, as in Denver, or even the 23-mile line in Phoenix. An airport connection to the Strip has a chance to actually be economically viable.
However, extending from the Strip to downtown or anywhere else in the Las Vegas Valley sends light rail off the rails, into areas of less density with far less demand.
Mr. Velotta reported that Robert Lang, the director of Brookings Mountain West at the University of Nevada, Las Vegas, gave a two-hour talk Jan. 15 on the benefits of light rail and how a successful system that has been developed in Phoenix could be replicated in Southern Nevada. Mr. Lang said he spent a semester at Arizona State University when Phoenix's Valley Metro system was under construction, and while that time was "awful" and "disruptive," Mr. Lang noted the system has drawn new real estate investment and provided more transportation convenience.
Left unsaid is what such an extensive line hasn't drawn: more riders. Yes, the Phoenix line extends throughout much of the region, but overall public transportation ridership — bus and light rail — has been flat since light rail began operating in 2009. Fares for light rail only cover about 40 percent of operating costs (perhaps not even near that, depending on how you do the math), leaving taxpayers on the hook for the other 60 percent in perpetuity. And a primary reason for that is that a lot of light-rail routes aren't drawing paying customers.
With that in mind, planners have to be exceptionally cautious with light rail in Las Vegas. They don't need to do this all at once. In 2005, there was a proposal put forth to use existing rail line for a 33-mile plan that would include Henderson, downtown and North Las Vegas — a multibillion-dollar proposition that wouldn't have even included stops where patrons would most need them. Furthermore, proponents' own studies showed it wouldn't save commuters time. We opposed it as a boondoggle with bailout written all over it.
Phoenix has already poured more than $1.4 billion into its system and last year had to go back to voters to pass an an additional $7.4 billion for light-rail expansion in the coming decades. Randal O'Toole, a transportation expert with Cato Institute, said undoubtedly that expansion will go to less-dense areas with less demand, further decreasing its viability, which is negligible to begin with.
A line from the airport to the Strip — Mr. O'Toole doesn't even endorse that proposal — might cost $1 billion or more, as well, but that's where the focus must be, since that line actually has the potential to be an effective use of funds. Figure out how to pay for the airport-to-Strip stretch, both in the short and long term, and figure out a way to make sure guests can easily exit trains and get to the check-in desks at Strip properties. Those are the most important elements.
Light rail can be a plausible solution to some of Las Vegas' transportation issues. But it's only part of the solution, and for now, it's a worthwhile pursuit in only part of Las Vegas — from the airport to the Strip corridor. That's an idea that could work with the right plan.