EDITORIAL: North Las Vegas complaint highlights nastiness of government reform
November 12, 2015 - 10:35 pm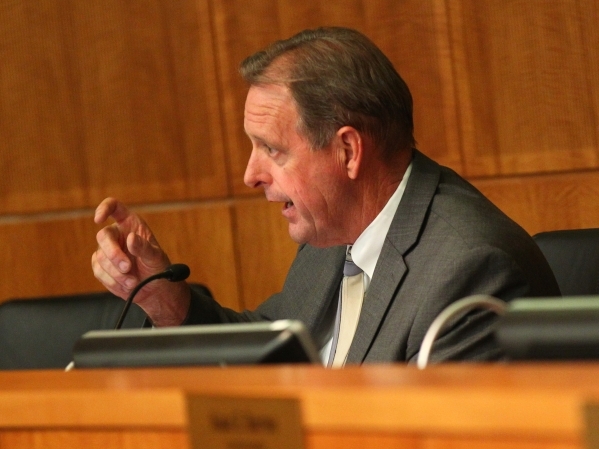 Reforming government is a difficult, nasty business, especially when change comes at the expense of public employees.
A sure sign that government favors taxpayers' interests over those of public employees: A complaint is filed with Nevada's Local Government Employee-Management Relations Board.
The primary purpose of the panel, long sympathetic to labor largesse, is to give public employees a forum to discourage governments from challenging the status quo. Complaints ensure any dispute drags out for many months and generally require local governments to expend resources on private counsel.
No government entity in Nevada is in need of money-saving reforms as much as North Las Vegas. Not surprisingly, no local government in Nevada is hauled before the EMRB as frequently as North Las Vegas.
North Las Vegas nearly fell into state receivership in the aftermath of the Great Recession. Despite the city's worst-in-the-nation housing collapse and prolonged economic downturn, North Las Vegas' living-large labor groups refused to share the pain. For years, they fought wage and benefit concessions and declined to surrender pay raises the public couldn't afford. The city cut services, including library hours, fire station operations and police patrols.
It took the intervention of Gov. Brian Sandoval, who assured the city's unions that receivership would not work to their favor, to keep the city government alive and afloat. But that merely bought the city time. So Mayor John Lee and the City Council utilized several tools to further cut costs, including one long feared by public employees: outsourcing. In May, the city outsourced its human resources department.
Last week, those outsourced workers filed an EMRB complaint alleging their positions were eliminated as retaliation. Their complaint alleges Tammy Bonner and Bachera Washington were targeted for several reasons, including their 2013 fight to keep pay raises, along with ethics complaints they filed that alleged Mr. Lee engaged in rampant favoritism toward fellow white Mormons.
There is no question that Mr. Lee and his administration have turned City Hall upside down and inside out to slash its expenses and reduce projected future budget deficits. Is it possible that he and his charges crossed a line, or multiple lines, to make it all happen? Certainly. But is it possible that yet another EMRB complaint has been filed against the city solely to inflict political damage and discourage further reform? Or, for that matter, to discourage all other Nevada local governments from outsourcing government jobs to the private sector? Absolutely.
We wish more governments would outsource more public services, especially when government is locked into pay scales that vastly exceed comparable positions in the private sector. Park, landscape and building maintenance, human resources, custodial and security jobs and other positions are no-brainers for outsourcing. It would save money and reduce pressure for future tax increases. But governments fear the fiscal and political cost of defending such measures. And what's playing out in North Las Vegas shows exactly why.