EDITORIAL: Six reasons why president was wrong to reject Keystone
November 13, 2015 - 10:45 pm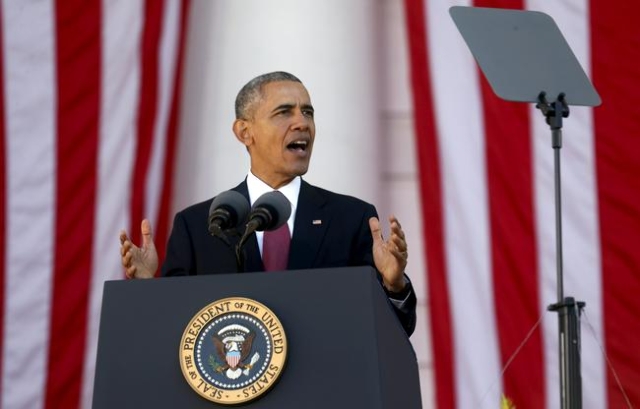 This month, after stalling for a ridiculous seven years, President Barack Obama officially rejected the construction of the proposed Keystone XL oil pipeline from Canada. The announcement was anticlimactic and hyper-political. The president repeatedly has downplayed Keystone's economic benefits and sided with environmentalist donors who claim the "dirty" and "unsustainable" pipeline would be too risky for the environment.
The trouble is, they're wrong. Here are six reasons why:
1. The State Department determined the Keystone wouldn't have a significant impact on carbon emissions. Rejecting Keystone is actually worse for the environment because now the oil will move via rail and truck, which are less safe, to boot.
2. Keystone would simply be one more energy pipeline crisscrossing a nation that already contains 150,000 miles of pipeline that safely and quickly move fuels. While Keystone was being debated, domestic firms were busy building new pipelines to handle increased crude production. Some 12,000 miles of new pipeline has been built since 2010. That's more than 10 times the proposed length of Keystone, which would have been 875 miles in length.
3. Delaying and rejecting Keystone did nothing to block Canadian oil from entering the United States. When the pipeline was first proposed in 2008, we were importing 2.5 million barrels of oil per day from Canada. We are now importing 3.9 million barrels per day. This increase is more than 1.5 times greater than Keystone's projected capacity of 830,000 barrels per day.
4. It's hypocritical. President Obama touts taxpayer-funded infrastructure spending as a way to boost the economy but rejected a project that would have created an estimated 42,000 jobs over two years funded entirely by the private sector.
5. It's an outrageous slap to Canada, our neighbor, geopolitical ally and second-largest trading partner behind China.
6. Keystone would have boosted the supply of fuel for the more than 250,000,000 vehicles already on the roads in the United States. Since 2006, the United States has added 3.6 million barrels per day of new oil production. That's roughly equal to the combined output of two OPEC countries: Kuwait and Ecuador. That surge in crude production has driven global oil prices down from more than $100 per barrel in 2014 to about $41 per barrel today. Solar and wind power and green technologies won't make a dent in petroleum demand for decades, and the 800,000-plus barrels the pipeline would have provided each day would have served as valuable insurance against market volatility.
Affordable energy is a shot of adrenaline to the economy. The president just declared his desire to make energy more expensive.