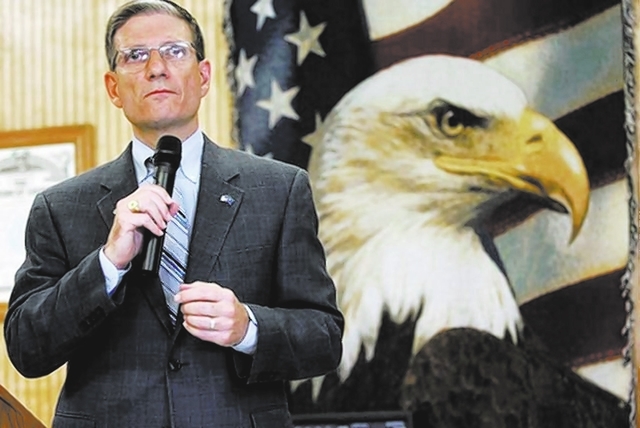 After congressional business wrapped up Aug. 2, senators and representatives scattered far and wide for a five-week recess. In most cases, that scattering sent members of Congress either back home or on vacation.
For Rep. Joe Heck, R-Nev., there was still some work to be done, though not of the political variety.
Rep. Heck went straight from Washington, D.C., to Atlanta for a stint with his Army Reserve unit. Rep. Heck, who in May was nominated for promotion from colonel to brigadier general, is an Iraq veteran and former emergency room physician who serves as a medical adviser for the office of the chief of the Army Reserve. He'll return home to Henderson on Monday, after spending a week working with his unit.
Rep. Heck's service certainly merits recognition, but it also speaks to a broader issue: the declining number of federal lawmakers who have military experience. The 113th Congress has just 108 members who are either serving or had served in the military, 10 fewer than the 112th Congress. Dating to the 92nd Congress (1971-72), military experience among lawmakers has plummeted from 73 percent to today's level of 20 percent. The House has 90 members with military experience (including two delegates), and the Senate has 18.
In the age of global terrorism and overseas upheaval, today it's as important as ever to have people in Congress with military service. This is underscored by the events of the past week, with the United States shutting down embassies and consulates throughout a huge swath of the Middle East in response to heightened concerns to terror threats.
The sequester — which took effect March 1 — is a political football nobody wishes to take credit or blame for, but its effects have been particularly hard on the military. The U.S. economy, with $17 trillion in debt, is in such a state that all facets of government, including defense, must undergo belt-tightening. However, the military is expected to come up with more than $500 billion in cuts over the next decade, more than half of the sequester's $1 trillion total.
Should the sequester stay in place, and should that share hold up, it becomes even more relevant that more members of Congress have some background to draw from in determining when, where and how to make such massive cuts without sacrificing the strategic and security interests of the United States.
Right now, there's plenty of uproar over the National Security Agency nosing into everybody's private business, purportedly in the name of keeping everyone safe. A House vote last month came close to pulling funding for a portion of the NSA's data collection efforts. Yet there's much less indignation about how to fund those who will actually provide that security should it be needed: the armed forces on the front lines.
Members of Congress with military experience, such as Rep. Heck, have the institutional knowledge to help make those difficult and important decisions. We should be sending more of them to Washington, not less.