SEBELIUS: Another delay in medical marijuana case?
September 9, 2013 - 10:43 pm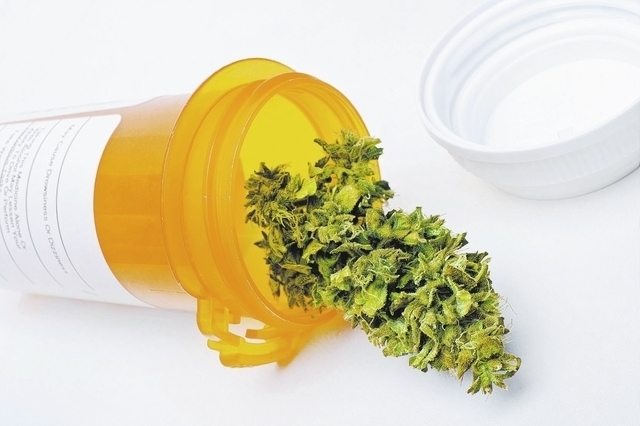 Deputy District Attorney Christopher Laurent found himself at a loss for words Monday, as the Nevada Supreme Court sharply questioned him about Nevada's ridiculous medical marijuana law.
Voters in 2000 passed a constitutional amendment calling for the legalization of medical marijuana, commanding the Legislature to devise "appropriate methods for supply of the plant to patients authorized to use it." But the Legislature's ultimate solution — allow patients to grow their own plants, and keep buying marijuana or the seeds to grow it against the law — left everything to be desired.
The 2013 Legislature finally fixed the problem, passing a bill that authorized medical marijuana dispensaries. (The Legislative Counsel's Digest for that law frankly admits, contrary to the 2000 constitutional amendment, that "existing law does not specify the manner in which qualifying patients and their designated caregivers are to obtain marijuana.")
But that law came too late to help Leonard Schwingdorf, one of the proprietors of the Sin City Co-Op. The dispensary offered marijuana to, and accepted donations from, undercover Las Vegas police officers, who charged Schwingdorf and others with illegally trafficking in marijuana. (That happened even though paperwork the officers filled out specifically said a donation was not necessary to obtain marijuana.) A grand jury indicted Schwingdorf for the offense.
That's when former Clark County District Judge Donald Mosley stepped in, tossing out the indictment and the case by saying the state's law was unconstitutional, not to mention "mind-boggling." Of course, Mosley is right: Until this year, the Legislature didn't do anything even close to what the voters ordered it to do in 2000.
That's the kind of skepticism that Laurent encountered Monday, as Nevada Supreme Court Chief Justice Kris Pickering asked him whether the Legislature had really fulfilled the constitution.
"It's almost a don't ask, don't tell," Laurent replied. "But it's [marijuana] out there."
Justice Jim Hardesty pressed: Does the grow-your-own approach really answer the constitutional mandate? "That's what they deemed appropriate at the time," Laurent replied. You have to feel sorry for the guy, charged with enforcing a law that has serious constitutional infirmities baked in like pot in brownies.
But if supporters of the medical marijuana movement were hoping for a clean victory, it appears they will have to wait a bit longer.
When justices questioned attorneys representing Schwingdorf, they wondered if the case should even be at the Supreme Court yet. That's because Mosley dismissed the case before a trial, before prosecutors had a chance to convince a jury that "donations" were the same thing as "consideration" (i.e. money given in exchange for marijuana), which the law bans. It's entirely possible Schwingdorf's attorneys could have argued the opposite to the jury and obtained an acquittal, ending the case. On the other hand, a conviction could give rise to an appeal and an attack on the constitutionality of the state's laws.
Because that trial never happened, at least two of the justices wondered aloud if they were not being asked to render an improper "advisory" opinion, one that is issued without an actual legal dispute to be settled.
"Why would we put the people in a position to have to guess [if "donation" and "consideration" are the same thing]?" asked Joseph Low, one of Schwingdorf's lawyers. "Why should we put a jury in a position where they have to guess?" Instead, the court could settle the question once and for all.
Justices may yet do that, but a more likely outcome is the case will be sent back to District Court for a trial. If Schwingdorf is convicted, there would be a live controversy for justices to settle. It seems a shame to do that, given that even the Legislature has finally come round to fulfilling the voters' wishes, albeit 13 years too late. Schwingdorf's only real crime may have been a lack of patience.
Steve Sebelius is a Las Vegas Review-Journal political columnist and author of the blog SlashPolitics.com. Follow him on Twitter or reach him at (702) 387-5276 or ssebelius@reviewjournal.com.