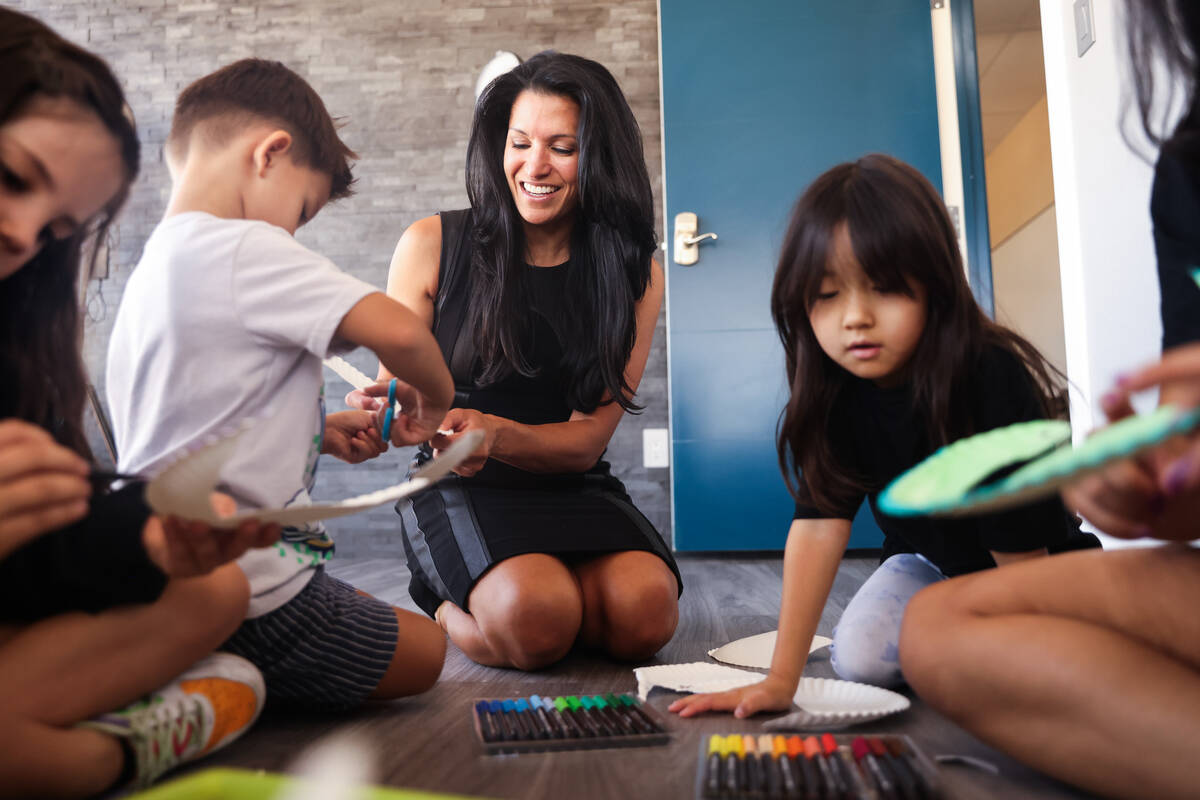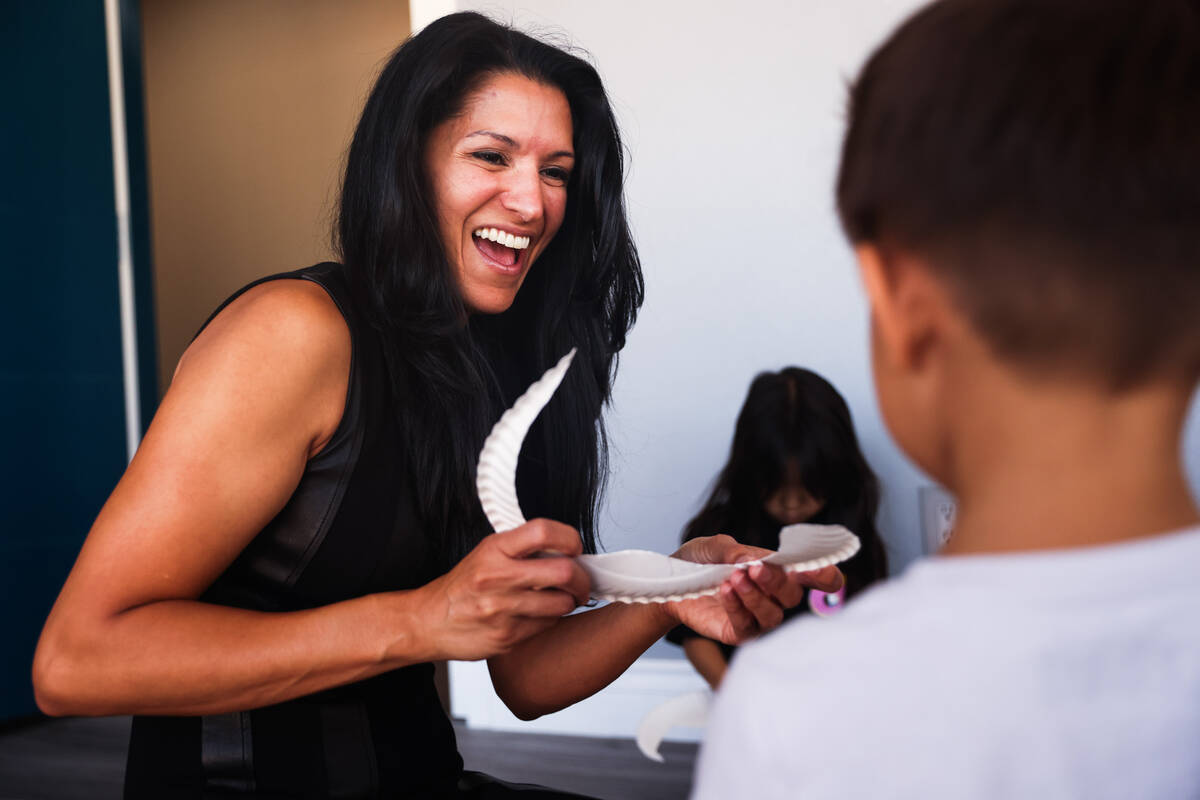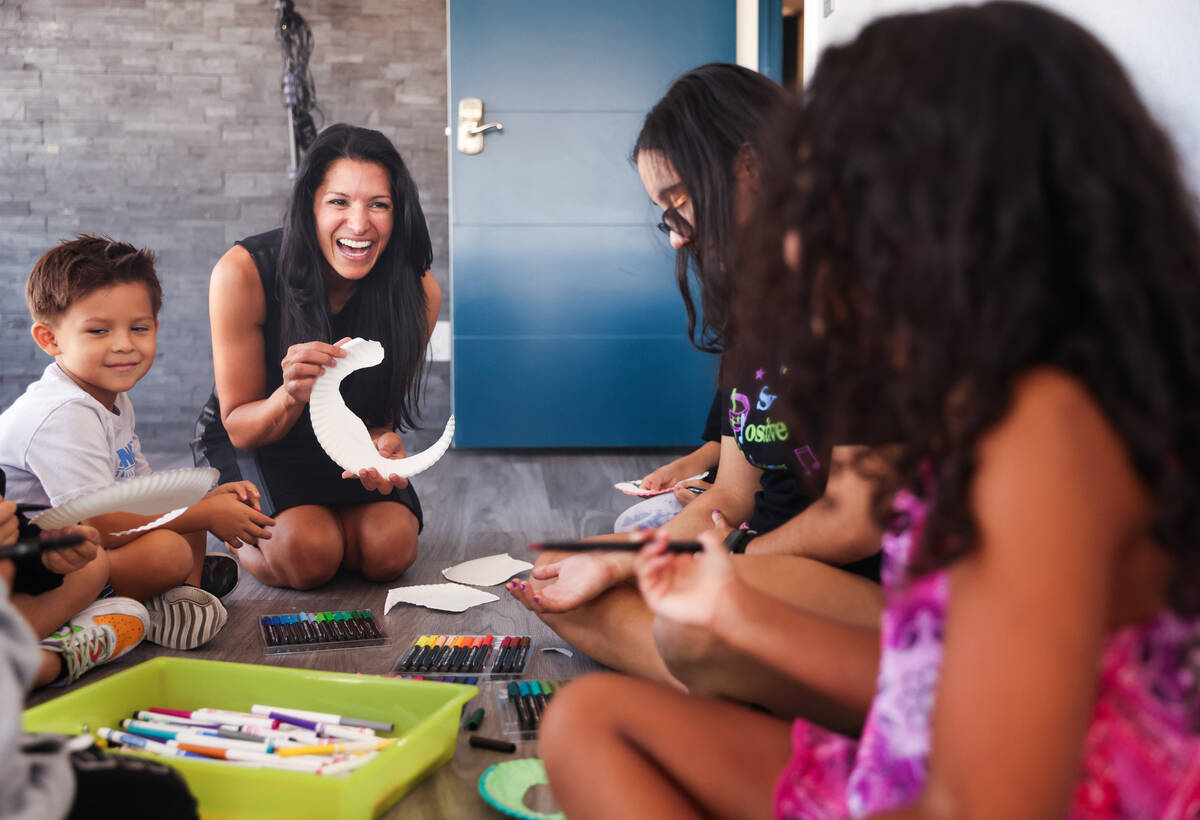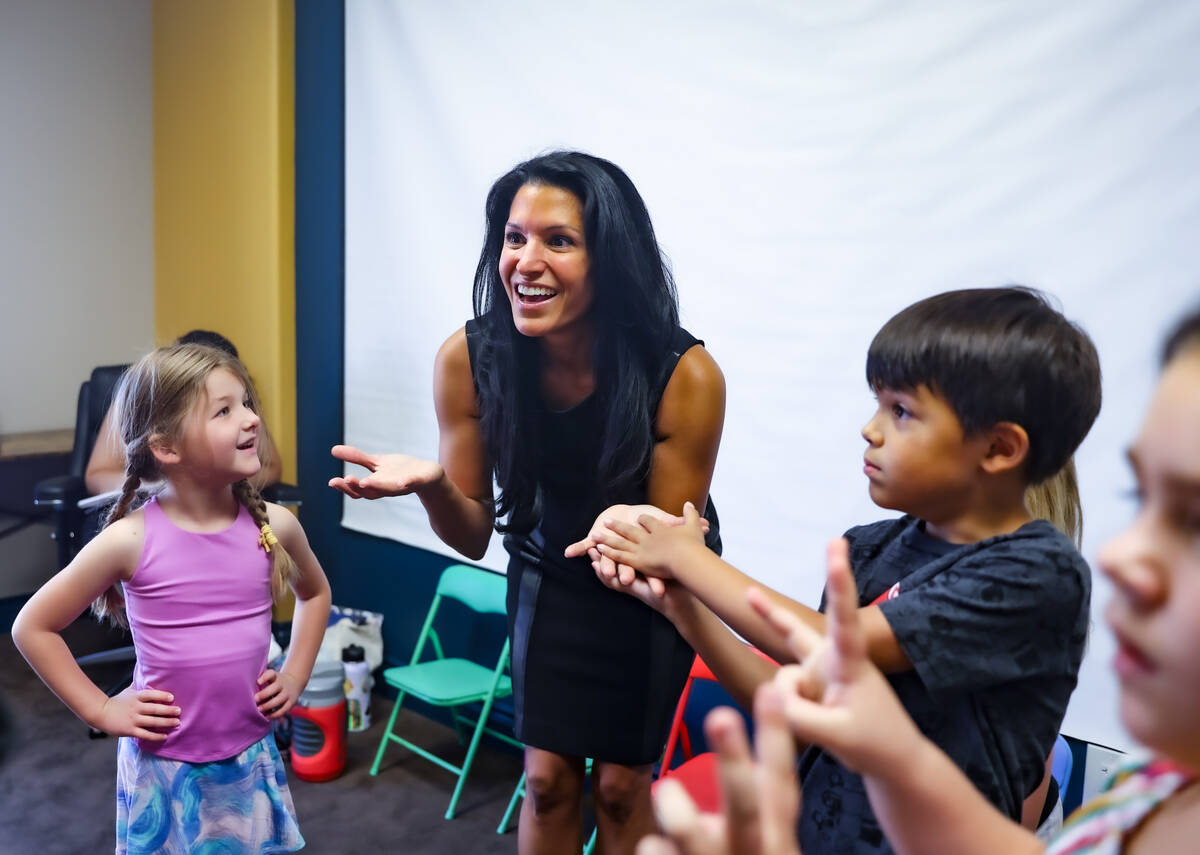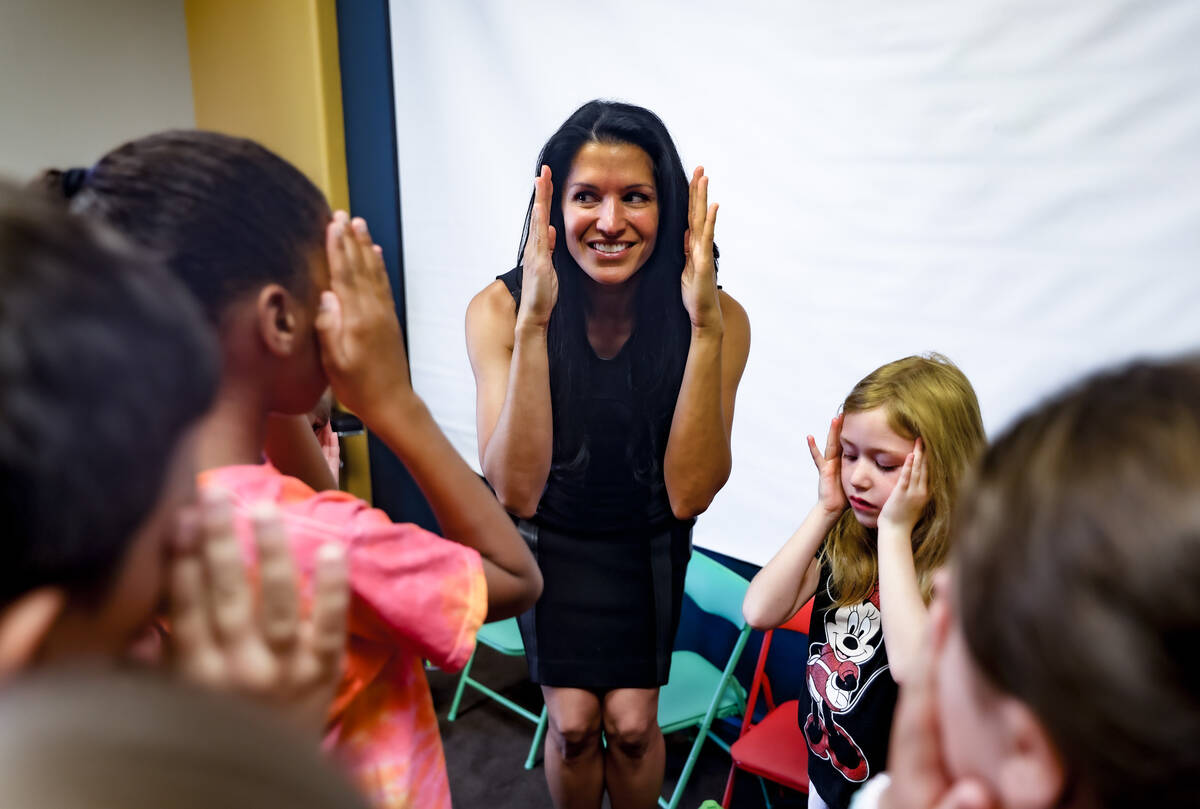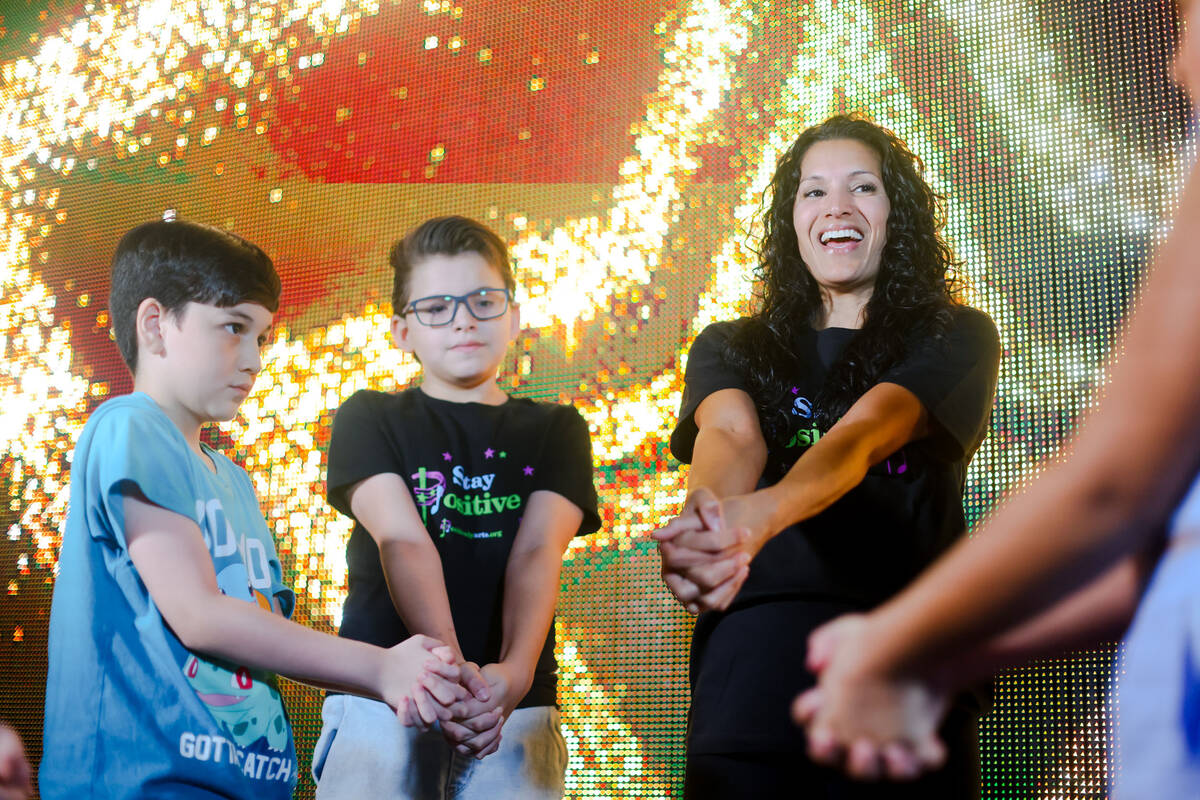 Pilita Simpson, the founder of the Southern Nevada nonprofit Positively Arts, pulls up a clip on YouTube. There she is, in 2001, performing at Walt Disney World's Animal Kingdom. In another clip, she's singing with the Pop Rebels Band, who once opened for KC and the Sunshine Band. But she's never much cared for the spotlight, and in June, when Leadership Henderson's Class of 2023 called her to the stage to accept a check for more than $100,000 for Positively Arts, she could hardly breathe.
"I was a mess," she says. "I was shaking. … I was like, 'Kids come onstage with me.' And when I brought all the kids onstage, I started to feel better."
Those kids — and their social, emotional and intellectual growth — are at the center of Simpson's mission to create the foundation for good lives through the power of art. Positively Arts seeks to arm kids with life skills and give them tools to manage their stress, fears and emotions so that they can succeed in all areas of their lives through fearless acting, singing, mentorship and empowerment.
As a graduate student at Harvard, Simpson studied arts in education, earning her master's degree in 2005. Nine years later, she combined her entertainment and academic backgrounds to start Positively Arts. That year, Simpson had performed heavily on the Strip; she'd just closed a show at Planet Hollywood and was singing nightly with her band. But the business side of the entertainment business wasn't coming naturally to her. "I was falling and failing," Simpson says, "and embarrassing myself at every turn."
But she worked to master skills such as auditioning, public speaking, time management and entrepreneurship, as well as the "soft skills" indispensable to life in the arts — gratitude, respect, kindness, communication. And buoyed by a belief in what art had done for her, she decided to branch out into the equally challenging nonprofit world.
The beginning of Positively Arts was humbling and lean. The nonprofit operated like a professional vagabond, settling wherever a community partner would lend a space to conduct a master class on confidence. But after years in the entertainment business, she knew the importance of persistence. And she knew that her mission was worth it.
When Simpson was 13, her father died unexpectedly, and in the years that followed she almost lost her way. She hardly talked to her brothers and seldom saw her mother, who worked multiple jobs to pay for essentials. A supporting role in her high school's musical helped pull her out of a deep depression: She now had an expressive outlet to voice her loss and a theater family to lean on. Later, when Simpson, at Harvard, gained a deeper understanding of the neurology behind the social and emotional development benefits of the arts, she wanted to use art to help others make breakthroughs of their own.
Simpson envisioned a space where children going through similar struggles have a place to feel worthy and respected regardless of socioeconomic status; a place to help them expunge messages of not being good enough, smart enough, pretty enough; a place to shed feelings that they don't belong because of their demographic characteristics. Positively Arts also serves a wide range of kids with unique needs: cancer survivors, people who are blind, hearing impaired and neuro-divergent.
"The arts allow kids to discover their own unique voices and contributions to society, to break out of any boxes the rest of the world has put them in," Simpson says. "It allows them to create their own box, to create and write their own story, to realize that they have everything within them to achieve their dreams and goals."
Positively Arts is donor- and grant-supported, Simpson says, with revenue from programs as well. About 70 percent of students attend on tuition assistance. "We want our programs to be accesible to every learner. In eight years, we have never turned a kid away. We're like, 'Come in, pay what you can.'"
In August 2022, after eight years without a building, Positively Arts moved into a 10,000-square-foot production studio in Spring Valley. (Classes are also held at Whitney Ranch Recreation Center in Henderson.) Each day begins with Circle Up, where kids gather to establish common ground. "In a circle, everybody's equal," says DeLee Lively-Torti, the Positively Arts Director, who has a Grammy and a Tony nomination to her credit. Circle Up is a way to get a sense of the mindset of each of the kids, she says. "You don't know what happened in the car before they came in here." Omar Coeto's 14-year-old daughter, Abigail, is a singer who entered the program four years ago, when she was in a dark place after cancer treatments. Initially, Omar was skeptical about how any organization could get through to Abby. "We'd already tried with therapy, and that didn't help with Abby's depression," he says. "I had some doubts about how much singing lessons could really help, but I didn't realize at the time that it wasn't only that, but life lessons instead."
Coeto says parents don't realize how crucial community-based support is until they have a kid who is depressed. Every year he records a video of Abby's journey. He shows me two montages before and after she came to Positively Arts to show the dramatic difference in her demeanor.
One of the key Positively Arts programs is Get Launched Vegas, set in an American Idol format. Contestants learn how to overcome rejection and how to buffer the loss. Each year, Simpson helps them create small goals that lead to achieving bigger ones.
Crystal Pantelas-Hemmers, 17, a senior in high school who came to Positively Arts four years ago, participated in Get Launched, and volunteered before being hired by Simpson last summer as a paid intern. She found Positively Arts shortly after being bullied for her appearance. She hadn't yet told her family or friends about the bullying, but she confided in Simpson and says the opportunities Positively Arts gave her to perform around Vegas and in festivals helped her to become more confident and stand up for herself. "I was really shy and timid when I joined," Crystal says. "I had a fear of being judged."
Even after Crystal goes off to college, she says she'll still work for Positively Arts by holding Zoom classes or working during the summer when she's back. Crystal says the acting and singing taught her how to better speak to people and present herself to the world — essential skills today, since she also works at a law firm. Her only regret is not telling people sooner about the mistreatment at school. "I was so far down," she says, "before I got the help I needed."
Simpson teaches not only art skills but the kind of business fundamentals she once found herself lacking. First- and second-graders at Positively Arts even start their own business operating a lemonade stand or making bracelets. They learn about cost analysis, profit margins, marketing, IP protection and branding. Simpson says it's like a mini-Shark Tank. Meanwhile, she keeps honing her own hands-on management skills at every level, from CEO to class instructor to impromptu mess-cleaner.
One recent morning at Positively Arts, as 30 kids arrived for summer camp, Simpson walked in to find her new Fireball Theater, where stages had just been constructed, still covered in sawdust. Moving as quickly as possible, she cleaned and vacuumed the whole place. She loves these little organic moments, she says, and intends to remain engaged at ground-level even when Positively Arts scales in size. (Simpson plans to open two branches in Florida, with her brother and best friend at the helm.)
Later that morning, Simpson walked to the main studio, unlocked the door and entered to find a class still in session. The kids were interviewing each other about their lives — a public speaking exercise mixed with empathy and collaboration-skills development. Simpson recorded the moment with her phone before going to the stage to teach vocal lessons in a live studio-audience format. One by one the young artists took the stage, confident voices filling the building with song. ◆