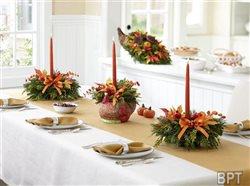 (BPT) – Let's face it: Whoever hosts Thanksgiving has a lot of work to do, no matter how big of a party it is. Whether you're attending a Thanksgiving celebration in person or celebrating in spirit with friends and family who are far away, show your thanks by sending a hostess gift. Here are seven ideas guaranteed to make a world-class impression by going beyond just a bottle of wine.
DIY herb blends in tins
Get small metal tins from your local craft store and make your own herb blends to give to the special host. Stock up on bulk spices and have fun blending new seasonings that will keep meals flavorful all winter long. Great options for a poultry spice include thyme and tarragon. Sage, thyme and fennel seed are great for pork. Label the tins with stickers or tie tags on with twine for a chic, rustic presentation that's easy to bring to a party or ship out to friends and family.
Personalized kitchen must-haves
The kitchen is the heart of the home and it's also the heart of all the action on Thanksgiving. Give the hosts something to enhance their kitchen collection and add personalization to make it really unique. Personal Creations' Thanksgiving Collection includes thoughtful items like a turkey platter for grandma that can be personalized with all the grandkids' names, or a stoneware casserole dish personalized with the family's surname or a special message.
Antique or out-of-print recipe books
Food is the focus on Thanksgiving, so any cooking-themed gift is sure to be loved. This year, scour vintage and secondhand stores for old recipe books with beautiful illustrations. It's a unique way to thank the cook, and you can feel confident it will be used over and over again. Plus, you know no other guest will bring the same item!
Sweet tooth delights
No matter how much you eat, there's always room for dessert on Thanksgiving. This year, complement the pumpkin pie with some new sweet treats that embrace the flavors of autumn. No need to slave over the stove – simply order tasty indulgences from Shari's Berries, like Praline Pecan Dipped Strawberries, Pumpkin Pretzel Twists and fancy Hand-Dipped Caramel Apples. These special treats are delivered in a beautiful box with a pretty ribbon on top, so all you have to do is click "send" to bring a smile to her face on Thanksgiving Day.
Mason jar manicure kit
After cooking a turkey, peeling potatoes and washing dishes all day, your hostess's hands will likely be less than ladylike. Give her a gift she can enjoy tomorrow when she's recouping: a mason jar manicure kit. Get a large glass mason jar and fill it with goodies like nail polish, emery boards, cotton balls, cuticle oil, nail clippers and hand lotion. Fold up a small handwritten note of thanks and place it within the jar. Twist on the lid and finish it off with a pretty bow.
Fresh plants for festive home decor
Give your hostess a gift that adds elegance to the tablescape with fresh plants in unexpected designs. The Giving Thanks Collection from ProFlowers and ProPlants includes autumn-themed centerpieces and cornucopias made from the freshest flowers and greenery. From the Turkey Harvest Mum Centerpiece featuring a gorgeous turkey vase to the Thanksgiving Collection Centerpiece with waterfall layers of greenery gently surrounding three tapered candles, there's something guaranteed to brighten any Thanksgiving table. The busy hostess will appreciate the easy, fresh and colorful centerpiece showing up at her door.
Gift baskets of goodies
When you just can't decide, a gift basket packed with goodies provides a bounty of flavor any host will appreciate. Instead of running from store to store gathering gift-basket items, explore the Autumn Collection from Cherry Moon Farms. One popular option is the 21-Piece Fall Cornucopia Set that includes a variety of fresh fruit, beautiful gourds and delicious autumn cookies. Add a handwritten thank you card for the perfect finishing touch.