Discovering Common Threads on a Rare Lung Disease
February 20, 2015 - 3:11 am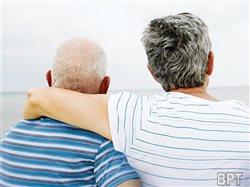 (BPT) – If you have never heard of a rare and fatal lung disease called idiopathic pulmonary fibrosis (IPF), then don't be surprised. Neither did most of the people living with the disease at the time they were diagnosed, according to EXPLORE IPF, a new survey of IPF patients and caregivers.
IPF is a fatal orphan disease and most people only live three to five years following diagnosis. In addition to symptom management options, there are also FDA-approved medications available to help patients suffering from IPF.
There is much mystery and stigma surrounding IPF. The EXPLORE IPF survey of 100 self-reported patients and 100 caregivers provides new research to help change that.
The EXPLORE IPF survey shows that many people with IPF and their caregivers lack basic information about the disease. Before diagnosis, approximately nine in 10 patients had never heard of IPF, and approximately eight in 10 did not understand the severity of the condition. After diagnosis, less than one in three patients and caregivers understood the emotional toll IPF would take on their lives. Detailed results of the EXPLORE IPF survey are available at www.LungsandYou.com.
"An IPF diagnosis can be the start of a lonely journey. Many patients feel embarrassed by common symptoms such as coughing, and feel that other people often keep their distance because of it. By helping patients and caregivers understand IPF and how it affects daily life, we want to better support this community, especially in the early, critical phases of diagnosis and treatment," said Richard Kradin, MD, pulmonologist and psychiatrist, Pulmonary and Critical Care Unit, Massachusetts General Hospital, who also served as an Advisory Committee member for the EXPLORE IPF survey.
The survey also pinpoints aspects of medical care that contribute to the challenges facing patients and caregivers. On average, patients spent nearly two years and visited between two and three doctors before finally getting diagnosed. More than half of people surveyed also had trouble finding a doctor who knew about the disease.
People who care for someone with IPF also were found to experience dramatic shifts in their lives, including a significant decrease in satisfaction with their independence and social lives. Caregivers used words like 'hectic' or 'stressful' to describe their lives after diagnosis. Like IPF patients, the majority of caregivers also felt isolated because they didn't have other IPF caregivers to connect with.
"Based on these findings, the EXPLORE IPF Advisory Committee believes greater understanding will ultimately better provide for the needs of this community so they can get the necessary care earlier and appropriate support following diagnosis," said Dr. Kradin.
The EXPLORE IPF survey was sponsored by Boehringer Ingelheim and led by a multidisciplinary Advisory Committee of IPF thought leaders and advocates dedicated to addressing the unmet needs of this patient community.
Visit www.LungsandYou.com for more information on the EXPLORE IPF survey.