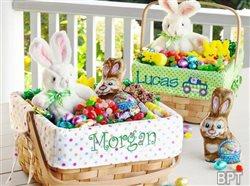 (BPT) – The Easter bunny is right around the corner, which means chocolate eggs, chick marshmallows and stuffed bunnies will soon be popping up around the home. Celebrate with a build-your-own Easter basket with the kids for some quality time for the entire family. DIY doesn't mean it needs to be complicated or difficult. Here are a few great ideas with some easy shortcuts to make it an enjoyable experience for everyone.
The basket
It all starts with the basket. The egg hunt and basket fillings wouldn't be complete without an Easter basket decked out in bright spring colors. It's not easy to spend hours making your own Easter basket, but you can still make it your own with custom Easter baskets from Personal Creations. Pick out the size, color pattern and design, and add your kids' names to make it a personalized basket that can be from the Easter Bunny himself. Best of all, it comes with a fluffy plush bunny and Easter sweets to make it a complete package for the entire family to enjoy.
The eggs
Colored eggs are an essential part of any Easter celebration. This year, add a fun and simple twist to the usual DIY egg coloring with a tissue paper egg dye. Simply wet the eggs, wrap it in brightly colored tissue paper, and spray the eggs with water to ensure all of the paper has been wetted. Once the egg is dry, kids will be able to easily remove the tissue paper. Beneath, they'll find a perfectly dyed egg that carries the appearance of stained glass.
The sweets
No Easter celebration is complete without treats to sweeten the basket. Marshmallow chicks and chocolate eggs are a classic, but adding a gourmet twist to the list of everyday sweets can make receiving this Easter basket an unforgettable experience for even the adults in the family. For an easy twist on the classic, ask kids to shred leftover bits of wrapping paper left around the house to make homemade Easter grass, and add it to a simple Easter treat pail. Then, fill the pail with Easter-themed cake pops from Shari's Berries for a festive gourmet treat everyone can enjoy.
The fluff
Bunnies get all the attention during Easter, but little chicks can be an adorable alternative to add to the basket. For this simple craft, ask children to draw and color a picture of a chick. Make sure the chick is facing forward and not from a profile viewpoint. They do not need to draw the wings; those come later. When the little artists are finished, cut the chicks out. Next, help children trace their own hands and cut these traces out. Glue the traced hands to the chick with the thumbs up, and just like that, the chick has wings with a familiar look.
The grownup basket
Grownups deserve some Easter fun too. Forego the basket filled with candy and design a fresh and colorful take on the Easter basket. Start with a classic wicker basket with liner and add some fresh spring flowers to brighten up the look. Fresh flowers are a beautiful way to brighten anyone's day, and fresh, vibrant flowers from ProFlowers make it easy to order and arrange flowers quickly and easily. Bright spring daffodils arranged in a pretty spread or 30 multi-colored tulips hanging loosely out of the basket is a great way to celebrate Easter in an upscale way.