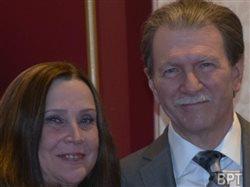 (BPT) – When Maryann Wahmann began experiencing severe abdominal pain and skin flushing, it didn't feel like the standard gastrointestinal "bug." She tried over-the-counter remedies and changed her diet, but after several weeks without relief, she still had bouts of diarrhea and began to lose weight so she finally went to see her doctor. But instead of finding out the cause, Maryann began a seven-year struggle to find a diagnosis.
After what felt like an endless series of laboratory tests and doctors visits, Maryann thought she would be relieved to finally have an answer, but the news was devastating. Maryann had a type of tumor that is part of a group of cancers known as gastroenteropancreatic neuroendocrine tumors or GEP-NETs. This is a rare form of cancer that for most, like Maryann, isn't diagnosed until it has already spread to other parts of the body.
"I was scared, angry and relieved all at the same time," Maryann explained. "I finally knew what was wrong with me, but I was terrified to know that I had cancer and, given the rarity of the disease, there were very few treatment options available. I was also frustrated that this had been growing and spreading inside of me for years without being detected."
Due to her own prolonged journey to diagnosis, Maryann was inspired to found the Neuroendocrine Cancer Awareness Network (NCAN). NCAN is a 501(c)(3) non-profit organization that provides information for patients and funds cancer research. NCAN prides itself on creating personal connections with the patients it serves. Their phone line, which is open 9am – 9pm every day, is answered by a patient or caregiver at all times. To date, NCAN has produced 30 conferences benefiting thousands of patients and their families.
GEP-NETs are a serious form of cancer. The symptoms can vary widely depending on the type, size and location of the tumor. Some patients may show no symptoms at all, leading many to go for years without being diagnosed. Additionally, many patients experience vague digestive symptoms leading them to be misdiagnosed with other conditions, such as Crohn's disease or irritable bowel syndrome (IBS).
There is now a potential new treatment option for GEP-NET patients. Somatuline® Depot (lanreotide) Injection 120 mg was approved by the U.S. Food and Drug Administration (FDA) for use as a treatment for adults with a type of cancer known as neuroendocrine tumors, from the gastrointestinal tract or the pancreas that has spread or cannot be removed by surgery.
"Up to 90% of all patients with GEP-NETs are incorrectly diagnosed, but we know that when the disease is found early, they often can be successfully treated," said Dr. Eric Liu, Chief Medical Advisor of the Healing NET Foundation. "Somatuline® Depot is the first and only treatment with a statistically significant progression-free survival benefit, approved by the FDA as an antitumor therapy in gastrointestinal and pancreatic neuroendocrine tumors. It offers a new weapon in our fight against this deadly disease for those who are affected."
While rare, the incidence of gastrointestinal and pancreatic neuroendocrine tumors has been increasing over time (4-6 fold increase in the last 30 years), due in large part to the ability to better test for and diagnose the disease.
As with all important medical decisions, patients should talk with their physicians about the best options for them.
Important Safety Information:
Who should not take Somatuline® Depot?
Do not take Somatuline Depot if you are allergic to lanreotide or similar products.
Somatuline Depot may cause serious side effects including:
Gallstones
Changes in your blood sugar (high blood sugar or low blood sugar)
Slow heart rate
High blood pressure
The most common side effects of Somatuline Depot in people with GEP-NETs include stomach area (abdominal) pain, muscle and joint aches, vomiting, headache, and pain, itching, or a lump at the injection site.
Somatuline Depot may cause dizziness. If this happens, do not drive a car or operate machinery.
These are not all the possible side effects of Somatuline Depot. Tell your doctor if you have any side effect that bothers you or that does not go away.
Before you receive Somatuline Depot, talk to your doctor about:
All of your medical conditions, including
Gallbladder, heart, thyroid, kidney, or liver problems
Diabetes
Pregnancy or plans to become pregnant
It is not known if Somatuline Depot could harm your unborn baby
It is not known if Somatuline Depot passes into breast milk
Breast-feeding or plans to breast-feed
Any medicines (prescription and nonprescription) you are taking, including
Insulin or other diabetes medicines
A cyclosporine (such as Gengraf, Neoral, or Sandimmune)
A medicine called bromocriptine (such as Parlodel or Cycloset)
Medicines that lower your heart rate (such as beta blockers)
You may report suspected adverse reactions to FDA at 1-800-FDA-1088 or to Ipsen Biopharmaceuticals, Inc. at 1-888-980-2889.