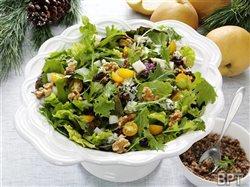 (BPT) – When fall arrives and the temperature cools, it's a great time for families to get together and spend more time enjoying delicious home-cooked foods. This season, look for fun ways to put a twist on your favorite recipes, or try new recipes to bring some seasonal flavors into your home.
For inspiration, check out these tips from Chef Alex Guarnaschelli. As part of her partnership with Fisher Nuts, Chef Alex Guarnaschelli is sharing her expert tips and recipes with a twist.
* Make nuts part of your seasonal recipes by toasting them in a little warm olive oil over medium heat. When the nuts are toasted and coated in the oil, stir in any fresh herbs (for example, rosemary or sage) and allow the herbs to gently crisp up and meld with the nuts. Serve as is with a pinch of salt.
* Slow cooking a piece of meat? Add a few nuts to some of the cooking liquid, blend it smooth and pour it back into the rest of the cooking liquid to naturally enrich the flavor and thicken your sauce.
* Need a new vinaigrette? Roast a handful of nuts, walnuts for example, and blend them with 3 parts olive oil and 1 part lemon juice.
* Healthy greens are a great companion to nuts. Try making a salad of chopped arugula with walnuts or dandelion greens and pecans. Radicchio is delicious with almonds and apples. Using nuts can easily expand your salad horizon.
If you're looking for a great seasonal salad recipe, this Walnut-Bleu Cheese Date Vinaigrette salad has its own unique twist using Fisher Walnut Halves and Pieces. It was created by Lori McLain of Denton, Texas, who was selected by Chef Alex Guarnaschelli and a panel of judges as the winner of the 2013 "My Fresh Twist" recipe contest.
Walnut-Bleu Date Vinaigrette Salad
Prep Time: 25 minutes
Yield: 4 servings
Ingredients – Sesame date vinaigrette:
6 pitted dates
3 tablespoons sesame oil
1 teaspoon soy sauce
1/4 cup rice vinegar
1 tablespoon minced garlic
2 tablespoons honey
1/4 teaspoon coarse Dijon mustard
Pinch of salt
Pinch of pepper
Ingredients – Salad topping:
6 dates, finely chopped
2/3 cup chopped Fisher Walnut Halves and Pieces
1 tablespoon honey
1 teaspoon brown sugar
1/8 teaspoon salt
Ingredients – Salad:
6 cups mixed salad greens with radicchio and romaine
1 cup halved yellow cherub tomatoes
1/2 cup crisp Asian pear, peeled and finely chopped
4 ounces chopped bleu cheese
Directions:
Vinaigrette: Place dates, sesame oil, soy sauce, vinegar, garlic, honey, mustard, salt and pepper in the bowl of a small food processor and puree until smooth. Chill while preparing the salad.
Topping: Combine dates, walnuts, honey, brown sugar and salt in a medium skillet. Cook over medium-high heat until nuts are toasted and mixture is sticky. Transfer to a cookie sheet that has been sprayed with non-stick cooking spray and spread out to cool.
Salad: Divide salad greens among 4 small plates. Top with tomatoes and pears. Divide bleu cheese crumbled over the top of each salad. Top each with cooled topping mixture. Drizzle salads with sesame date vinaigrette.
My Fresh Twist recipe contest
If you have an original recipe featuring pecans, walnuts or almonds, submit it to the "My Fresh Twist" recipe contest between Sept. 9 and Oct. 21, 2014, for a chance to win a prize trip for two to New York City to meet Iron Chef Alex Guarnaschelli. Recipes will be judged on originality, integration of nuts, taste and visual appeal. Each submission will be featured on www.myfreshtwist.com where Fisher Fans and their friends and families will be able to vote to select the top 15 finalists between Oct. 22 and Nov. 14. Guarnaschelli and a panel of judges will choose the grand prize winner from the top 15 finalists.