How to host the best game-watching party
October 22, 2013 - 3:08 am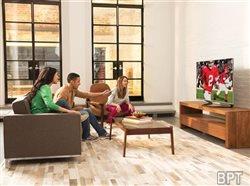 (BPT) – The days are getting cooler, the leaves are starting to change colors and team banners are starting to appear on front porches everywhere. It can only mean one thing – football season is back. With it comes more than 32 million fantasy football players and a whole lot of weekend game-watching festivities.
Going to football games and tailgating is a national pastime, but according to results from the 2013 LG "Staygating" national survey, football is also the sport people most like to get together to watch at viewing parties (more than 73 percent of people). Moreover, 78 percent of homeowners hosted a staygating party at their home at least once a year. It's game time, and that means you need to be ready to host and keep your guests happy.
Whether your passion is college football or the pros, here are some tips to organize the best game-watching party that will have your friends begging you to host again:
* TV size – A majority of people say the smallest acceptable TV size for a Staygating party with five or more guests is 42 to 47 inches, according to the survey. And a third report they have more than one TV running during a party, allowing guests to take in different sporting events or games being aired at the same time. The people have spoken – go big or they'll stay home.
* Seating arrangements – The TV will be center stage, so arrange multiple pieces of furniture in front of it. Plan a variety of seats: Bean bags, a couch, kitchen chairs and bar stools staged at different levels allow everyone seated to see the action on the TV. If you really want to wow your guests, consider an Ultra HD TV from LG. They have four times the resolution of typical HDTVs, meaning more detail, so viewers get a crisp, clear picture from as close as five feet. And their wide viewing angles mean everyone will have a good seat in the house.
* Food, food and more food – According to the survey, game food is as important as the guest list. Pizza is the top choice to serve at a Staygating party, according to 37 percent of people who responded to the survey. It's followed by wings and chips and dip as other fan favorites. No matter what you serve, make certain you have plenty of food available during the entire party, and it's easily accessible from the game-viewing area.
* Connecting with stats and fans – Social media reporting of game play is faster than news media these days, so make certain your fans are connected. The Staygating survey showed 47 percent of viewing-party guests use "second screens" like smartphones, tablets or PCs while also watching TV. Make sure your Wi-Fi is up and running in case people want it to check stats or scores. Fantasy Football players will love a monitor like LG's 29EA73 that can display two source devices (smartphones, computers, cable box) on screen at the same time – perfect for simultaneous stats and game viewing.
With these plans in place, you can turn on the TV, settle back into your seat, load a chip up with a big scoop of dip, and enjoy the game with your friends and family.