Through the art of makeup, people with rare pituitary disorders now have unique resources to help address common physical and emotional changes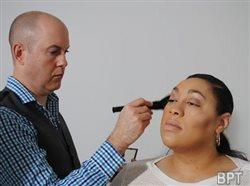 (BPT) – Did you know that applying contour powder on certain areas of your face, like the outer rim of the jaw, along the hairline or along the hollows of the cheek, can help make enlarged features less noticeable? Seems like a basic makeup tip, right? Well, to a person with a pituitary disorder that dramatically changes one's facial features, this type of information may make a major difference – not only physically, but also psychologically. This is why Novartis has teamed up with Kevyn Aucoin Beauty (KAB) to bring The Highlights Project to those living with acromegaly and Cushing's disease. The program offers a variety of virtual tools such as makeup suggestions from professional artists and video demonstrations. These resources address common concerns expressed by patients while also educating about these rare, but serious pituitary disorders.
Kevyn Aucoin, founder of KAB and famed Hollywood makeup legend, was diagnosed with acromegaly in 2001 at the age of 40 and passed away less than 12 months later. Aucoin believed in the transformative nature of makeup and saw it as a reflection of both inner and outer beauty. In this spirit, The Highlights Project features a series of makeup tutorials, tips and inspirations designed to help enhance the self-image of pituitary patients. The program also includes the perspective of a psychotherapist who specializes in helping patients with acromegaly and Cushing's disease.
Like so many other people with acromegaly and Cushing's disease, Kevyn went undiagnosed for years and faced both emotional and physical challenges as a result of his condition. "Through Kevyn Aucoin Beauty's partnership with Novartis on The Highlights Project, we hope that we can inspire others living with these pituitary disorders to see their own beauty and view makeup as Kevyn did, not as a mask, but as a tool for discovery," said Desiree Tordecilla, Executive Vice President, Kevyn Aucoin Beauty.
Acromegaly and Cushing's disease are pituitary disorders caused by the presence of a noncancerous tumor on the pituitary gland. The symptoms often include highly visual physical changes in the body. For people with acromegaly, enlarged facial features, jaw and brow protrusions, thickening of the skin and skin tags are common. People with Cushing's disease frequently experience uncontrollable weight gain, facial fullness and redness, a buffalo hump, acne and oily skin. Beyond the external physical changes, these conditions often also cause serious health complications such as cardiovascular issues, fatigue, muscle weakness and cognitive changes. Those living with uncontrolled acromegaly and Cushing's disease are also at an increased risk of death. Due to the rare nature of these diseases, receiving an accurate diagnosis can be difficult and may take several years – therefore, education and awareness is critical.
The Highlights Project aims to provide support and help those with acromegaly and Cushing's disease manage the physical manifestations and psychosocial challenges often associated with these conditions.
"As someone who was self-conscious about how unfeminine my facial features appeared, I was amazed by the impact the simple makeup tricks I picked up from The Highlights Project had on my self-esteem," said Shannon Goodson, who was diagnosed with acromegaly in 2008. "Staying positive, educating yourself about the condition and monitoring hormone levels to ensure the disease is under control are the first steps to empowering yourself and understanding that you are so much more than your diagnosis."
The mission of The Highlights Project is to help put a face to the challenges those with acromegaly and Cushing's disease may encounter and serve as a vessel for learning. Novartis is committed to helping to transform the care of rare pituitary conditions and bringing meaningful solutions to patients. To help support acromegaly and Cushing's disease patients, and learn more about The Highlights Project, visit TheHighlightsProject.com. For more information about these diseases, visit AcromegalyInfo.com and CushingsDisease.com.