51s tee off early, often in 9-2 victory over Salt Lake
August 24, 2016 - 10:50 pm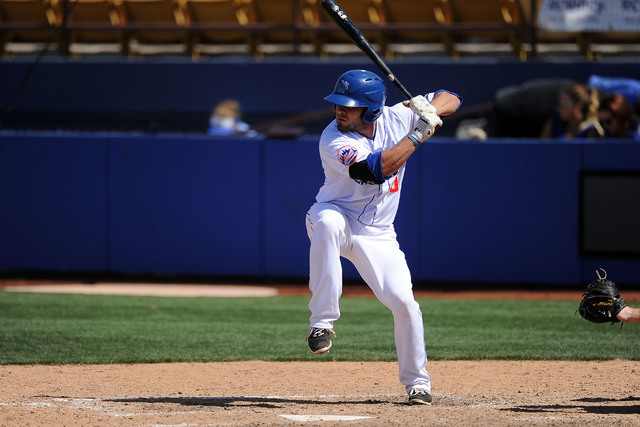 The 51s scratched out just three hits in Tuesday's loss to Tacoma.
On Wednesday, they had more than that in the first inning, as the offense and a solid performance from starter Rainy Lara carried them to a 9-2 victory over the Salt Lake Bees at Cashman Field.
After Lara gave up two doubles to put the 51s in a 1-0 hole in the first, they battled back with two runs in the bottom of the inning on RBI hits from Johnny Monell and Kevin Plawecki.
They continued to add on throughout — scoring eight of their nine runs with two outs.
They scored a run in the third, two in the fourth, one in the fifth and three in the seventh.
"We came home, and sometimes coming back home to familiar territory, the bats wake up, and obviously when you've got a bunch of two-out runs like we did tonight, it can break the other team's back and kind of spawn some more runs for us," second baseman Ty Kelly said.
Every player on the 51s (62-70) finished with at least one hit. Monell led the way with four, Matt Reynolds had three, and Plawecki, Kelly, Gavin Cecchini and Travis Taijeron two apiece.
Lara, called up from Double A to fill in for Duane Below, whom Las Vegas manager Wally Backman said is dealing with shoulder weakness, gave up two runs in 5 1/3 innings.
After the first two batters doubled, he retired the next nine.
Lara ran into trouble in the sixth inning and gave up a run before walking the next two batters to load the bases, which ended his night.
"He did a great job for us tonight. We're talking about a guy that was on a plane at 5:30 (a.m.) East Coast time, so he really ran out of the gas in the sixth inning," Backman said. "You could see everything was up in the zone, and it was time for him to come out."
Reliever Jeff Walters bailed him out by getting Juan Graterol to fly out to center and Angel Rosa to ground out to end the inning.
"Every time I've brought Walters in a game almost all year long even (with) the struggles that he's had, when he's had inherited runners on base, he's gotten out of the jam for the other pitcher," Backman said.
Walters kept the 6-2 lead intact, and the bullpen as a unit tossed 3 2/3 scoreless innings while the offense continued to tack on runs in the seventh to put the game beyond reach.
"I've said it before — the offense is capable of scoring runs," Backman said. "The inconsistencies have been by mainly the starting pitching, and when the pitching gives the offense a chance to score runs where they don't have to always fight to catch up, they usually perform very well."
Up next
Who: Salt Lake Bees at Las Vegas 51s
When: Game 1 5:05 p.m., Game 2 to follow
Where: Cashman Field
Starters: Game 1: Tim Lincecum (0-2, 3.29 ERA), Bees, vs. Logan Verrett (1-0, 0.00 ERA). Game 2: TBD vs. Tyler Pill (1-0, 7.80 ERA)
Next five
Friday: Salt Lake at Las Vegas, 7:05 p.m.
Saturday: Salt Lake at Las Vegas, 7:05 p.m.
Sunday: Off
Monday: Las Vegas at El Paso, 6:05 p.m.
Tuesday: Las Vegas at El Paso, 6:05 p.m.
Update
Two-time Cy Young winner Tim Lincecum will start the first game of the doubleheader for Salt Lake. Lincecum was signed in May and started three times with Salt Lake before heading to the majors. With the Los Angeles Angels, he was 2-6 with a 9.16 ERA. As a Bee, he is 0-2 with a 3.29 ERA in five starts.
Betsy Helfand can be reached at bhelfand@reviewjournal.com. Follow on Twitter: @BetsyHelfand