8 of UNLV's best moments this football season
December 25, 2013 - 10:12 pm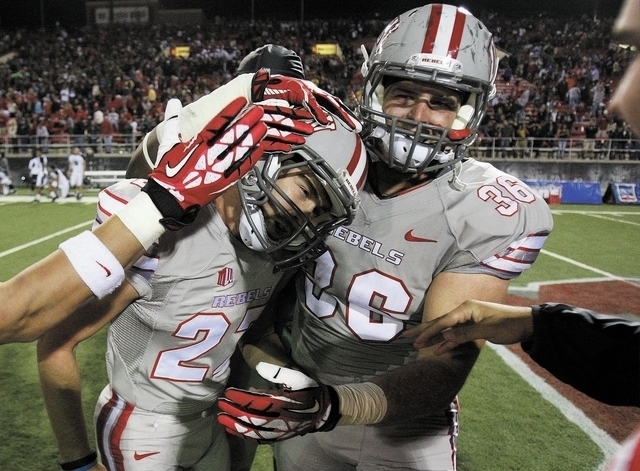 Editor's note: During our 10 days of UNLV football, we'll run a UNLV list a day leading up to the Heart of Dallas Bowl on New Year's Day.
The best season UNLV's seen in 13 years had plenty of moments worth talking about.
Here are eight of the most notable — not necessarily because they were the most glamorous, but because together they paint a picture of a team that fought its way to the finish line against the odds.
1. One play to rule them all
When quarterback Caleb Herring talked to RJ reporter Mark Anderson late last month, Herring said there was one play this season that made all the difference in the world: A 50-yard pass from Herring to Devante Davis that changed the momentum of what was looking to be a blowout loss to Central Michigan.
That pass set up a touchdown just before halftime that changed not only the outcome of that game — which ended in a 31-21 UNLV victory — but of the season, too.
The game gave UNLV the push it needed to have a successful season and is widely viewed as the game that saved Coach Bobby Hauck's job.
2. Kohorst's game-winning field goal
The Rebels were down 36-37 against Hawaii in October when things started to look up at the end of the fourth quarter.
With five seconds left on the clock, the Rebels found themselves in field goal range and sent senior placekicker Nolan Kohorst onto the field.
Kohorst kicked a 44-yard field goal as time expired to give the Rebels a 39-37 win.
The victory marked the first time UNLV had won four games in a row since 2000.
3. Fremont Cannon comes home
When the Rebels won the Battle for Nevada in October by beating UNR 27-22, they got to bring the Fremont Cannon back to Las Vegas for the first time since 2004.
That's almost as long as it had been since UNLV was last bowl eligible.
The annual Battle for Nevada was first played in 1969. The cannon, painted with the winner's colors, was built in 1970 and is a replica of the cannon that accompanied John C. Fremont on his 19th-century expedition across Nevada.
This year's UNLV victory also broke the series' longest win streak: Nevada had won the annual matchup for eight years straight.
4. Bowl eligibility, finally
When UNLV beat Air Force 41-21 in November, they didn't guarantee themselves a bowl appearance — but they at least secured eligibility for the first time since 2000.
What made the victory even sweeter? The circumstances of the game left most people thinking UNLV would be struggling all game. Temperatures of 11 degrees and a wind chill of minus 7 aren't ideal conditions for players who are more used to triple digits than single digits.
5. The San Diego State win
The Rebels went into the SDSU game knowing their bowl fortunes rested on its outcome, and maybe it was that knowledge that allowed them to soundly thrash the Aztecs a week after securing bowl eligibility.
UNLV rolled over San Diego, 45-19, sending a clear message to the various bowl committees: We want in.
6. Devante Davis' record-breaking game
Speaking of San Diego State, Devante Davis deserves a mention for giving future UNLV players something to strive for.
Davis destroyed UNLV's record books during the SDSU game, finishing with 171 yards receiving and four touchdowns on eight catches — making him the 11th player in UNLV history to surpass 2,000 receiving yards.
Davis also became the first player in school history to get three or more receiving touchdowns in more than three games in a single season.
On top of that, his four touchdowns took him to 14 receiving TDs this season, breaking the school's single season record of 11 touchdowns that had been in place since 1980.
7. Mountain West All-Conference teams
It's always nice to update the record books. Devante Davis was the first Rebel wide receiver to be named to the MW All-Conference team since Ryan Wolfe made the cut in 2009.
Tim Cornett was the first UNLV running back to be named to the MW All-Conference team since Dominique Dorsey in 2004.
Davis and Cornett both earned second-team honors.
8. The Heart of Dallas Bowl
OK, so it hasn't happened yet. But rest assured, this will be an awesome experience for anyone making the trek to Texas.
Plus, it sounds better to say "The last time UNLV was bowl eligible was 2013" than "UNLV hasn't been bowl eligible since 2000."
What was your favorite moment of the season? Let us know on Twitter: @reviewjournal
Contact Stephanie Grimes at sgrimes@reviewjournal.com. Find her on Twitter: @steph_grimes
10 DAYS OF UNLV FOOTBALL:
10 well-known players to come out of UNLV
9 reasons to be a UNLV football fan