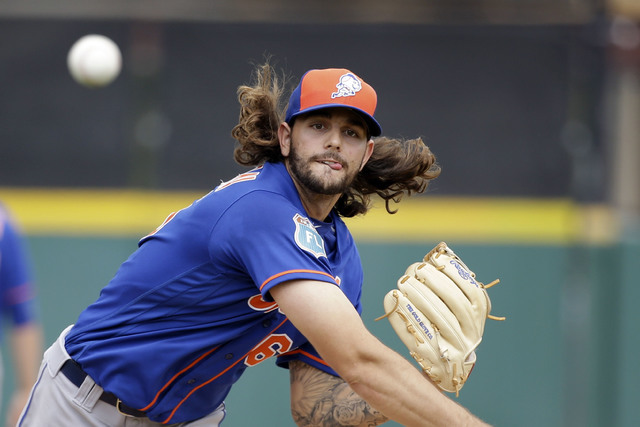 The 51s kept trying to claw their way back into Saturday's game at Cashman Field.
But every time they came close, the Albuquerque Isotopes responded with a home run.
Las Vegas dropped its final game before the All-Star break 8-5 to Albuquerque in a game that was somewhat representative of how its season has gone.
The team's offense ranks near the top of the Pacific Coast League in every major statistical category, while the pitching is last in the league with a 5.58 ERA.
"Offensively, we've done everything that I expected us to do," manager Wally Backman said. "Where I'm most disappointed in the first half is probably — it's definitely — the pitching."
On Saturday, Robert Gsellman, one of the New York Mets' top pitching prospects, made his first start in almost a month — and just his second ever in Triple A — after spending time on the disabled list with a quadriceps issue.
Gsellman gave up five runs on two home runs — both to catcher Tom Murphy, who tagged him for a two-run homer in the second and a three-run blast in the third.
"I actually thought he threw the ball pretty well. He made a couple bad mistakes on balls to one hitter, Murphy, that hit the two home runs," Backman said. "Gave up the five runs in the three innings, but overall, he's healthy, he's ready to go after the All-Star break, so we're in good shape."
Gsellman, who was limited to a pitch count of 60, left after three innings and 58 pitches.
After his exit, the 51s started chipping away at Albuquerque's lead, scoring one run in the third and three in the sixth on Michael Conforto and Kevin Plawecki home runs to cut the lead to 5-4.
But the Isotopes responded with a homer in the seventh and another in the eighth — their fourth of the game — after the 51s had cut the lead to one again in the seventh.
"We know this is a tough pitchers park sometimes. It's tough, but you can't really do (anything) about it," Las Vegas third baseman T.J. Rivera said. "All you can do is … keep trying to put runs up on the board whether it be with the home runs or base hits or good at-bats, so that was our goal. We got a couple across, but obviously we didn't get enough today."
The loss sends the 51s into the All-Star break 46-43 and six games behind leader El Paso in the Pacific South Division.
Backman said he was disappointed with where the team was and that he thought it was better than it had showed.
Before the season, he said he thought the bullpen was the best he had had in his four years in Las Vegas, but it hasn't panned out that way. Offensively, though, the team has showed an ability to fight back to help overcome some of that.
"I think the offense is what I think that I said the offense would be at the start of the year," Backman said.
And with such a strong offensive team, the 51s expect to make a charge at the division crown in the second half of the season.
"Honestly we have such a good team I thought we might be a little … closer to first or in first, but you can't really do (anything) about that. We've been competing out here, everybody's giving their all, so that's all you can really ask for," Rivera said. "There's still a lot of baseball to be played, so I think we're going to hopefully make a run for it when we get back in the swing of things."
Up next
Who: MLB All-Star Futures Game featuring 51s second baseman Dilson Herrera
When: 4 p.m. Sunday
Where: Petco Park, San Diego
Next five
Monday: Triple-A Home Run Derby with 51s right fielder Travis Taijeron, 4:05 p.m.
Tuesday: Off
Wednesday: Triple-A All Star Game, 4 p.m.
Thursday: Las Vegas at Iowa, 5:08 p.m.
Friday: Las Vegas at Iowa, 5:08 p.m.
Update
The 51s will enter the All-Star break in second place in their division, trailing El Paso. While most of the team will have the week off, Travis Taijeron, T.J. Rivera and Gabriel Ynoa will participate in the Triple-A All Star game Wednesday. Las Vegas manager Wally Backman will lead the Pacific Coast League's squad. Taijeron also will participate in the home run derby Monday.
Betsy Helfand can be reached at bhelfand@reviewjournal.com. Follow on Twitter: @BetsyHelfand