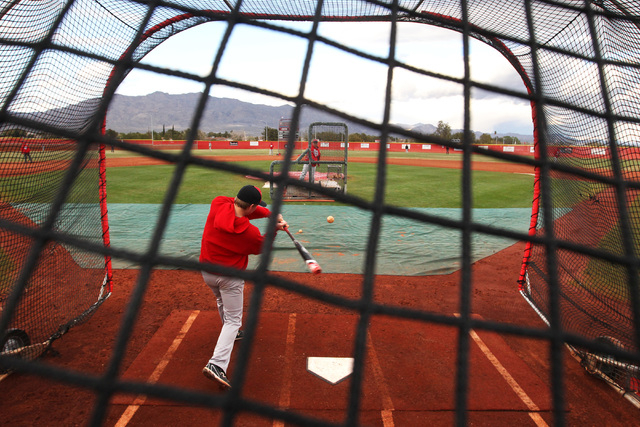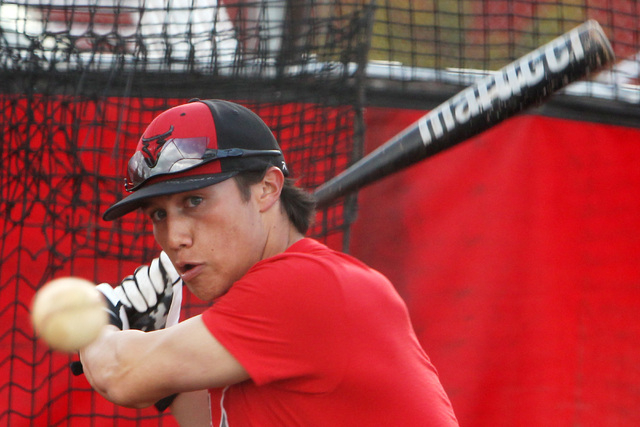 Revenge can be a great motivator for sports teams, but sometimes that means waiting all season and hoping for another crack at an opponent in the playoffs.
Arbor View's baseball team won't have to wait that long.
Palo Verde upset the Aggies 21-7 in the Sunset Region tournament last spring to end their season. The teams match up on opening day this year, with the Aggies hosting the Panthers at 3:30 p.m. today.
"We've learned a lot losing to Palo," Arbor View junior shortstop Nick Quintana said. "That was kind of a tough game to get over.
"We're more hungry, we're ready to play, ready to beat Palo opening day. We're just all-around ready; ready to go."
Quintana is a big reason there are high hopes for the Aggies, who got the Northwest League's top playoff seed last season but went 1-2.
He was a first-team all-state selection last season as a sophomore after batting .425 with six home runs and 31 RBIs.
"Every year he gets better," Arbor View coach Jay Guest said. "He's a great player. He just makes our team that much better. He's a really good player, one of the best I've ever coached."
As good as Quintana is, he hasn't thrown a wrench in the team's chemistry.
"We don't have an 'I' guy," senior pitcher/outfielder Ben Cutting said. "We've got guys that want to win, and they're going to do anything it takes to win. They feel like whatever they need to do — whether it's being a backup, being a starter — whatever they have to do to put the best nine out on the field they're going to do that. I think everybody agrees on that."
Quintana is back for his third season as the team's starting shortstop and should anchor the lineup, and Guest said his star has improved in the offseason.
"He's definitely added some power," Guest said. "He's gotten stronger, bigger, he's sounder on the defensive side and he's going to hit for average and for power, too."
Guest concedes that Quintana will need help offensively, as opponents probably will focus on making others beat them.
"It's going to be tough for him," Guest said. "Everybody knows about him, and they're going to throw around him, I would imagine. He's not going to get a whole lot to hit."
Senior Sam Pastrone, who doubles as the team's top pitcher, will help provide some protection in the lineup. He batted .345 last season and was second on the team with 29 RBIs.
But it's on the mound where Pastrone, who has signed with UNLV, will shine. He was 6-2 with a 2.45 ERA as a junior.
"We'll look for him to be our horse," Guest said. "We'll probably live and die with him."
Cutting, who was 4-1 with three saves and a 1.99 ERA last season while working mostly out of the bullpen, will be the team's No. 2 starter.
"Ben Cutting's right next to (Pastrone) as far as their effectiveness right now," Guest said. "Sam's just a little bit more of a power guy, and Ben's more of a finesse guy. Sam kind of shows up more with the glitter because he's pushing 90 miles an hour. But Ben's matched him as far as effectiveness and pitchability."
Guest said Brady Borden and Ryan Brown will follow Pastrone and Cutting in the rotation.
"I think we're very strong this year with the pitching staff," Pastrone said. "We've got a good, solid four guys that can go, both lefty and righty. I think we'll be pretty good."
And the players say the attitude has improved this season.
"We're a family this year, I can tell you that," Quintana said. "Last year we had a few differences on the team, but this year we're coming together."
Cutting said: "We all have one goal, and one goal is to be a state champ."
Contact prep sports editor Damon Seiters at dseiters@reviewjournal.com or 702-380-4587. Follow him on Twitter: @DamonSeiters.