Arena League folds struggling Las Vegas Outlaws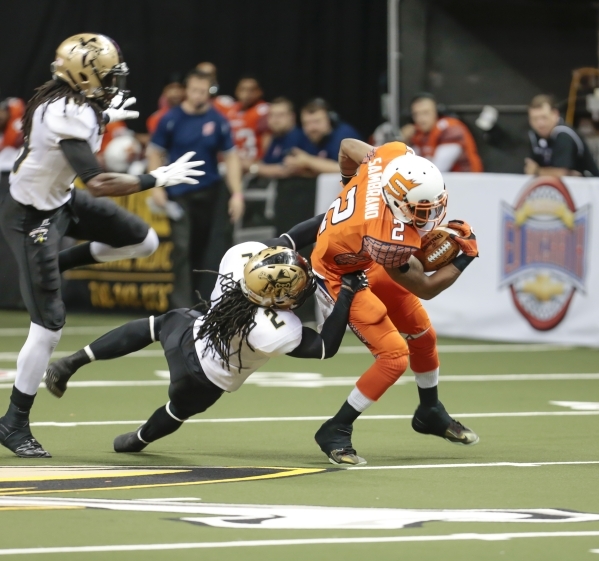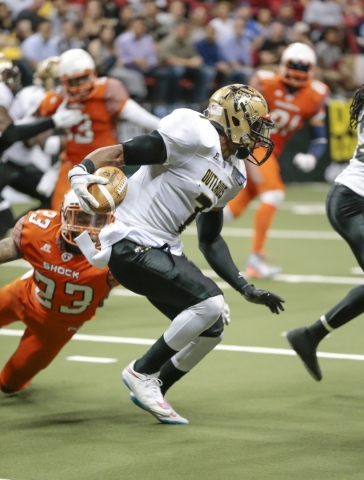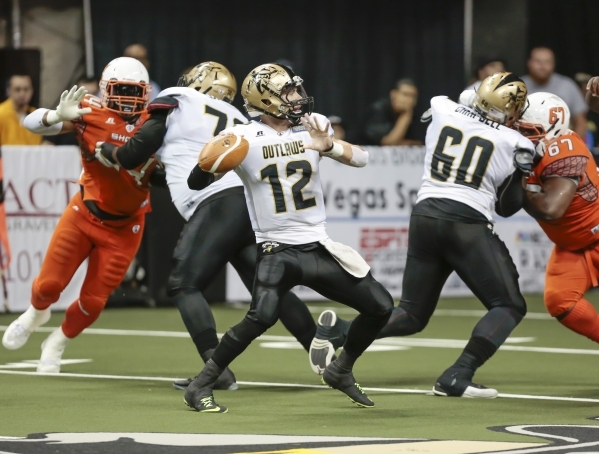 First they were in. Then they were out — for good.
The Las Vegas Outlaws' tumultuous inaugural season in the Arena Football League came to an ignominious end Sunday when the league announced that the team had ceased operations and would not participate in the upcoming playoffs despite supposedly having clinched a berth late Saturday.
The Outlaws, who along with New Orleans have been run by the league since mid-July, finished their lone season in Las Vegas with a 5-12-1 record. The league also folded the New Orleans franchise Sunday.
In a statement issued by the AFL, the owners decided to not further foot the bill for the Outlaws this season.
"The New Orleans VooDoo and Las Vegas Outlaws organizations have ceased operations effective immediately," the league's statement read. "All players under a continuing contract with either team shall be placed into the Offseason Assignment Process once a date has been determined.
"Since no team ownership is in place, there is no funding for an Outlaws playoff appearance. The AFL Board of Directors took this into consideration as it was voted that Las Vegas will not take part in postseason play."
As a result, Portland will play at No. 1 seed San Jose in the National Conference playoffs Friday. Arizona, the No. 2 seed, will host No. 3 Spokane on Saturday.
"I feel bad for the players," Outlaws head coach Aaron Garcia said after he spoke personally with AFL commissioner Scott Butera on the phone Sunday. "They've been through a lot this year and they were excited about having the chance to keep playing. For the league to take that away from them is sad."
The Shock had already clinched a berth in the playoffs prior to beating the Outlaws 51-34 on Saturday in front of just 4,114 fans at the Thomas & Mack Center. According to a Thomas & Mack official, only 500 of the 4,114 paid to get in.
Prior to the game, the understanding was that if both the Outlaws and Thunder lost, Las Vegas would get the final playoff spot by virtue of the better record.
However, the better record was achieved artificially as the league awarded both Las Vegas and New Orleans a tie from the July 25 game that was not played at the Thomas & Mack. On Sunday, the AFL decided to pull the plug.
For Las Vegas, this is the third time an arena football franchise has failed. In 1996, the Sting moved to Anaheim after two seasons. In 2008 the Gladiators moved to Cleveland after an unsuccessful five-year run.
"There's a lot of words you can use — 'hurt,' 'betrayed,' 'misled' — but the bottom line is you had players putting their bodies on the line thinking they could keep playing," Garcia said. "Now, they're done and nobody knows what the future holds.
"I have a two-year contract and so do some of the players. I'm not sure what that means at this point. But I enjoyed the opportunity to be a head coach and our guys fought through a lot of adversity. They battled for each other and for me and I'll always appreciate that."
Contact reporter Steve Carp at scarp@reviewjournal.com or 702-387-2913. Follow him on Twitter: @stevecarprj