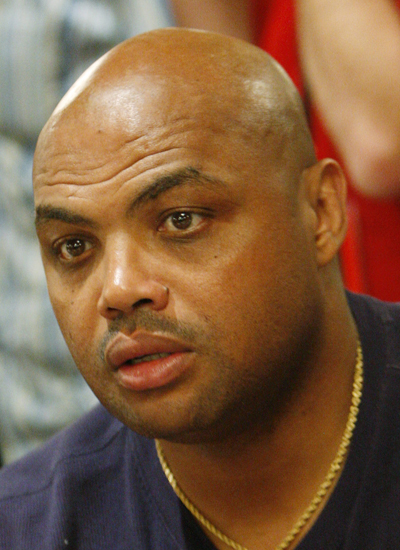 Charles Barkley is the players' favorite for this week's American Century Celebrity Golf Championship at Lake Tahoe.
The former NBA star and current TNT commentator will join a field that includes Michael Jordan, John Elway, Mario Lemieux, Wayne Gretzky and Jerry Rice.
Barkley is a 500-1 long shot to win the 54-hole tournament that will pay the winner $125,000.
No one expects Barkley to contend but all are happy he is entered.
"The only thing we need to be careful of is to make sure Barkley doesn't (withdraw), because that means one of us will finish last," former Notre Dame basketball coach Digger Phelps said.
"He's the guy that will make you look like a genius. Because whenever they post the scores, everybody looks at the bottom line to see what Barkley shot. And they don't even know who the top five are."
• BIG HITTER — The Boston Red Sox have a prospect in their midst. Robert Correia, 20, proved Saturday he can make solid contact with a bat and loathes the rival Yankees.
He was held without bail Monday in Falmouth, Mass., after allegedly beating a New York man with a bat because he thought the man was a Yankees fan.
Police say Correia and others spotted a car with New York license plates leaving a fireworks display Saturday. The group approached the car driven by William Nestor, of Northport, N.Y., and began yelling about the Yankees, according to the police report.
Nestor is not a baseball fan.
The police report said Correia hit the victim three times with an aluminum bat, which could earn him a Red Sox tryout if he proves he can be as effective with a wood one.
• NADAL KNEES MERCEDES — A day after winning Wimbledon for the first time, Rafael Nadal pulled out of the Mercedes Cup in Stuttgart, Germany, with unspecified knee problems.
The second-ranked Spaniard traveled to Stuttgart to tell promoters personally of his withdrawal as the clay-court event's defending champion and star attraction.
"I'm disappointed that I can't play," Nadal said.
Could his knee have given out Sunday after earning the last point in his 4-hour, 48-minute marathon win over Roger Federer to become the Wimbledon champion?
Doubtful, considering his knee seemed fine as he climbed a wall into the grandstands to celebrate the victory with his family and friends.
• S&M VIDEO OK — Max Mosley, president of Formula One's ruling body, told a London court there were no Nazi overtones to a sex video published by the U.K. News of the World newspaper, Bloomberg News reports.
Mosley is suing the British tabloid for saying he and the women dressed up as concentration camp guards and prisoners. Mosley testified that there weren't any political elements in the video.
The story was made worse by the newspaper's implication that Mosley was mocking the way Jewish prisoners were treated by camp guards.
The FIA — Federation Internationale de l'Automobile — last month voted 103-55 to allow Mosley to continue overseeing the organization after the sex scandal was made public.
The most influential racing sanctioning body apparently sees nothing wrong with an S&M video starring its leader, provided the participants aren't dressed like Nazis.
COMPILED BY JEFF WOLF REVIEW-JOURNAL