BIG3 fills out rosters with former NBA stars at inaugural draft in Las Vegas
Updated May 1, 2017 - 12:46 am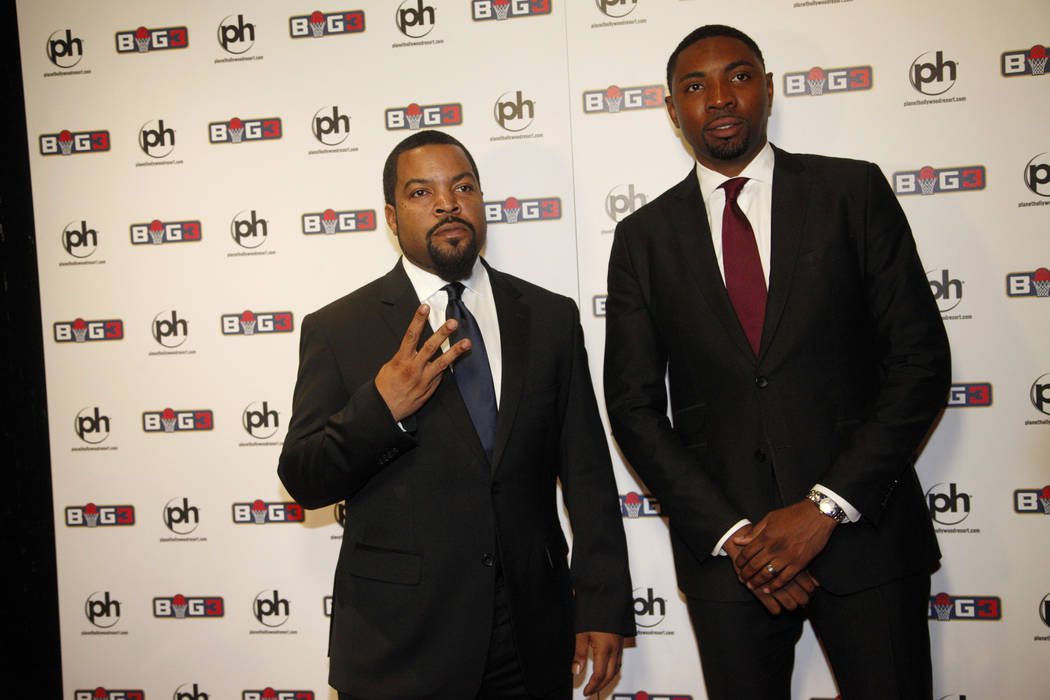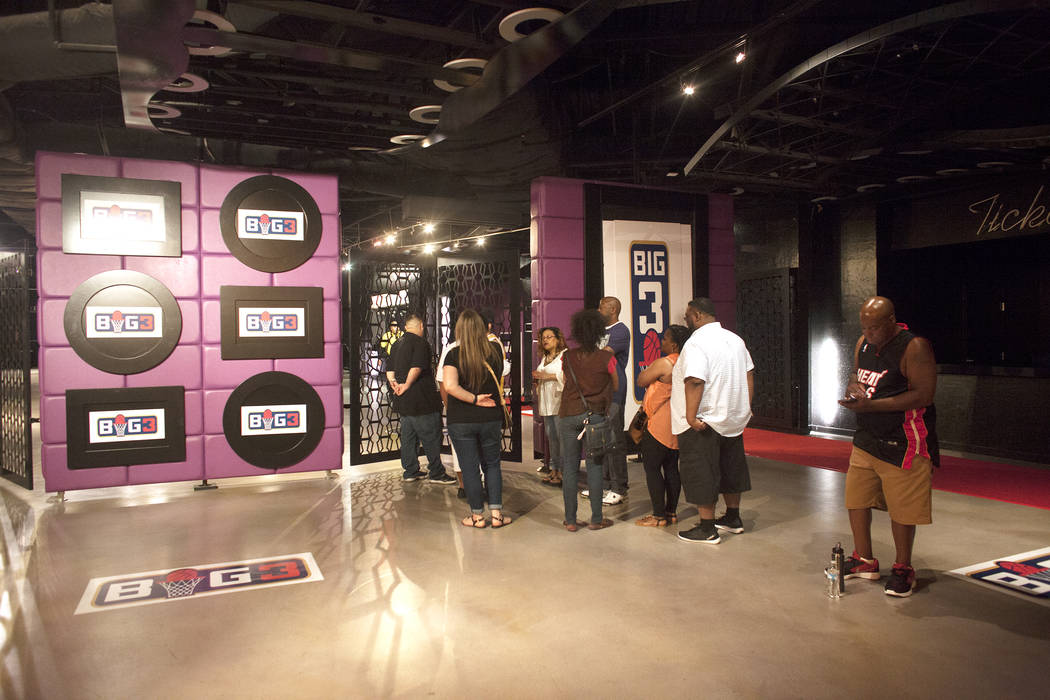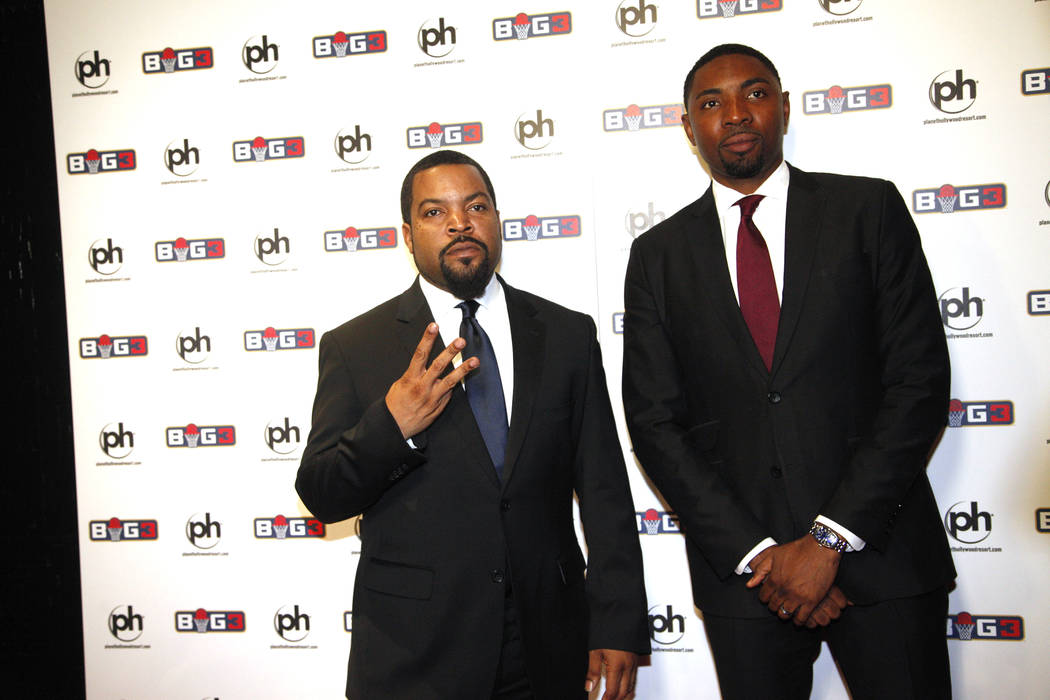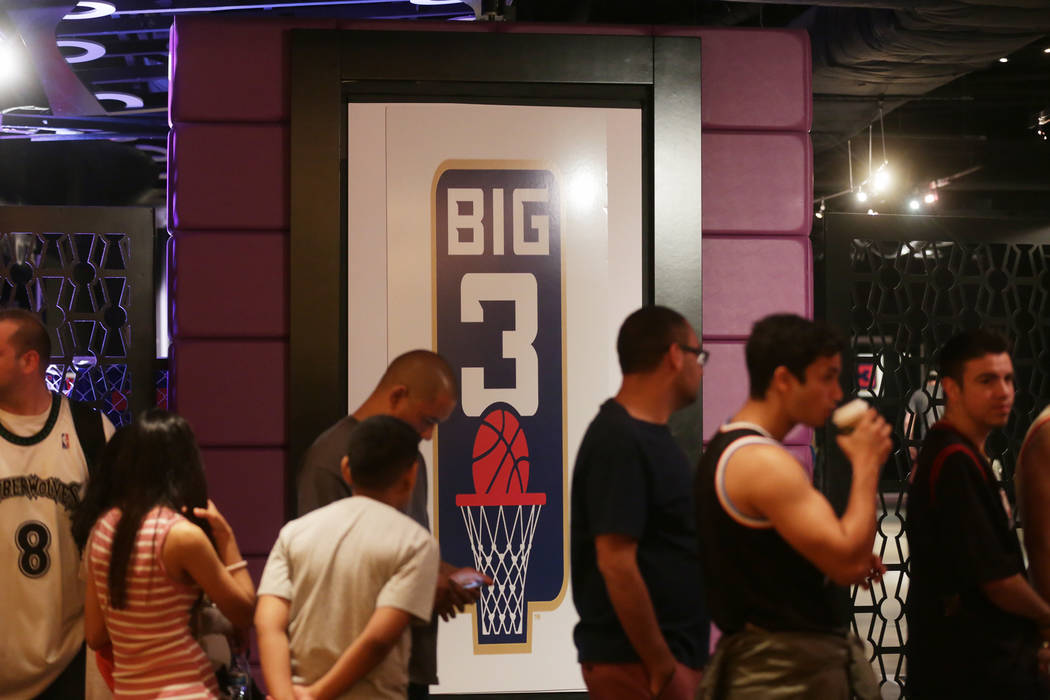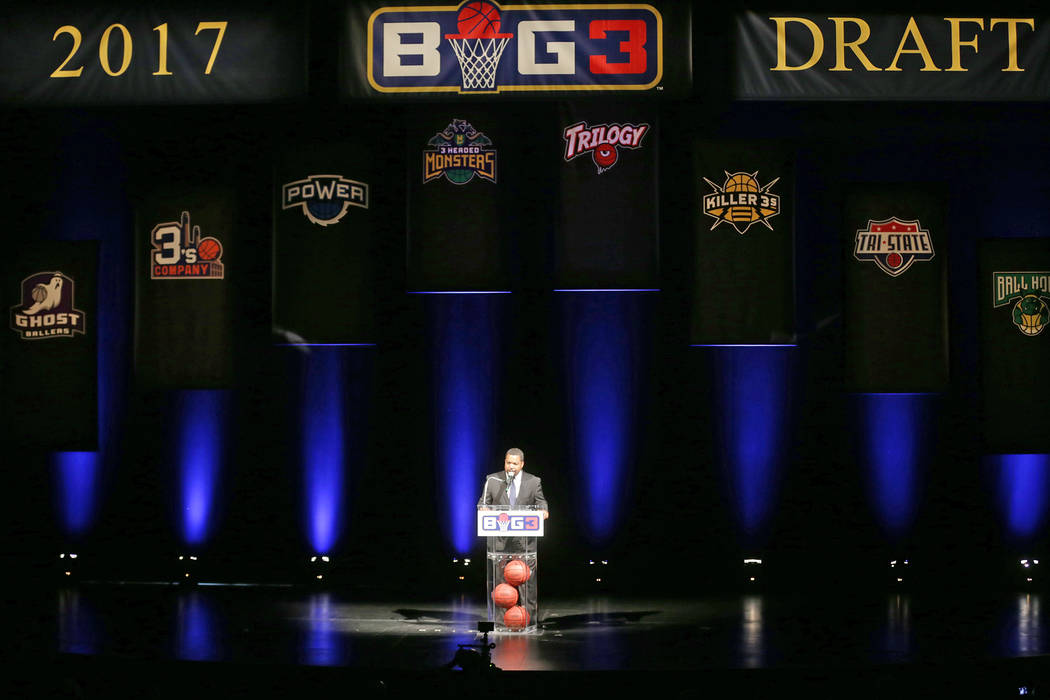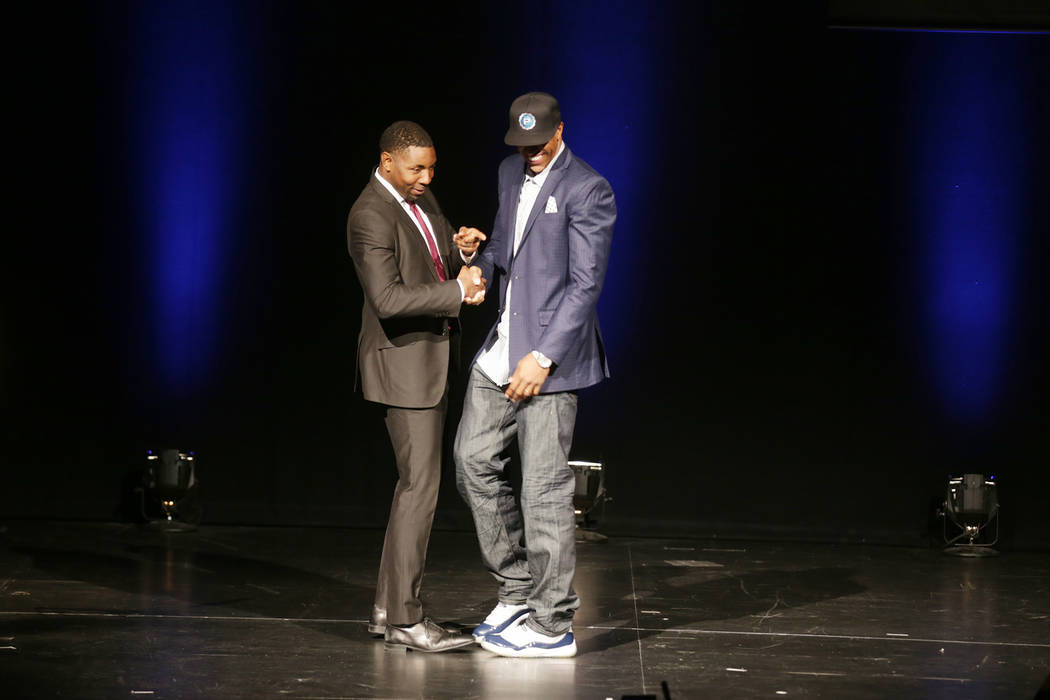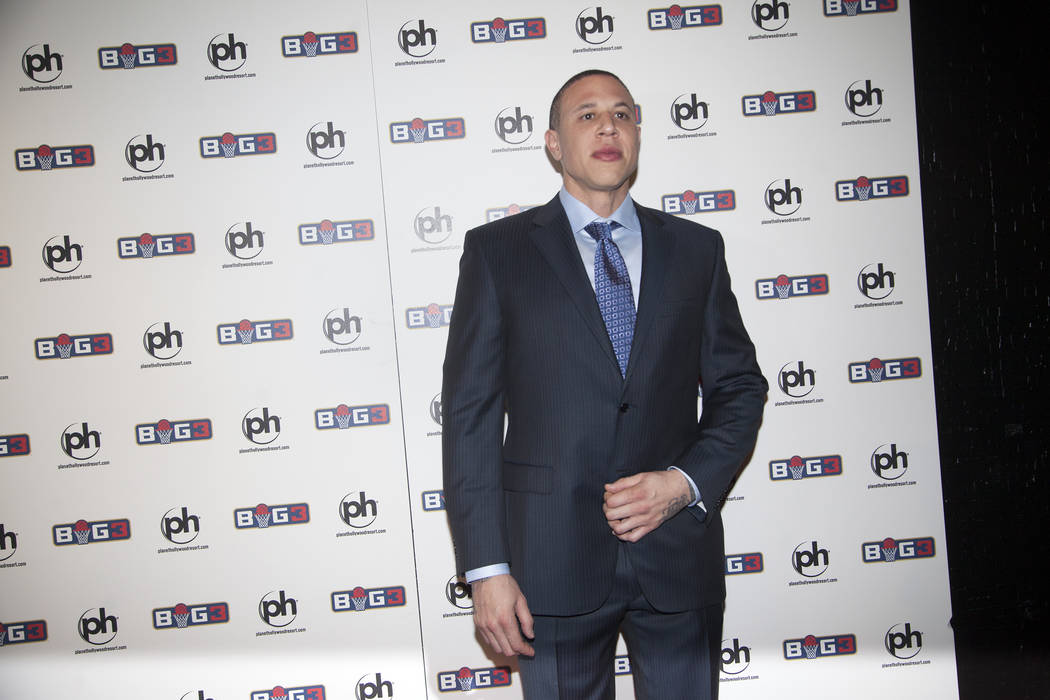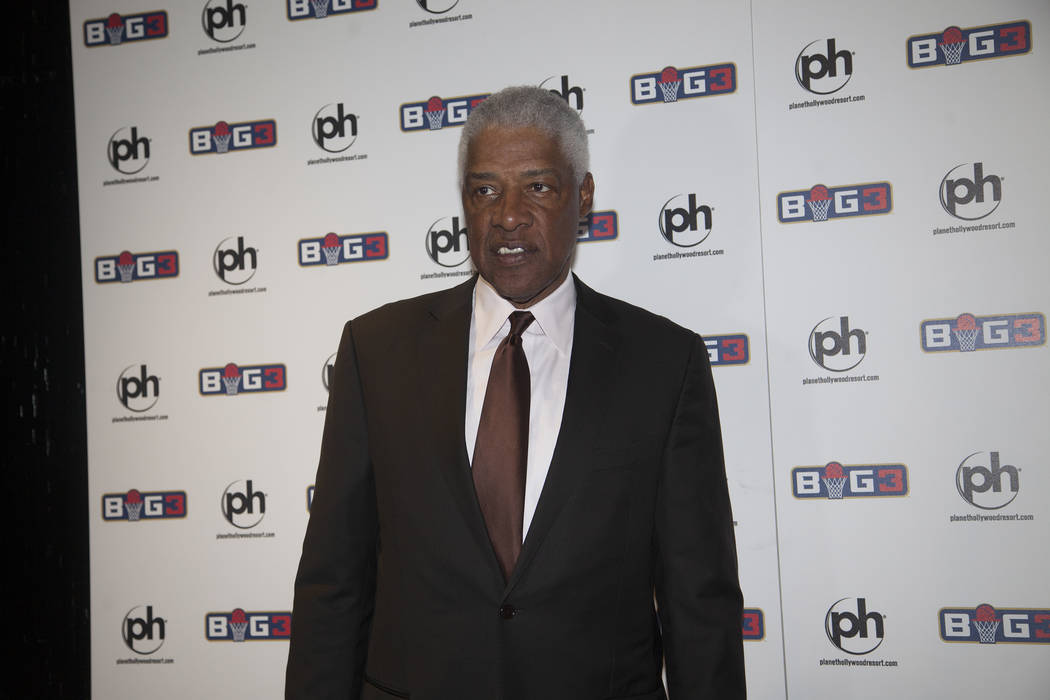 Coaches and captains comprising the eight teams in Ice Cube's BIG3 professional basketball league gathered Sunday to figure out which available former NBA players were still likely to mess around and get a triple-double.
More specifically, they selected players in the league's inaugural draft in a showroom at Planet Hollywood.
Triology, a team coached by Rick Mahorn with co-captains Kenyon Martin and Al Harrington, made former North Carolina star and 2005 NBA first-round selection Rashad McCants the top overall pick.
It was a good start to the roster for a team that later added James White and Dion Glover.
Power coach Clyde Drexler believes his team is also well-constructed following a draft where captains Corey Maggette and Cuttino Mobley added Jerome Williams, DeShawn Stevenson and Moochie Norris.
"You've got to have talent and you've got to have scorers," Drexler said of the perfect mix for the 3-on-3 game. "Guys who can take you off the dribble for sure and you definitely need chemistry. You need guys who are willing to do the dirty work and some guys who are willing to set it up for the scorers. That chemistry is the reason I think the Power is going to be so strong."
Drexler's first-round pick, Williams, wasn't sure he would be drafted.
In fact, the Las Vegan wasn't even part of the official player pool when he showed up at the combine at UNLV on Saturday. The 43-year-old NBA veteran jumped on a court and mixed it up with some of the younger players as they battled through what league commissioner and former NBA player Roger Mason Jr. called "some very competitive" games.
"I got out there and bumped bumps, showed them the dog pound was still barking, and next thing I know I got picked in the first round," Williams said. "They called my name, I was over there playing with my son. I was like, 'What? I think they just said my name.' But seriously, because it's 3-on-3, it's catered to guys who really understand the game, but can't necessarily get up and down the floor. Obviously, I cannot play in an NBA game right now. I wouldn't even attempt it with the level of talent that's out there. But I played well at the combine and I think that's why they picked me."
Williams hopes to help his team all the way to the championship finals at T-Mobile Arena on Aug. 26.
Another local shares that goal. Former Cimarron-Memorial and UNLV standout Marcus Banks was the second-round pick of George Gervin's Ghost Ballers.
Banks, a first-round pick of Memphis in 2003, said he felt the nerves of draft day return Sunday.
"I got those butterflies all over again," he said. " I think it's fun. It's a great opportunity for the guys to get together. These are all the guys I grew up watching and for this league to come about is a great situation for guys to keep playing and for their competitive nature to get a chance to come out.
"But it's going to be intense. Yesterday was the combine and it was extremely competitive. That's our nature and that's what's going to happen."
The harsh realities of that competition did set in for a large group of players that weren't selected on Sunday. Former stars Latrell Sprewell, Smush Parker and Steve Francis went undrafted, as did former UNLV standout Lou Amundson.
Mason said there would be a free-agent pool in case teams lose players over the course of the season.
Five-man teams are set for now, though. Play begins June 25 at Barclays Center in New York, with unique rules like a 4-point shot and legal hand-checking.
The draft process was a success, especially for those players who got selected.
Now comes the games.
"This is a lot of fun. Are you kidding me?" Drexler said. "It's amazing to be a part of something like this, where these guys who can still really play have a chance to showcase their skills, especially in a halfcourt setting that's really the essence of the game and what we all came up playing. Really, even in the NBA when you look at the game it's mostly isolation offense with a three-man game. It's the same. We just got rid of the riff-raff."
It has to be said, for the BIG3 founders and executives, as well as the players who were selected, Sunday was a good day.
Contact Adam Hill at ahill@reviewjournal.com or 702-277-8028. Follow @adamhilllvrj on Twitter.
BIG3 season scehdule
Week 1, June 25: Barclays Center, New York
Week 2, July 2: Spectrum Center, Charlotte, North Carolina
Week 3, July 9: BOK Center, Tulsa, Oklahoma
Week 4, July 16: Wells Fargo Center, Philadelphia
Week 5, July 23: Bridgestone Arena, Nashville, Tennessee
Week 6, July 30: American Airlines Center, Dallas
BIG3 teams
3's Company: Allen Iverson, coach; Iverson (captain), Dermarr Johnson (co-captain), Andre Owens, Mike Sweetney, Ruben Patterson
3 Headed Monsters: Gary Payton, coach; Rashard Lewis (captain), Jason Williams (co-captain), Kwame Brown, Eddie Basden, Mahmoud Abdul-Rauf
Ball Hogs: Rick Barry, coach; Brian Scalabrine (captain), Josh Childress (co-captain), Derrick Byars, Rasual Butler, Dominic McGuire
Ghost Ballers: George Gervin, coach; Mike Bibby (captain), Ricky Davis (co-captain), Marice Evans, Marcus Banks, Ivan Johnson
Killer 3s: Charles Oakley, coach; Chauncey Billups (captain), Stephen Jackson (co-captain), Reggie Evans, Larry Hughes, Brian Cook
Power: Clyde Drexler, coach; Corey Maggette (captain), Cuttino Mobley (co-captain), Jerome Williams, DeShawn Stevenson, Moochie Norris
Trilogy: Rick Mahorn, coach; Kenyon Martin (captain), Al Harrington (co-captain), Rashad McCants, James White, Dion Glover
Tri-State: Julius Erving, coach; Jermaine O'Neal (captain), Bonzi Wells (co-captain), Xavier Silas, Lee Nailon, Mike James
Week 7, Aug. 6: Rupp Arena, Lexington, Kentucky
Week 8, Aug. 13: Staples Center, Los Angeles
Playoffs, Aug. 20: Key Arena, Seattle
Championship finals, Aug. 26: T-Mobile Arena