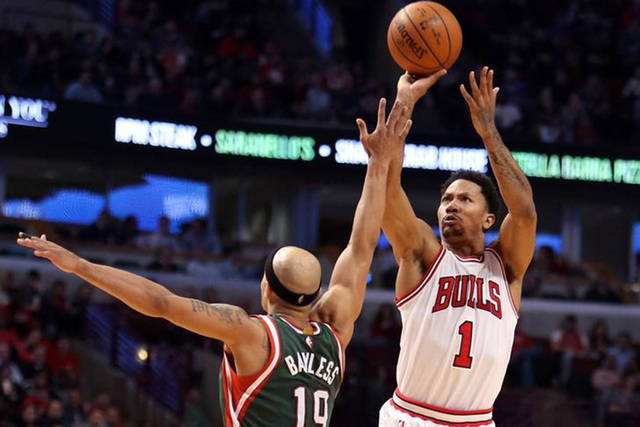 Derrick Rose can't jump, but the Chicago Bulls guard is strengthening his knee and hamstring after a third knee surgery in three years.
"I'm in a positive space right now," Rose said.
Rose said he is shooting and working on his body for the playoffs after his Feb. 27 surgery to repair a torn right meniscus. Rose said he is working on balance and building his body, and he wants to be in the playoffs for the first time in three years.
"Right now, it's about getting the most out of my rehab, getting the most out of every day," Rose said, adding that he refuses to put a timeframe on his return to the court.
The knee pain didn't hit on the court, Rose said, only during squats in the weight room.
Rose said the previous two knee injuries — torn anterior cruciate ligament in his left knee April 28, 2012; torn medial meniscus in his right knee in November 2013 — were learning moments. He said the way he is shooting, he feels the latest procedure might be a positive after he initially panicked.
"At first … you're human," Rose said. "You go through the process of thinking that (this latest injury could be career-threatening). But you think about how blessed I am. This time in might be a blessing in disguise."
Fans are fretting that Rose might not be back on the court despite outward optimism from management. He said there is a need to accept that he will not regain trust of fans until he proves he is capable of staying on the court.
"The way I feel right now, there's a good chance I'll come back (this season)," Rose said.
Rose said he was relieved the latest injury was not related to his ACL. He said he needed to have the surgery because he could not straighten his leg.
While the Bulls placed a four- to six-week timeframe for his projected return — around April 11 — Rose said there is no given date. The Bulls have a well-paid, high-talent training room at present with forward Taj Gibson (ankle) and All-Star shooting guard Jimmy Butler (elbow) sidelined. Butler is unlikely to return until April.
Rose said there is less pressure to jump back into game action and teammates are encouraging him to take his time. As for when he thinks he will be back, Rose made no guesstimates.
"Who knows, whenever I feel well, that's when I'll be back on the court," Rose said. "Who cares? I'm not even thinking about that right now."
The challenge for Rose will be conditioning.
"That's the biggest thing," he said. "I'm killing it in workouts right now."
RELATED:
Bulls GM says Rose expected back in 4-6 weeks