Canyon Springs' Yemiyah Morris travels long road to basketball success
Updated April 12, 2017 - 9:17 pm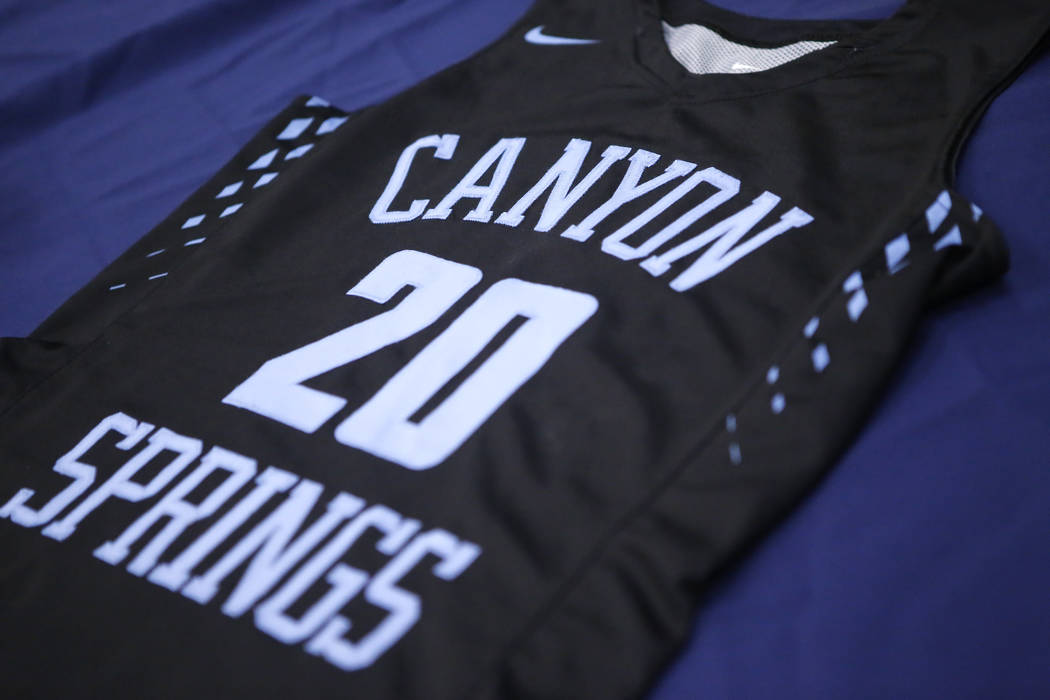 Yemiyah Morris is a West Coast girl at heart.
And for a time, the 6-foot-5-inch senior at Canyon Springs wanted to play college basketball in her native California.
But after attending high schools in three states, Morris now is eager to see what else is out there.
"I've been around, and it's different," Morris said. "I like different now."
Morris' next hoops adventure will take her to the Pacific Northwest, as she signed a junior college letter of intent with Grays Harbor College in Aberdeen, Washington.
The NCAA spring signing period opened Wednesday and runs through Aug. 1, and numerous local athletes are expected to make their college choices official during that time.
"I really felt like she was a gift to our team," Canyon Springs coach Chris Walker said. "We didn't have her for a long time, but she did make an impact on our program and I thought she did a great job trying to fit in in a matter of three months. That's a lot to ask someone."
Morris grew up in San Bernardino, California, and attended Cajon High as a freshman before moving to St. Petersburg, Florida.
She played junior varsity basketball at Lakewood during her sophomore year and was honorable mention All-Pinellas County as a junior.
In August, Morris moved to the valley with her mother, Yema Manley, who was being treated for a heart condition.
"It's been a rough task with my health and us moving, trying to get the right care for what's going on," Manley said. "I thank God I came. I'm so proud of my daughter. She's come a long way."
Morris averaged 12.3 points, 8.2 rebounds and 4.7 blocked shots and earned first-team All-Northeast League and honorable mention all-state honors.
She helped the Pioneers (18-4) take home their first league title since 2014 and advance to the Class 4A Sunrise Region semifinals.
"It was all different for me because coming from playing in California and playing in Florida, I was never one of the top players. I was always just the help," Morris said. "Being that I led the team to a few wins, it's an honor. It was very fun this season. I enjoyed it."
Morris said she previously was drawing recruiting interest from Central Florida, East Tennessee State, Furman, Georgia State, Georgia Southern and South Florida before moving to the valley.
She heard from Grand Canyon and Long Beach State this winter, and UNLV women's basketball coach Kathy Olivier attended one of Morris' Canyon Springs games.
But Morris chose to attend Grays Harbor rather than wait to see if any Division I schools made a late scholarship offer. Canyon Springs seniors D'Licya Feaster and Dayonna Maddox also signed to play with the Chokers.
"They seemed more interested in me," Morris said. "They seemed to care more, rather than just saying, 'We think you can do this, so come on.' They broke it down to me and explained and helped with more than what other colleges were offering."
Walker believes Morris has the potential to be an elite defender and expects her to make an impact at a Division I school in the near future.
Morris, who is awaiting her ACT and SAT scores, said she will use her time at Grays Harbor to get stronger and work on her offensive game.
"I'm mainly focusing on getting better and preparing to go Division I, because my main goal is to play professionally overseas and maybe go to the (WNBA)," Morris said. "Right now it's just getting better and getting my academics so that I can be at a Division I (school)."
Follow all of our preps coverage online at NevadaPreps.com and @NevadaPreps on Twitter.
Contact David Schoen at dschoen@reviewjournal.com or 702-387-5203. Follow @DavidSchoenLVRJ on Twitter.
Spring signing period
Local athletes expected to sign a letter of intent during the spring signing period, which runs through Aug. 1:
BASEBALL
Name, School, College
Rick Guzman, Palo Verde, Southwestern Oregon College
Parker Hart, Pahrump Valley, Black Hawk College (Ill.)
Ryan Meng, Palo Verde, Southwestern Oregon College Signed
Braxton Wehrle, Bishop Gorman, South Mountain College (Ariz.)
BOYS BASKETBALL
Name, School, College
Chuck O'Bannon, Bishop Gorman, Southern California
Dominic Proctor, Bishop Gorman, Miami (walk-on)
Isaiah Spears, Coral Academy, Washington University (Mo.)
Donnie Tillman, Findlay Prep, Utah
GIRLS BASKETBALL
Name, School, College
D'Lycia Feaster, Canyon Springs, Grays Harbor College (Wash.)
Sarah Kruthaupt, Centennial, Laramie County College (Wyo.)
Dayonna Maddox, Canyon Springs, Grays Harbor College (Wash.)
Yemiyah Morris, Canyon Springs, Grays Harbor College (Wash.)
Sondra Scroggins, Valley, Blue Mountain College (Ore.)
Myra Tadytin, Spring Valley, Edmonds Community College (Wash.)
Scotteanna Thomas, Centennial, Scottsdale Community College (Ariz.)
Courtney Walker, Centennial, Laramie County College (Wyo.)
Lauren Welch, Centennial, Hampton
Lynnae Wilds, Spring Valley, Edmonds Community College (Wash.)
BOYS SOCCER
Name, School, College
Calvin Aguirre, Sierra Vista, Peninsula College (Wash.)
David Ginsburg, Western, Skagit Valley College (Wash.)
Kevin Medina, Clark, Skagit Valley College (Wash.)
Sterling Penniston-John, Clark, Peninsula College (Wash.)
GIRLS SOCCER
Name, School, College
Jenna Dumont, Legacy, Grays Harbor College (Wash.)
Brianna Duran, Eldorado, Peninsula College (Wash.)
Haylei Hughes, Cimarron-Memorial, Highline College (Wash.)
Catherine Rodriguez, Del Sol, Southwestern Oregon College
Tyana Slocum, Eldorado, Highline College (Wash.)
Sierra Vicente, Arbor View, Embry-Riddle (Ariz.)
Halle Watson, Spring Valley, Peninsula College (Wash.)
SOFTBALL
Name, School, College
Katerina Anthony, Rancho, Iowa Central Community College
Summer Horn, Las Vegas, Langston University (Okla.)
Kayla King, Foothill, Lindenwood University (Mo.)
Alexis Presser, Arbor View, Spokane Community College (Wash.)
Sabrina Saldate, Las Vegas, Adams State (Colo.)
BOYS SWIMMING
Name, School, College
Mihail Amiorkov, Palo Verde, Cal Poly
BOYS TRACK AND FIELD
Name, School, College
Frank Harris, Basic, Southern Utah
GIRLS VOLLEYBALL
Name, School, College
Karime Raygoza, Rancho, New Mexico Military Institute