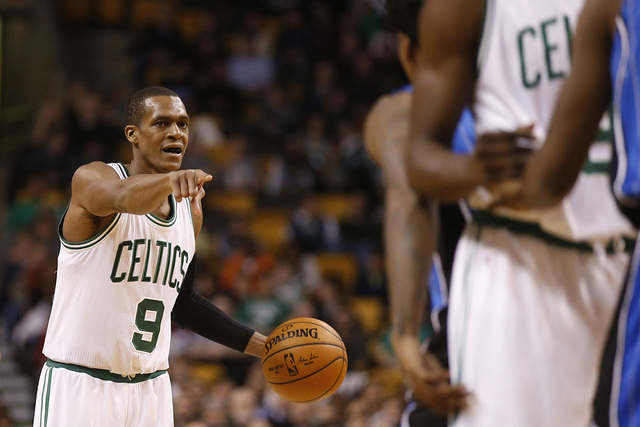 The Boston Celtics and Dallas Mavericks are close to finalizing a deal that would send point guard Rajon Rondo to the Mavericks, multiple media outlets reported Thursday.
The Celtics and the Mavericks reached an agreement in principle to send Rondo to Dallas, although there are conflicting reports on the players involved. ESPN.com reported that the Mavs will get Rondo in exchange for forward Brandan Wright, forward Jae Crowder, guard Jameer Nelson and a future first- and second-round draft pick. CBSSports.com reports the Mavericks would get forward Dwight Powell as well as Rondo in exchange for Wright, Crowder, Nelson, a first-round pick in 2015 and a future second round pick.
Minor changes to the deal are still possible, but the deal is on course to be completed Thursday night, according to the repors.
Rondo is in the final year of his contract, and he had hinted strongly recently that he plans to test the free-agent market this summer.
But the Mavericks believe they need a big-time point guard to go along with a lineup that includes guard Monta Ellis, forwards Candler Parsons and Dirk Novitzki and center Tyson Chandler.
Rondo, 28, is averaging 8.3 points, 7.5 rebounds and 10.3 assists in 22 games this season. He is shooting 40.5 percent from the field and 25 percent from 3-point range.
Other reports indicated that the Los Angeles Lakers, Indiana Pacers, New York Knicks, Sacramento Kings and Houston Rockets expressed interest in a deal for Rondo.
ESPN reported that the Lakers offered draft picks and point guard Steve Nash, who is injured and in the final year of his contract, to the Celtics. Two weeks ago, Lakers guard Kobe Bryant had breakfast with Rondo while in Boston but said it was a social meeting and not about business.
Rondo is accustomed to the trade talk.
"It's a way of life since I've been here," he said. "It's just part of it."
Celtics general manager Danny Ainge told WBZ-FM in Boston on Thursday that his job is to make the team better, but in the past he has said he sees Rondo as part of the Celtics' future.
"Listen, my job is to look at all the different ways and pathways for us to be a championship team," Ainge said. "This is the time of the year that there's a lot of talking and calling that's going on. Part of my job is to explore the variety of ways there are to get us to our next championship. And that's all we're trying to do — just build a winner."
Could the Celtics move on without him?
"I don't know. That's a good question," Ainge said. "Rajon has been a big part of our team, not just this year but for the past years, as we know. We haven't really seen what (rookie) Marcus Smart has been able to do yet because he hasn't been healthy. He's got such a shortage of minutes and opportunities to play with the ankle sprain. So it's a good question. I don't think any of us know the answer to that."