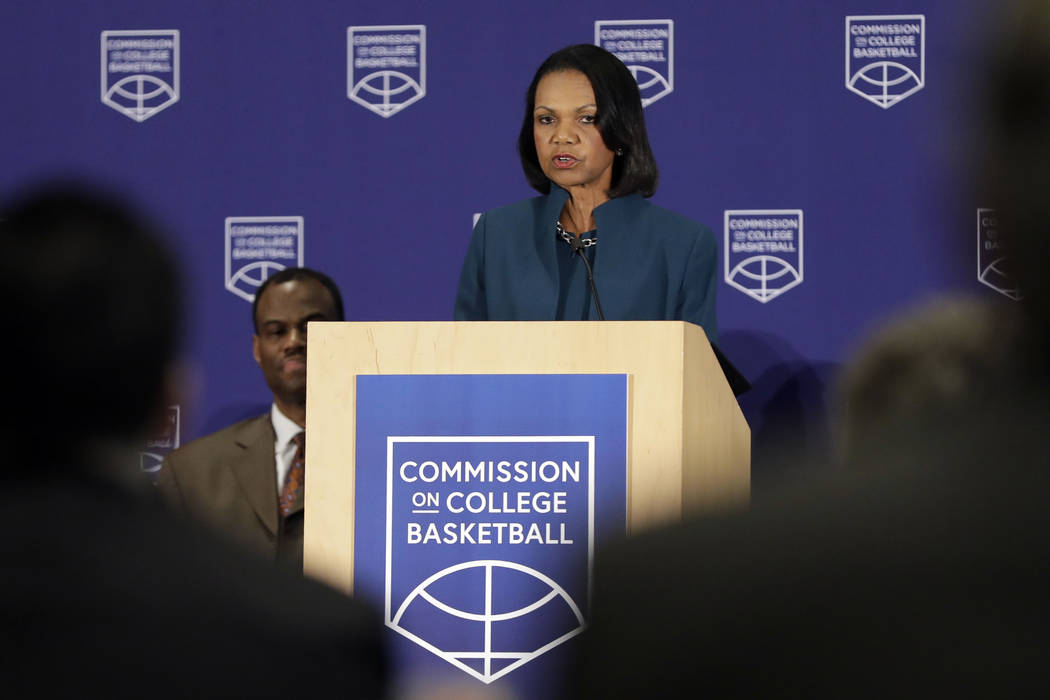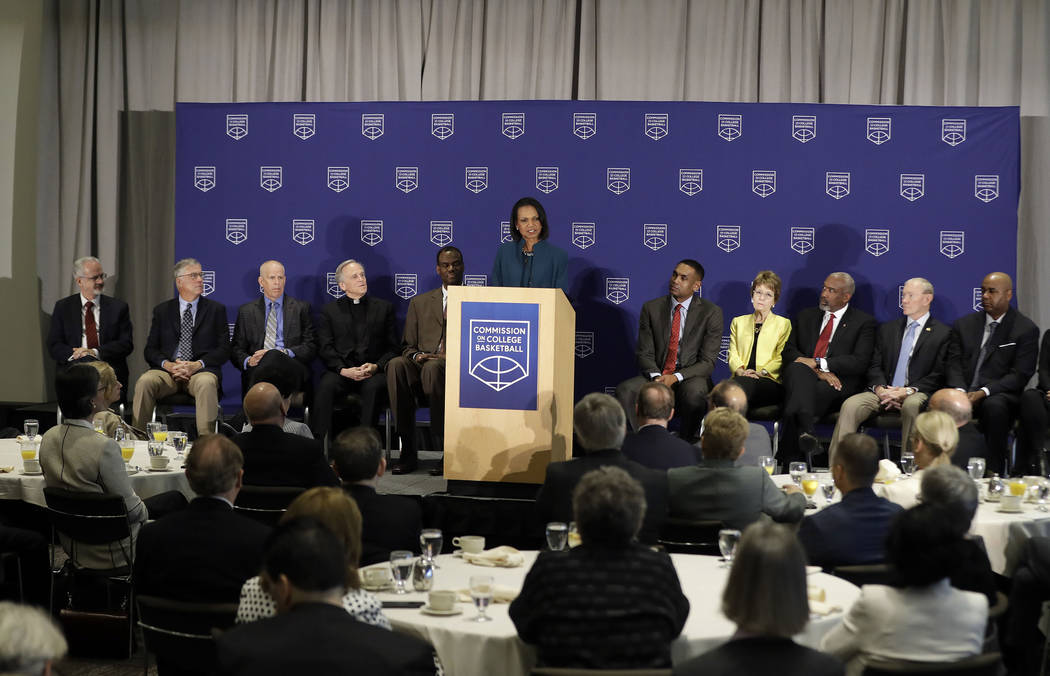 In releasing a 52-page report with a series of recommendations Wednesday, the Commission on College Basketball sent a message that this is the beginning of major change in the sport.
Whether actual change comes to men's college basketball remains to be seen, and much of what the commission recommended lies in the hands of others.
Condoleezza Rice, the former Secretary of State and Stanford Provost, chaired the commission. The NCAA Board of Governors and Division I Board of Directors unanimously endorsed the recommendations.
Now it's up to various parties to implement any changes.
"We knew our work would not be easy, but we also knew our work was too important not to get it right," Rice said. "The problems facing college basketball can't and won't be solved overnight, but future generations of student-athletes are counting on us. The people who can really solve these problems are right here in this room, and we call upon you as a commission to do so."
A UNLV spokesman said athletic director Desiree Reed-Francois and men's basketball coach Marvin Menzies would have no comment on the report.
The commission was created after the FBI announced in September that it had made 10 arrests, including of four assistant coaches, on charges of bribery, corruption and wire fraud.
According to the FBI criminal complaint, three meetings took place in Las Vegas from March to July involving assistants from Arizona, Louisville and Southern California. Las Vegas is a major hub for basketball in July with the NBA Summer League and AAU tournaments taking place.
Among the commission's suggestions was changing the one-and-done system. That's mostly up to the NBA and NBA Players Association on whether to amend the rules that a player must be at least 19 and at least one year out of high school to enter the league.
The NBA and NBPA issued a joint statement generally praising the recommendations, but otherwise made no commitment, saying the sides will "continue to assess (the rules) in order to promote the best interests of players and the game."
Also, the commission called for stronger enforcement of current NCAA rules, a system to certify agents, giving the NCAA control of summer leagues and more transparency regarding shoe contracts with coaches.
The commission didn't weigh in on whether athletes should make money of their likeness because the issue hasn't been resolved by the courts.
"Currently, the rewards for violating the rules far outweigh the risks, and we recommend significant increases in the penalties imposed on institutions and individuals of violations of NCAA rules in order to reverse this calculation," Rice said.
Contact Mark Anderson at manderson@reviewjournal.com. Follow @markanderson65 on Twitter.
Commission says
The Commission on College Basketball recommendations:
— End the one-and-done
— Allow players not drafted by the NBA to return to school
— Use independent parties to investigate and resolve major cases
— Increase penalties for the most serious rules violations
— Work with NBA and USA Basketball on running summer leagues
— Better cooperation from apparel companies
— Add five independent members to the Board of Governors