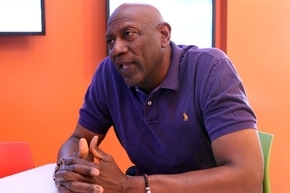 Spencer Haywood is still on the outside looking in at the Naismith Basketball Hall of Fame after all.
The Las Vegas resident, 63, admitted Saturday he did not make it into the Class of 2013. Al Ross, Haywood's longtime friend and former agent, released contrary information to Fox Sports Florida on Friday, and several media outlets, including the Review-Journal, ran stories detailing his inclusion.
"I don't know why there was confusion," Haywood said Saturday from Atlanta, where he is attending the Final Four. "Someone from the NBA told me I was in, then I found out Friday night that I wasn't in.
"This is so embarrassing. My stomach has been so bad I can't eat, I can't sleep. This isn't a punch in the stomach. It's below the stomach."
The Hall of Fame's official announcement comes Monday at the Final Four. The Hall — not the NBA — informs finalists beforehand if they received the required votes for induction.
Former UNLV coach Jerry Tarkanian confirmed Friday he was selected, but declined comment until Monday; same for Las Vegas resident Gary Payton. Both were informed earlier in the week they had made it.
Hall of Fame chairman Jerry Colangelo did not return a call Saturday to clarify the situation as it pertained to Haywood.
Ross explained Saturday from Florida that he had received a call from Haywood earlier in the week saying he had gained induction to the Hall from the list of 12 finalists. Ross then passed along that information when he was called by a reporter from Fox Sports Florida.
"They couldn't keep him out anymore. He's really excited," Ross had told Fox Sports Florida on Friday.
That story then became the source for Haywood's induction in media outlets across the country.
"I don't know how it was decided," Ross said Saturday. "Spencer called me and told me that he was in. First he was in. Then he's not in. It's the most ludicrous, absurd thing I've ever seen."
Haywood said he was bitter over what happened and the ensuing confusion.
"I don't know what's going on," he said. "I thought I was in. I should be in. But I'm not."
Contact reporter Steve Carp at scarp@reviewjournal.com or 702-387-2913. Follow him on Twitter: @stevecarprj.