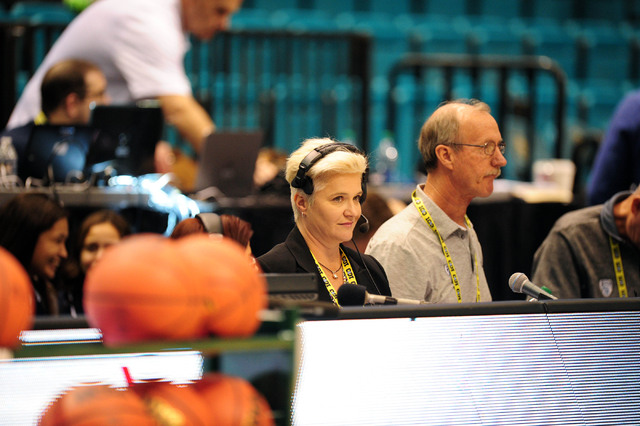 Her voice echoed over the din at the MGM Grand Garden, and someone who was paying attention said: "Wow, they got the (San Francisco) Giants' PA gal! That is so cool!"
Jaime Coffee isn't Renel Brooks-Moon, who does handle the public address chores for the Giants at AT&T Park. But the 43-year-old Sacramento, California, resident doesn't mind the comparison.
"I can be her if you want me to," she said kiddingly.
Coffee is behind the microphone for this week's Pacific 12 Conference men's basketball tournament, making her the first woman to work a men's tournament in Las Vegas as a PA announcer. She had just worked the Pac-12 women's tournament in Seattle, so she knows what her duties require.
"I've been doing this for 15 years," said Coffee, who did the Sacramento Monarchs when they were in the WNBA and currently does Sacramento State's women's games and Sacramento Republic FC pro soccer.
Coffee also was the first woman PA announcer to work an NBA game. In 2014, she substituted for Sacramento Kings PA man Scott Moak, who was sick. She worked the Kings-Memphis game at Sleep Train Arena and had no problems.
"I didn't have time to be nervous," said Coffee, who worked in radio for years and is currently a spokeswoman for the California Highway Patrol. "I just focused on what I was doing, and it was great. The fans were very appreciative of my work, and that made me feel good."
Fans identify with their PA person. It's more than just saying who the foul is on or who scored. The PA person is part of the atmosphere, and people connect with you.
"I take it very seriously," Coffee said. "I make sure I pronounce everyone's name correctly. I'll write down each name phonetically, and I'll go up to the sports information director before the game to double-check and make sure I have it right. I don't want to screw up someone's name."
Coffee is grateful the Pac-12 was willing to give her a shot to work the men's tournament. She has been the PA announcer at the conference's women's tournament the past five years, so the league knows her work.
Ironically, Coffee was again filling in for Moak, the regular voice of the Pac-12 men's tournament, who had obligations with the Kings on Wednesday and Friday. Danette Leighton, the Pac-12's chief marketing officer, said it was an easy call to use a woman at a men's tournament.
"I never even questioned it," Leighton said. "Jaime is phenomenal as a PA announcer. She has an understanding of the game, and she has a great voice and a great presence. Everywhere I've seen her work, the fans love her."
Coffee will be back in Las Vegas in December to compete in the Rock and Roll Half Marathon. But she hopes she can return next March and be behind the microphone again for the men's tournament.
"I hope I get the opportunity to come back in the future," she said. "It's been a blast. And I love visiting Vegas. It's such a cool city."
Contact reporter Steve Carp at scarp@reviewjournal.com or 702-387-2913. Follow him on Twitter: @stevecarprj