Ole Miss rallies to stun BYU, 94-90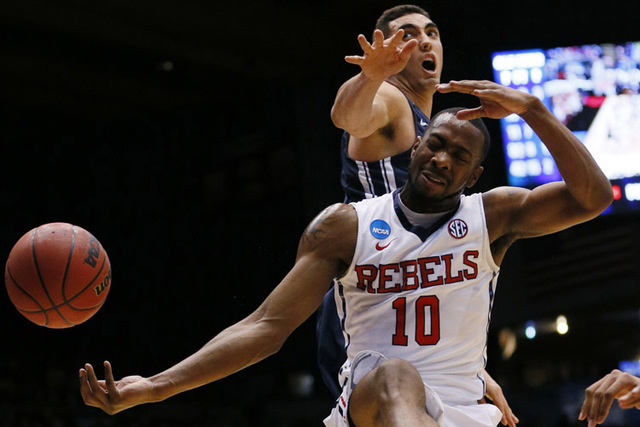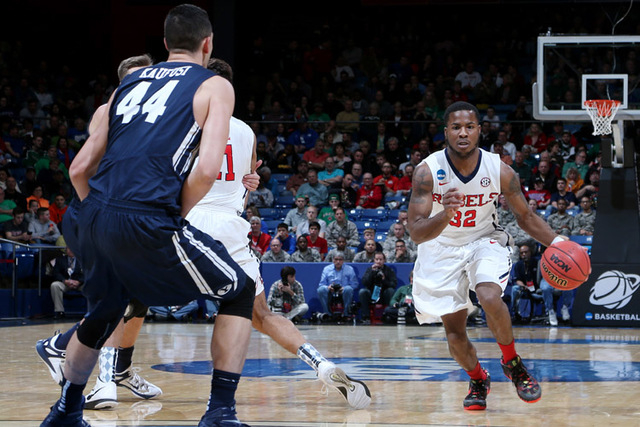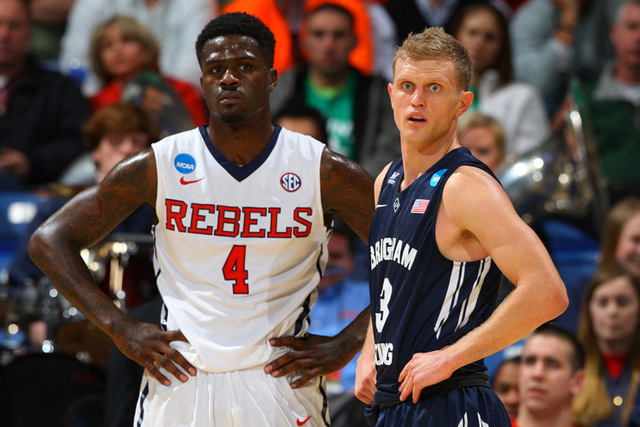 DAYTON – Mississippi guard Stefan Moody scored 26 points and forward M.J. Rhett added 20, as the Rebels completed a stirring second-half comeback from a 17-point halftime deficit, defeating Brigham Young 94-90 in an NCAA Tournament first-round game Tuesday night at University of Dayton Arena.
Ole Miss (21-12) advances to face No. 6 seed Xavier (21-13) in a second-round West Region game on Thursday at 4:10 p.m. EST in Jacksonville.
Brigham Young (25-10), which hit 10 3-pointers in the first half but then cooled off, was led by guards Tyler Haws, who scored 33 points, and Chase Fischer, who added 23.
The Cougars, who led 49-32 at halftime, went 5 of 15 from 3-point range in the second half as Ole Miss rallied.
The Rebels were able to calm the pace of the game in the second half, and both teams went scoreless for more than three minutes midway through the second half.
A dunk by Rhett off a pass from guard Jarvis Summers reduced the BYU lead to 53-44. Summers finished with 11 points and 10 assists.
The Rebels got within five points, but a lob from Haws to Kyle Collinsworth resulted in a dunk and three-point play, putting BYU back up by eight. Collinsworth, a junior guard, scored eight points.
After connecting on 10 3-pointers in the first half, the Cougars didn't make a 3-pointer in the second half until Skyler Halford made one with 9:54 left. The senior guard finished with 11 points and three 3s.
A 15-2 run gave the Rebels a 72-68 lead.
After BYU tied the game, Moody's 3-pointer with 1:58 left put Ole Miss ahead 85-82.
The Rebels built their lead to 93-87 with 10 seconds remaining, before Haws hit a 3-pointer to make the score 93-90 with five seconds left. But Summers made one of two free-throw attempts to seal the win for the Rebels.
The Cougars began the game with an 8-0 run, capped by back-to-back 3-pointers from Fischer, who scored 17 points in the half, going 4-for-6 from 3-point range.
Ole Miss went scoreless for more than four minutes before Summers hit a jumper.
The Cougars finished the first half 10-for-15 on shots from beyond the arc. Haws led all scorers with 19 first-half points, hitting three of five 3-point attempts.
Ole Miss outscored BYU 12-2 in the paint before the break but couldn't keep up with the Cougars, who held a 49-32 advantage at halftime.
Moody led the Rebels with 11 first-half points.
NOTES: BYU entered Tuesday's game with 285 made 3-pointers, tied for third-most during Dave Rose's nine seasons as head coach. The Cougars made 15 3-pointers in 29 attempts on Tuesday to raise the total to 300. … The teams met for the first time. … BYU made its 29th NCAA Tournament appearance, including 11 trips in the past 15 years. The Cougars are 15-32 in the tournament. … Ole Miss made its eighth NCAA Tournament appearance and now has a 5-7 mark. … Rebels coach Andy Kennedy is the program's winningest coach in just nine seasons with a 192-113 record after Tuesday's victory.
———————————————————————-