Wright kept Villanova motivated by reminding it of Oklahoma loss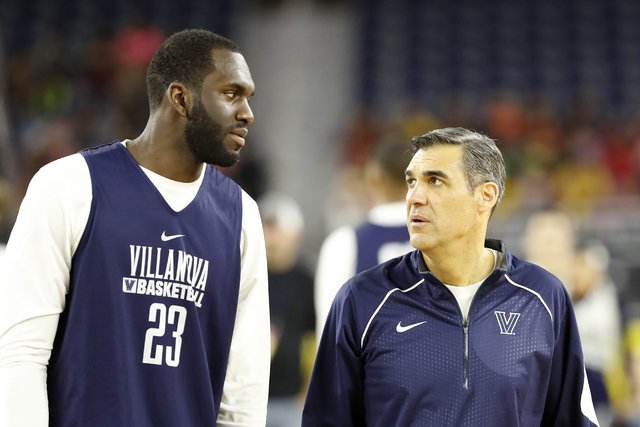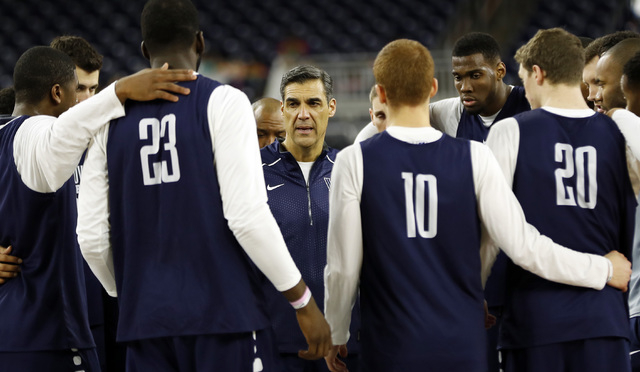 HOUSTON — When his basketball team began clicking this season, when all the long-range jumpers began falling, when the national ranking reached No. 1 for the first time in school history, Villanova coach Jay Wright had the perfect message to avoid any sense of arrogance slipping into the locker room.
He could always play the Oklahoma card.
No matter how good the Wildcats have looked, and we're talking as good as anyone else in this NCAA Tournament, Wright continued to remind his players about a certain game in early December.
The Wildcats lost to Oklahoma 78-55 in Hawaii and now engage the Sooners again in a matchup that carries far more significance.
The two meet in the first game of the Final Four today at NRG Stadium.
"I think we learned a lot from that first game against them," Wright said. "They were the team we wanted to be. They were connected defensively. They were unselfish offensively. They had intelligent shot selection. It was a great barometer for us all through the season.
"We had a lot of success. We won the (Big East) championship. But we were always looking at that game and saying, 'OK, we won league, but those guys are still out there.' We're not that good yet.
"In one sense, I'd rather not play them because I know how good they are. But in another sense, it's the perfect ending. Our season will either end or we will take the next step because we've improved. This was the team that really got us, and the one we looked up to all year."
It is a clash of two coaches with UNLV ties, Wright having served as an assistant to Rollie Massimino with the Rebels from 1992 to 1994 and Lon Kruger of the Sooners having been coach from 2004 to 2011.
Coaches who reach this point of the tournament like to say it's a moment to cherish and savor because it's not promised. You never know if such fortune will find your program again.
Wright also guided the Wildcats to a Final Four in 2009, when they lost to a North Carolina side that was better and absolutely more prepared for the magnitude of the event. Villanova then went five straight seasons without advancing out of the bracket's first week, including once as a No. 1 seed and twice as a No. 2.
Maybe this is what it needed to continue surviving and advancing this season, the idea that as Oklahoma also rose to No. 1 for a time and continued to get better and better as the weeks and months passed, there would exist an opportunity to enact some revenge from the earlier loss.
Things aren't the same, is all.
Buddy Hield on that December day was just another terrific player scoring 18 points on 6-of-17 shooting for Oklahoma. On Friday, he accepted the Oscar Robertson Trophy as National Player of the Year. Rashard Odoms was a key player for the Sooners in beating the Wildcats. He now averages six minutes and has played in just 17 games.
Wright's team is also much different, and the fact it's favored by two points reinforces that point, but it also can't come close to shooting the 4-of-32 from 3-point range it managed in December and have a prayer of winning.
"We didn't play Villanova basketball that day," Wildcats junior guard Josh Hart said. "We weren't taking charges or diving for loose balls or taking care of the ball. We weren't nearly as focused as we should have been."
In 1985, when David used Ed Pinckney's baskets instead of a stone to sleigh Goliath, then dressed as Patrick Ewing, Wright was watching from a friend's house.
He was an assistant basketball coach at Division III Rochester and also the assistant intramural director. He almost didn't get to see Villanova win its improbable title because he had to run a floor hockey league and the guys playing floor hockey didn't give a hoot about the national championship.
"I had been in Lexington for the semifinals," Wright said. "That was my first Final Four ever as a part of the National Association of Basketball Coaches. I had to go home Monday to run the floor hockey. I went to women's soccer coach Terry Gurnett's house and sat on his floor and watched that game.
"To see a team make a dream come true like that, overachieve, it was magical. Watching that, as a coach, I would love to be able to do it, never thinking you would be able to do it at Villanova. I think about it every day. We'd love to bring a championship home to Philly.
"We have to get past Oklahoma first."
Past the team that has motivated them all season.
Ed Graney can be reached at egraney@reviewjournal.com or 702-383-4618. He can be a heard on "Seat and Ed" on Fox Sports 1340 from 2 p.m. to 4 p.m. Monday through Friday. On Twitter: @edgraney