Oregon State guard at ease playing at dad's alma mater
November 24, 2014 - 11:28 pm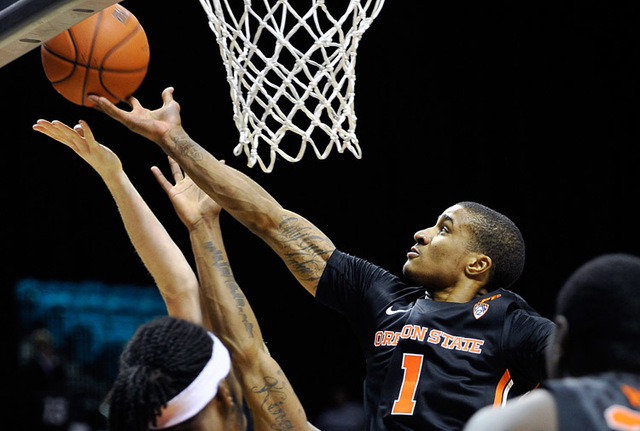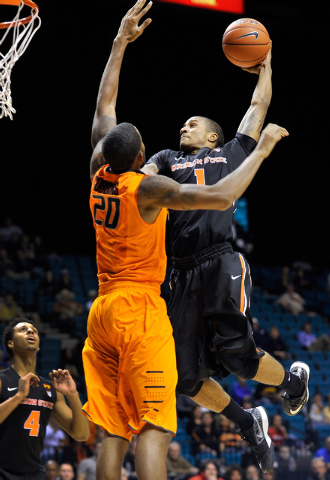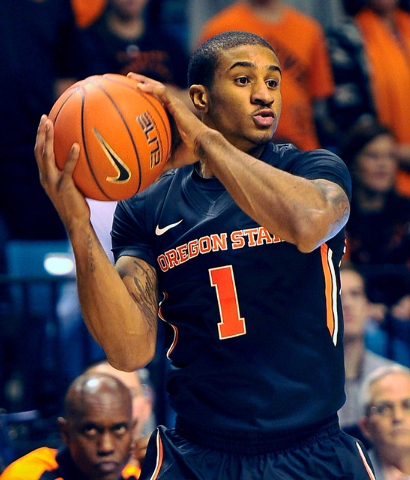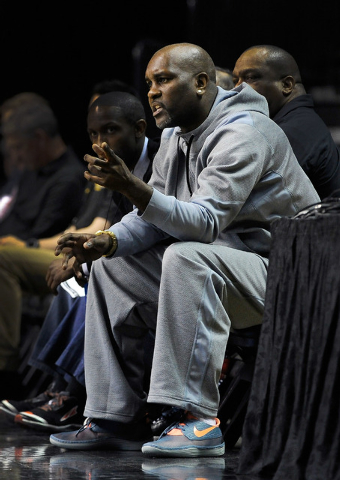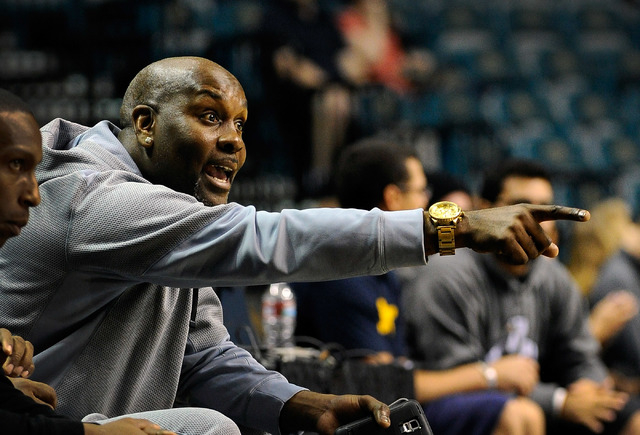 Your father is arguably the greatest basketball player his college has produced. Yet you're willing to follow in his footsteps, deal with all the pressure and unrealistic expectations?
Of course you will.
Especially if you're Gary Payton's son and you're comfortable in your own skin.
Gary Payton II returned home Monday wearing the black and orange uniform of his father — Oregon State — scoring 10 points and grabbing six rebounds as the Beavers fell to Oklahoma State 66-53 in the MGM Grand Main Event at the Grand Garden.
The 6-foot-3-inch junior guard was happy to be back in Las Vegas, but he's even prouder to be playing collegiately at his dad's alma mater and where Gary Payton's No. 20 hangs from the rafters at Gill Coliseum.
"Ever since I was a little kid, I wanted to be a Beaver," said Payton II, who played at Spring Valley High School. "There's pressure, but there's not really pressure because we're two different basketball players. He saw the game his way, and I see the game my way."
He didn't even flinch when Oregon State fired Craig Robinson, who had been pursuing Payton II, and hired former Montana coach Wayne Tinkle in May. To Payton II, it's about the program and restoring the pride that existed when his father played for Ralph Miller in the late 1980s.
"He told me he wanted to switch around the program and get it back to the way it was years ago when my father was there," Payton II said of Tinkle. "I wanted to be part of that."
Tinkle said he has a talented player in Payton II, who has averaged 10.5 points and 6.8 rebounds early in his Division I career after spending the past two seasons at Salt Lake Community College, where he averaged 14.1 points and was a second-team All-American last year.
"He thinks like a coach on the floor," Tinkle said. "He's got tremendous talent, and we're trying to get him to be consistent with his game. We want him to sell out and go 100 percent every possession. But he's going to be an all-the-time kid. I have no doubt about that.
"He wants to be great, but in his own way, and his family has done a great job of helping him not put any additional pressure on himself."
Gary Payton, who is in the Naismith Basketball Hall of Fame and maintains a home in Las Vegas, attended Monday's game. He admits his son has made huge progress on and off the court.
"I told him he's going to make his own name and that I hope that one day his banner will be right next to mine," Payton said. "This was his decision to go to Oregon State. I didn't try to talk him into it or out of it.
"But I told Oregon State don't expect him to be me.
"As a father, I'm proud of the way he's handled himself and that he's taking care of his business on the court and in the classroom. He's made a lot of improvement in both basketball and his books, and he hasn't come close to reaching his ceiling as a player."
His son agreed.
"I've come quite a long way since my Spring Valley days," he said. "I've put in a lot of work, and my dad has helped me a lot.
"I'm just going to keep working and try to keep getting better."
The Cowboys (5-0) broke open a 44-44 game midway through the second half with an 11-1 run in a 5:18 span.
Le'Bryan Nash scored 19 points to lift Oklahoma State, which will play in Wednesday's championship game at 8:30 p.m. against Tulsa (3-1), which defeated Auburn 53-35.
Victor Robbins scored 16 points to lead Oregon State (3-1), which will play Auburn in the consolation game at 6 p.m. Wednesday.
■ Tulsa 53, Auburn 35 — The Golden Hurricane locked down Auburn's perimeter game, forcing the Tigers (2-2) into a 2-for-22 night from beyond the 3-point arc to improve to 3-1.
Tulsa, which was led by James Woodard with 16 points, led by as many as 18 points with just under three minutes left.
■ Milwaukee 56, Louisiana-Lafayette 52 — Steve McWhorter had 18 points and 10 rebounds to lead the Panthers (2-3), who won despite committing 22 turnovers.
The Ragin' Cajuns (1-3) were outscored 7-3 during the final 3½ minutes of the game after tying the score 49-49.
Contact reporter Steve Carp at scarp@reviewjournal.com or 702-387-2913. Follow him on Twitter: @stevecarprj.