USA Basketball not seeking a divorce from Las Vegas
August 5, 2014 - 10:51 am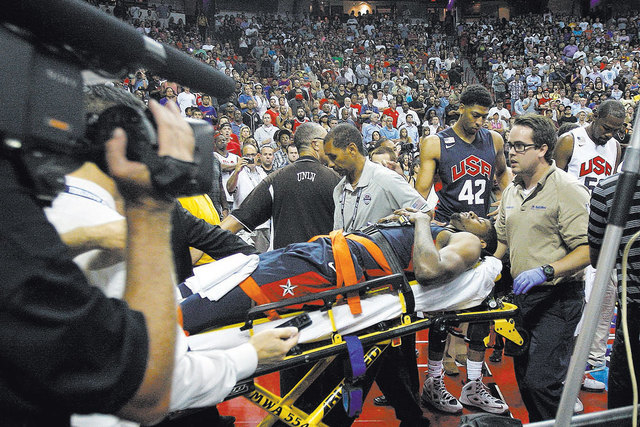 Despite a severe injury to a key player last week, Las Vegas does not need to worry about a divorce from the U.S. men's national basketball team, which has been training in town since 2006 and has used the city to prepare for six major international competitions, including the last two Olympics.
USA Basketball chairman Jerry Colangelo said Tuesday that Paul George's broken right leg suffered during last Friday's Blue-White intrasquad scrimmage at the Thomas & Mack Center was not the result of the court, where the base of the basket stanchion was one inch short of the NBA recommended minimum of 4 feet and added that Team USA plans to maintain its relationship with the city.
"It didn't jeopardize our relationship with Las Vegas," Colangelo said as the team prepares to transition to phase two of its training camp in Chicago next week as the U.S. points toward the Aug. 30 opener of the FIBA World Cup in Spain. "The NBA All-Star Game was played there. The Summer League has been played there. We've been playing there and we're familiar and comfortable with the Thomas & Mack.
"It appeared to us that Paul George was already in a stressful situation when he came down before he hit the stanchion.We're all familiar with the rules and if something is off an inch, I think people are making too much of an issue of it."
George had successful surgery late Friday at Sunrise Hospital and Medical Center and Colangelo said the Indiana Pacers' star forward was expected to be released late Tuesday or early Wednesday. The team was down to 19 after George got hurt and cut down further to 16 with the release of John Wall, Bradley Beal and Paul Millsap on Monday. That leaves 16 players for the Chicago camp, which begins next Wednesday and culminates with an exhibition game vs. Brazil Aug. 16 at the United Center.
The updated roster includes guards Kevin Durant, Derrick Rose, Kyrie Irving, Steph Curry, James Harden, Damian Lillard, DeMar DeRozan and Klay Thompson; forwards Gordon Hayward, Kyle Korver, Chandler Parsons, Kenneth Faried and Mason Plumlee; and centers Anthony Davis, DeMarcus Cousins and Andre Drummond.
"We needed a few days to sit back and let time go by," Colangelo said. "The great news is the players are all on board. They realize injuries and sports go together unfortunately. But we're moving forward and looking forward to Chicago."
Coach Mike Krzyzewski, who is a master motivator, said he doesn't believe he'll need to do anything special to recapture the intensity that personified the Las Vegas training camp last week.
"The effort last week was outstanding," Krzyzewski said. "The camaraderie that developed was outstanding. Honestly, I don't think they'll need any additional motivation. I think they want to honor Paul. he's part of our group and part of our brotherhood. I think they'll be ready and they're excited about getting back together."
Contact reporter Steve Carp at scarp@reviewjournal.com or 702-387-2913. Follow him on Twitter: @stevecarprj.
Related Stories:
NBA to evaluate involvement in global events, Silver says
Team USA officials: T&M court was safe for game during which George broke leg
Pacers' odds to win NBA title adjusted after injury to Paul George