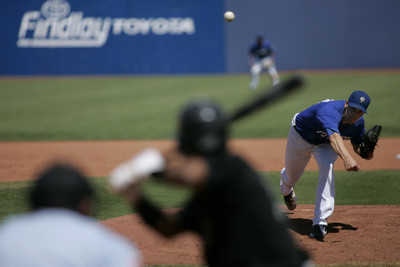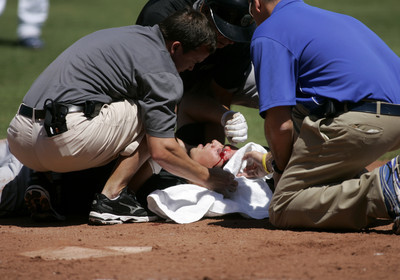 Baseball isn't always a fair game.
At least that's what a former coach told 51s third baseman Terry Tiffee a few years ago while he was bouncing around the Minnesota Twins organization.
"It's definitely a true statement," Tiffee said Monday after going 2-for-4 in a season-ending 5-3 loss to Colorado Springs at Cashman Field. "It's not always a fair game, but you've just got to deal with that and do the best you can."
Tiffee hit .378 to become the second Las Vegas player in three years to win the Pacific Coast League batting title. James Loney (.380 in 2006) and John Kruk (.351 in 1985) are the only other players in franchise history to lead the PCL.
Tiffee most recently was named the 51s' Most Valuable Player, capping a season in which he also was a PCL All-Star and member of the All-PCL and U.S. Olympic teams.
But he said those accolades "definitely don't make up for" the fact he wasn't promoted to the Los Angeles Dodgers on Monday, when major league rosters were expanded.
"I did everything I could do to try to get back up there," said Tiffee, who was 1-for-4 in six games with the Dodgers this season. "It would've been icing on the cake getting called up, but that's just the way it is."
Tiffee was one of several bright spots for the 51s in their first winning season in five years. After going 67-77 each of the last two seasons, Las Vegas went 74-69 and finished 81/2 games behind first-place Sacramento in its division.
The 51s, who led the league in hitting for the first time in 22 years with a franchise-record .301 average, pulled within 21/2 games of the River Cats on Aug. 1 after a win at Oklahoma. But they lost their next three, all by one run, to fall 51/2 games back and never threatened again.
"The goal is always to win your division and get to the playoffs, and we didn't get that done," manager Lorenzo Bundy said. "But we were over .500, which is always a positive sign, especially with the amount of movement you have in this league.
"We had some guys go to the big leagues and some guys had really good years here. Overall I would say it was a positive year."
Twelve Dodgers joined the 51s this season for rehabilitation assignments and 15 Las Vegas players were promoted to Los Angeles, including Eric Stults, James McDonald, Jason Repko and Chin-lung Hu, all of whom were called up Monday.
After toiling 10 years in the minor leagues, 51s infielder Luis Maza was promoted to the majors for the first time this season, batting .228 for the Dodgers in 45 games. He hit .378 for the 51s in 63 games.
John Lindsey, the first player in franchise history to be awarded the Mayor's Trophy (Most Valuable Player as voted by the fans) in consecutive seasons, hit .316 and led the team with 26 homers, 100 RBIs and 152 hits.
He was the first Las Vegas player in 10 years to drive in 100 runs, but was denied a trip to the majors for the 14th straight season.
"I'm a little disappointed, but I'll keep my head up," he said. "I had a good year and did what I could do to get the opportunity."
Strong-armed center fielder Xavier Paul hit .316 with 68 RBIs in his first Triple-A season and also received the 51s' community service award.
Dwayne Pollok went 10-5 with a 4.70 ERA en route to earning the team's Most Valuable Pitcher award.
"He started, relieved, closed, set up, went long. He did it all," said Bundy, who called Pollok the surprise of the season.
Relief pitcher Mike Koplove, who excelled for the U.S. Olympic team, led Las Vegas with a 3.46 ERA.
Catcher A.J. Ellis hit .321 and threw out more than 40 percent of runners trying to steal. Wilkin Ruan hit .483 (14-for-29) as a pinch hitter, shortstop Angel Chavez hit .292 with 68 RBIs, and Mitch Jones had 16 homers and 45 RBIs in 54 games.
"We didn't make the playoffs, but we played real hard and a lot of guys accomplished the goals they set out to do," said Lindsey, who hopes to play in Japan next year. "It was a great year. I enjoyed it."
Contact reporter Todd Dewey at tdewey@reviewjournal.com or 702-383-0354.
COLORADO SPRINGS – 5 LAS VEGAS – 3 KEY: Mike McCoy led off the game with a home run and added a tiebreaking sacrifice fly in the ninth, lifting the Sky Sox over the 51s in both teams' season finale. 51s LEADERS Batting — Terry Tiffee, .378 Homers — John Lindsey, 26 RBIs — Lindsey, 100 Runs — Jason Repko, 89 Hits — Lindsey, 152 Stolen bases — Repko, 20 Wins — Jason Johnson, 11 ERA — Mike Koplove, 3.46 Strikeouts — Eric Stults, 102