Beijing Olympics all Phelps, all the time
August 18, 2008 - 9:00 pm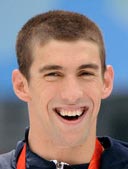 If Mark Spitz is any example, the media will still be enamored of Michael Phelps 36 years from now when the 2044 Games are held.
Or as Richard Hinds of the Sydney Morning Herald put it, "Unless someone runs a 60-minute marathon or pole vaults clean out of the Bird's Nest, you can consider nominations for the athlete of the Beijing Olympics well and truly closed."
Meanwhile, Greg Cote of the Miami Herald pointed out that the swimmer has been busy away from the Water Cube.
"Between events, in his spare time, Phelps has freed Tibet, solved the crisis in Darfur, brokered a human-rights policy with the Chinese government and refurbished the Great Wall," Cote wrote.
"It has been a fabulous Olympics for the entire American swimming program, whose men's and women's teams in Beijing include not only Phelps but also several other people whose names I can't recall."
• DEVALUED — David Thomas of the Fort Worth Star-Telegram integrated Olympics gymnastics lingo into one of his recent efforts.
"This column, by the way, had a start value of only 6.300," wrote Thomas. "Apparently, the large number of Rangers pitching jokes hurt the degree of difficulty."
• WATER-LOGGED — Seven-time Tour de France champ Lance Armstrong is the biggest H2O consumer in Austin, Texas — earning himself a $1,630 bill for June after his 1.1-acre abode sucked up a whopping 222,900 gallons.
So much for the notion that nobody goes through water faster than Phelps.
• FLYING FAILURE — Wanting to get the English soccer season off to a flying start, Burnley hired seven parachutists to drop into its stadium for the home opener.
Six of them made it. The seventh landed on a grandstand roof and had to be rescued by firemen, delaying the kickoff by almost half an hour.
• BIGGER THAN BECKS — After teenage British swimmer Rebecca Adlington won her second gold medal of the Olympics while setting a world record in the 800-meter freestyle, England's Observer was looking ahead to 2012.
"She is a strong favorite to win twice more in London, and for one golden fortnight, Becky will be more famous than Becks," the newspaper said. "All she needs now is the nonsinging spouse, Tom Cruise's mobile number and the fridge reserved exclusively for salad."
• PIN DROPS — The International Bowling Museum and Hall of Fame in St. Louis is closing its doors forever, leaving employees speechless.
"In fact," wrote the Seattle Times' Dwight Perry, "it was so quiet, eyewitnesses said, that you could hear … nah, too easy."
• CAVALIER ATTITUDE — More from the Miami Herald's Cote, on the Cleveland Cavaliers' acquisition of high-scoring point guard Mo Williams: "Great. LeBron James getting scoring help is like Bill Gates getting a raise."
REVIEW-JOURNAL WIRE SERVICES