Kevin Harvick needs strong finish at Kansas to keep Chase hopes alive
October 15, 2016 - 10:46 pm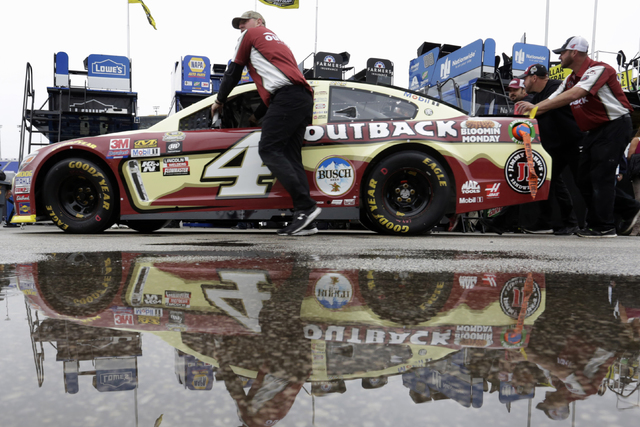 Kevin Harvick's 38th-place finish at Charlotte last week has put him in a near desperate situation this week at Kansas Speedway, the second of three Chase races during the Round of 12.
Four NASCAR Sprint Cup drivers will be eliminated next week after Talladega, and Harvick is 12th in points. No driver wants volatile Talladega determining their fate, so performing well in Sunday's Hollywood Casino 400 at Kansas Speedway is essential.
Fortunately for Harvick, his chances of winning his fourth race of the season look strong based on Saturday's final practice, during which he had the fastest 10-consecutive lap average, an indicator he will be quicker than most on the long runs. He validated why he's the 7-2 favorite.
Other good news for Harvick is that he's been outstanding in his past six starts at Kansas, beginning with a 2013 win and finishing second in three of the past five. In 21 starts, he has a 10.8 average finish and 475 laps led.
Harvick, who works for Stewart Haas Racing, is one of maybe 15 drivers with a legitimate shot to win Sunday on the 1.5-mile layout in Kansas City, Kansas. A look at three others:
MATT KENSETH (12-1): He had one of his best practices of the season and won his first pole of the year Friday. It was his third pole at Kansas, and the last time he did it, he won his second consecutive race there. He has a 13.3 average finish in 21 starts, and his 658 laps led are the most in track history. Last season, he led a race-high 153 laps before Joey Logano gave Kenseth's bumper a nudge into the wall to take the lead. Kenseth is second in the Chase.
DENNY HAMLIN (15-1): He is eighth in points and needs a great performance this week to strengthen his chance of advancing. But he should fare extremely well based on Saturday's practice, during which he was outstanding on long runs. He ran the most laps (38) in the first session, then got dialed in perfectly during the final practice. His only Kansas win was in 2012, and he was second last season.
KYLE BUSCH (8-1): For most of his career, this wasn't his favorite track. In his first 14 starts, he failed to grab a top-five finish. But in 2014, he finished third, last season he was fifth, and in May he won for the first time there. He was fastest in Friday's first practice with qualifying trim, then in race trim during Saturday's early session, he had the best 10-consecutive lap average. He has two wins on 1.5-mile tracks this season.
Micah Roberts, a former sports book director, has been been setting NASCAR lines in Las Vegas since 1994. Follow on Twitter @MicahRoberts7.