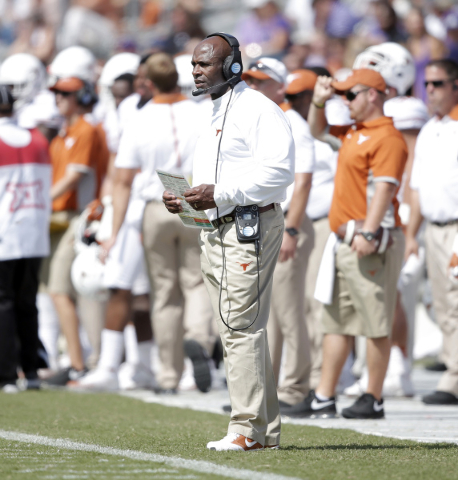 Lopsided losses to quality opposition are becoming the norm rather than the exception for the Texas football program, and the heat is on coach Charlie Strong.
Seven of the Longhorns' past 17 games — all under the regime of the second-year coach — have resulted in defeats of 21 points or more.
Many alumni are growing restless, and some players are in-fighting and taking their complaints to social media. If that's not enough, the school's beloved mascot, Bevo XIV, is said to be seriously ill and will not make the trip to the Cotton Bowl in Dallas for the annual showdown today against hated border rival Oklahoma.
Suffice it to say, this is not the same program that played for two national championships, and won the 2005 title, in the previous 10 seasons. The most recent stumble by the Longhorns was last week's 50-7 thrashing against fourth-ranked Texas Christian. The game was more lopsided than the final score indicated. The Horned Frogs had a 220-1 total yardage advantage late in the first quarter and led 30-0 after 15 minutes.
Predictably, Strong could not find much good to say about the state of the Longhorns after the most recent beatdown, calling it "awful" and "embarrassing."
Some respected voices in the sports betting industry have expressed their opinion that the 16½-point line is too high, especially in a rivalry game in which raw numbers and recent past performances can sometimes disappear on a gridiron of emotion.
I'm not one of those. I believe things will get worse for the Longhorns before they get better. And, certainly, Oklahoma coach Bob Stoops will have no mercy on his wobbly, wounded adversary. There are always recruiting battles to be won, and Texas will not be down forever.
Lay the points and look for quarterback Baker Mayfield and the Sooners to hand the Longhorns another convincing defeat.
Four more plays for today (home team in CAPS):
East Carolina (+9) over BRIGHAM YOUNG — Without question, the Cougars played the toughest September schedule in college football, facing a who's who quartet of Nebraska, Boise State, UCLA and Michigan. BYU (3-2) survived that gantlet with a 2-2 record. BYU has only one cover in its past seven tries as a home favorite, while East Carolina has gotten the money in six of its past eight as an underdog. This game bears more meaning to coach Ruffin McNeill and the Pirates.
Navy-NOTRE DAME (Over 56) — The Fighting Irish, who also regularly play Air Force, averaged 49.5 points in their past six games against the service academies. Irish wide receiver Will Fuller, projected by many pundits as a possible top 10 selection in next spring's NFL Draft, poses a particularly difficult matchup problem.
Midshipmen quarterback Keenan Reynolds, a fourth-year starter, is one of the program's best-ever at the position, and the unique option offense is a rarity in today's college football. Technically, Navy is 11-4 over the total when cast in the role of a double-digit underdog
Georgia Tech (+7) over CLEMSON — Yellow Jackets coach Paul Johnson's team rambles into Clemson on a three-game losing streak — Tech was favored in all three — and is clearly on the ropes, needing to muster a herculean effort to salvage the season.
Clemson held on last week in the rain against Notre Dame in one of the program's most anticipated games in recent history. Tigers coach Dabo Swinney did The Whip and the Nae-Nae in a jubilant postgame celebration. What goes up must come down.
UTAH (-7½) over California — Under third-year coach Sonny Dykes, there is no question Cal has come a long way in a short time. The Golden Bears were 1-11 in 2013, won five games last year and are now playing in the marquee game of the week.
While he will not match the 527 yards total offense pasted on the Cal defense early this season by Texas quarterback Jerrod Heard, Utah's Travis Wilson is a surprisingly adept runner who should have a field day against the Golden Bears, who are still in the process of constructing a championship-caliber defense.
Last week: 5-1 against the spread
Season: 12-11-5
— Paul Stone of VegasSportsAuthority.com is providing college football analysis for the Las Vegas Review-Journal.