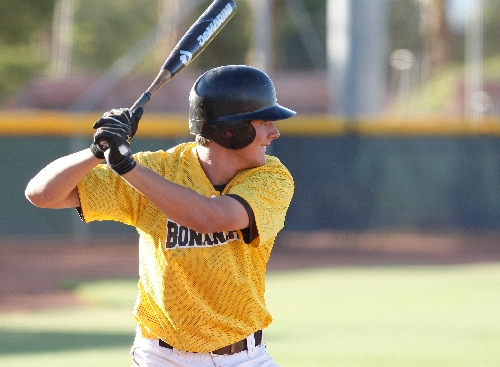 Bonanza senior Kris Bryant wasn't the most vocal leader this spring.
He let his bat do the talking.
Bryant smacked 22 home runs this spring, the third most in state history, according to the Nevada Interscholastic Activities Association record book, in leading the Bengals to a run in the Sunset Region tournament.
"He's a real quiet kid," Bonanza coach Derek Stafford said. "When you carry a big bat like that, people tend to follow."
For his efforts, Bryant has been named the Class 4A state baseball player of the year by the Las Vegas Review-Journal. He was also named the Gatorade Nevada player of the year Wednesday.
Bryant batted .469 with 51 RBIs. He posted a 1.271 slugging percentage, as 30 of his 45 hits went for extra bases. The Bengals, who finished third in the Southwest League, won three games in the Sunset Region tournament after missing the postseason the previous three years.
"I could coach 20, 30 more years and not have a player like that come through the program," Stafford said. "He was a game changer. His impact on a baseball game is something I've never seen before."
Bryant was a big part of getting the Bengals back to the postseason. He homered against seven of eight Southwest League opponents during the regular season. The only team he didn't hit a homer against during league play was Spring Valley, and he homered against the Grizzlies in the Sunset Region tournament.
"He awed his teammates with some of the home runs he would hit," Stafford said. "But he's an absolutely wonderful teammate and a great kid to be around."
Bryant, who had 47 career home runs, was a four-year starter for Bonanza. But Stafford said his star made big improvements in the last two seasons.
"The raw power is just something that is God-given ability," Stafford said. "What made Kris so tough the last two years is his plate discipline. Two years in a row he's had more home runs than strikeouts. That's an incredible feat in itself.
"His discipline, it's what makes him a step ahead and a notch above a good high school hitter. It made him great."
The 6-foot-5-inch Bryant played shortstop the past two seasons for Bonanza and is projected to eventually move to third base. He has signed with the University of San Diego but could be selected in the top five rounds of the major league draft.
Baseball America lists Bryant as a second-round talent, and ESPN.com's Keith Law has Bryant ranked as the No. 29 prospect in the draft.
"He's basically been our best player for four years, the face of our program," Stafford said. "But this year has been absolutely ridiculous. He's been an absolute pleasure to have in our program. You can't replace him."
Contact Prep Sports Editor Damon Seiters at dseiters@reviewjournal.com or 702-380-4587.
In-depth high school sports coverage