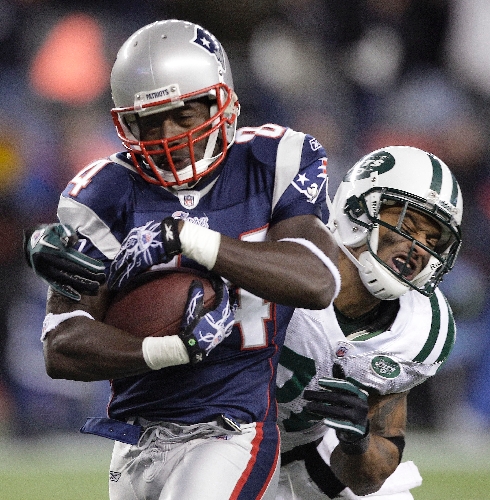 FOXBOROUGH, Mass. — Shine a spotlight on Tom Brady and he makes nearly everyone else disappear.
Especially opposing defenses.
Brady rarely loses big games, certainly not at home and definitely not with so much at stake. He threw for four touchdowns and 326 yards in New England's 45-3 romp over the New York Jets on Monday night for his NFL-record 26th straight regular-season home victory.
It was the most anticipated matchup of the season — and it was a rout from the outset.
"We don't listen to the hype," Brady said. "I don't think we ever have. We really take after our coach (Bill Belichick), and he says 'When you win, say little. When you lose, say less.' "
Instead, Brady said it all with another magnificent performance. The three-time Super Bowl champion surpassed Brett Favre's record for consecutive wins in the comforts of his own stadium, lifting the Patriots (10-2) to the best record in the AFC.
If this was for bragging rights in the conference, coach Rex Ryan and the Jets (9-3) will have to be silent for a while.
"I came in here to kick his butt," Ryan said of Belichick, "and he kicked mine. There are a zillion things to correct."
The Jets, who had won eight successive road games, five this season, came in with a vaunted defense and an offense that had come alive behind second-year quarterback Mark Sanchez and big-play receiver Santonio Holmes.
But Brady didn't have to sweat anything in his second straight game with four touchdown passes and no interceptions — and 12th such game of his career. He hasn't been picked off in seven consecutive games.
New York couldn't produce a pass rush, and its blitzes were fruitless most of the night. With 4:40 remaining in the third quarter, the Patriots already were over their 30.4-point average that leads the league.
"All in all it was a fun night," Brady said.
When the star quarterback wasn't doing the damage, former Jets running back Danny Woodhead was. He turned a shovel pass into a 50-yard gain, had a 35-yard jaunt with another short pass and made Ryan even more regretful to have let him escape earlier this season.
"This is where I am. I'm a New England Patriot," Woodhead added. "Was I over there? Yeah. But that's not something I dwell on because I'm a New England Patriot, and I'm going to do my best for this team."
Brady moved into 13th place all time with 252 touchdown passes; he has thrown for 27 TDs and been intercepted only four times as the three-time Super Bowl winner makes a strong case for his second league Most Valuable Player award.
"He's Tom Brady. He's been able to do some pretty good things throughout his career," Woodhead said. "I don't know if stuff like that surprises anybody."
The Jets gave the Patriots plenty of help. Nick Folk's missed field goal came before BenJarvus Green-Ellis' 1-yard run, and Steve Weatherford's 12-yard punt led to Deion Branch's 25-yard TD.
New England's 32nd-ranked pass defense intercepted three of Sanchez's passes in snapping the Jets' four-game winning streak, all against teams with losing records.
NEW ENGLAND — 45 N.Y. JETS — 3
KEY: Tom Brady threw for 326 yards and four TDs, making a rout of the Patriots' AFC East showdown with the Jets.
NEXT: Patriots (-2½) at Bears; Dolphins at Jets (-6½)