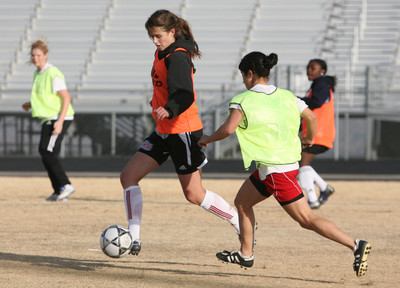 Christmas break didn't come quickly enough for Centennial's girls soccer opponents.
The two weeks away from school has been the only thing able to slow the Bulldogs' high-powered attack.
Now that the break is over, Centennial hopes to storm its way to a Northwest Division crown and a spot in the Southern Nevada title match.
The Bulldogs (9-0-1, 7-0 Northwest) resume play today against Shadow Ridge after outscoring their opponents
60-5 in the first half of the season, including a 28-0 edge in their last four games.
"I knew we would come out and be a really strong team," said defender Alayna Canada, one of four seniors on the team. "We still have a lot of players from last year."
Centennial was 15-3-1 last season and, for the second straight year, lost to eventual Southern Nevada champion Palo Verde in the Sunset Region final.
"Those were tough losses," Bulldogs coach Bernie Preston said. "They know what it's like, and it's a reminder for them."
The Bulldogs have had only three close matches this year — 3-2 wins over Shadow Ridge and Arbor View and a 1-1 tie against Rancho. The other matches have been shutout victories, each by at least three goals.
Rancho is the only team to hold Centennial to fewer than three goals all year. The Bulldogs have scored seven or more goals in half of their games.
"We all work together," senior midfielder Riley Bassett said. "It's been an entire team effort."
That's an understatement. Thirteen Bulldogs have scored, including nine players with three or more goals.
Starting goalkeeper Jenna Riddle, who has seen time at other positions as matches have gotten out of hand, has almost as many goals — four — as Centennial's opponents combined.
Bethanie Skelton leads the team in goals with 15. Sophie Krauza and Bassett each have scored eight.
"Our two center midfielders (Bassett and Julie Owens) have directed our attack really well," Preston said. "Our scoring has been spread out among the forwards and midfielders.
"We haven't been isolated to any one person, which makes it difficult for someone to figure out how to match up against us."
Riddle's goalkeeping and the defense, led by Canada and classmate Mandy Gilbert, don't allow many quality scoring chances.
"We've had goals scored against us, but for the most part, we've done really well," Preston said. "Our defense starts a lot of our offense."
Before the Bulldogs concern themselves with a run at the Southern Nevada championship, they first must go through the second half of division play with plenty of teams gunning for them. Centennial still has league games against Arbor View (9-1), Palo Verde (8-2) and Shadow Ridge (6-3-1).
"We know they're going to come out hard against us, but we're focused," Riddle said. "We know we're a good team."