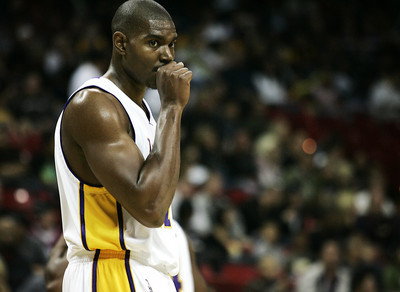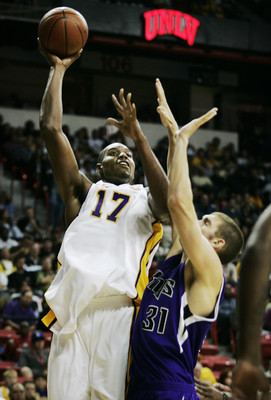 Given what the Los Angeles Lakers accomplished during the playoffs last season, expectations are lofty heading into the 2008-09 NBA season.
Andrew Bynum has a lot to do with the high hopes Lakers fans are clinging to. Their logic is if the Lakers can get to the NBA Finals without the 7-foot center, imagine what they can do with Bynum on the floor.
The fourth-year pro said his surgically repaired left knee, which caused him to miss the final 46 regular-season games and all of last season's playoffs, is fine. And he's OK with the lofty goals, too.
"I think it's healthy to have high expectations for us," he said Sunday as the Lakers made their annual visit to the Thomas & Mack Center, defeating Sacramento 94-89 in front of an announced crowd of 11,090 for their first win of the preseason. "We got to the Finals last year. Now, we've got me and (forward) Trevor (Ariza) for the whole year."
That is exactly what Lakers fans say. But the reality is Bynum's impact in his return to the court might not be as noticeable or glamorous. He has a defined role — defend and rebound first, score second.
"I don't really have an ego," Bynum said. "I'm still going to be a threat offensively. But my priorities are to defend and rebound."
That's what coach Phil Jackson likes to hear. With Kobe Bryant, Pau Gasol, Lamar Odom and Derek Fisher around to lead the offense, Bynum can play to his strengths by clogging the middle, blocking shots and triggering the fast break by clearing the glass.
"We still want him to be a threat in the low post," Jackson said of Bynum's offensive skills. "We're trying to get him to play with his back to the basket on offense."
Jackson said Bynum has looked good during camp and figures to get better over time as he knocks off the rust from months of inactivity.
"He's not running as well as we'd like because he's had some asthma issues," Jackson said.
Bynum, who played mostly at power forward Sunday, struggled against the Kings. He got in early foul trouble and it took awhile to find his rhythm. He finished with nine points, five rebounds and three blocked shots in 22 minutes.
But he also had bright spots. Jackson used him at center in the third quarter and Bynum scored on a nice spin move, then blocked Kings rookie Jason Thompson at the other end in Sacramento's ensuing possession.
Bynum said he has to be careful not to overextend himself right away. But he also said his knee has taken a shot or two in the preseason, and he has suffered no ill effects.
"That was my biggest concern," said Bynum, averaging 10.0 points and 7.3 rebounds through three preseason games. "I didn't know what would happen when I got hit on it. But it has held up fine."
Bynum admitted it was difficult to be a spectator during the Lakers' playoff run last spring, especially when they lost to the Boston Celtics in the Finals.
"I watched a lot of movies," he said. "There really wasn't much I could do.
"I tried to be part of the team. I'd watch a lot of tape and see if I could pick up some things that will help me when I came back. But it was very frustrating."
Contact reporter Steve Carp at scarp@reviewjournal.com or 702-387-2913.
LOS ANGELES — 94 SACRAMENTO — 89 KEY: The Lakers, who were led by Pau Gasol's 12 points, won their first preseason game in three tries despite shooting 9 percent from 3-point range (1 of 11). Slideshow