BYU look for redemption against Utah State
September 30, 2011 - 1:02 am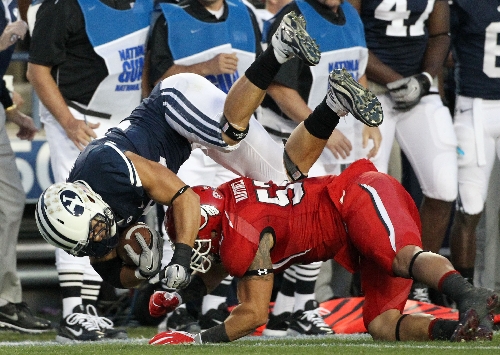 Utah State hasn't defeated Brigham Young in Provo since 1978, and after what happened last year in Logan, there is little chance the Cougars will be unprepared tonight.
BYU and Utah State meet at 5 p.m. in a game broadcast locally on ESPN (Cox Cable 30) and KSHP-AM (1400).
"We have had so many changes, and it was a pivotal point in the season where so many changes were made," Cougars coach Bronco Mendenhall said of last year's 31-16 loss to Utah State. "It almost seems like five years ago, so I'm not sure (losing is a motivation tonight). The players might have a different perspective on that."
They do.
"It was really tough because I couldn't even play," BYU senior linebacker Jamison Frazier said. "I had broken my thumb the week before. It was tough to see my guys battle through it knowing that I couldn't do anything about it."
In addition to Frazier, linebacker Jordan Pendleton, defensive tackle Romney Fuga, strong safety Andrew Rich and free safety Steven Thomas were also sidelined for the game with injuries.
The Aggies had 243 yards of offense in the first half and blew out the Cougars for their first win over BYU since 1993.
Mendenhall was so upset by his team's effort and 1-4 start to the season that he fired defensive coordinator and secondary coach Jamie Hill and assigned those duties to himself. The Cougars responded to win six of their last eight games.
BYU (2-2) is eager for the rematch.
"I think (tonight's game) will have a little more to it because of (last year's Aggies win)," Utah State coach Gary Andersen said. "But our kids will be excited to play. It's national exposure."
Anderson credits last year's victory on ESPN as a key factor in signing quarterback Chuckie Keeton of Cypress Creek High School in Houston. The true freshman will make his fourth start tonight for the Aggies (1-2).
■ CLOSE GAMES — While BYU dropped a 17-16 decision at No. 24 Texas this season, Utah State's two losses have come by a combined five points.
The Aggies fell at No. 23 Auburn 42-38 and lost at home last week to Colorado State 35-34 in double overtime.
■ RUNNING THE BALL — Utah State ranks fifth among 120 Football Bowl Subdivision programs this season in rushing. The Aggies average 316 yards on the ground.
BYU averages 68 yards rushing (No. 116), but the Cougars ran for a season-high 127 yards last week in a 24-17 victory over Central Florida — the nation's top run defense.
"The combination of running backs running for more power and the offensive line coming up and blocking to create more push is something that is really a focus," Mendenhall said.
■ EDWARDS' IMPACT — Legendary BYU coach LaVell Edwards sits on both sides of this intense rivalry.
Edwards played football at Utah State from 1949 to 1951 and this month was inducted into the Aggies Athletic Hall of Fame. As BYU's coach from 1972 to 2000, Edwards won 257 games and went 21-6 against Utah State.
■ WAGON WHEEL — The winner of tonight's game will secure the Old Wagon Wheel trophy for the next year. BYU leads the series 43-34-3, including a 15-game winning streak in Provo.
Dave McCann is a morning news anchor on KLAS-TV (Channel 8). He hosts "True Blue" at 5 p.m. Monday on BYUtv, is the play-by-play voice for BYUtv and hosts "Cougar Countdown" at noon Wednesday on KSHP-AM (1400). He can be reached at dmccann@8newsnow.com.