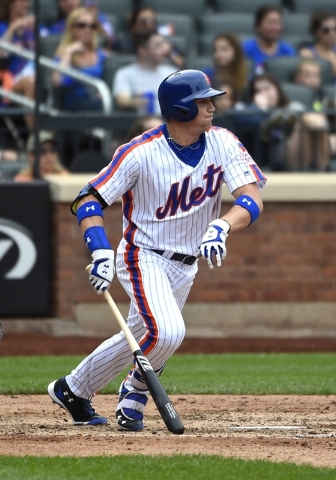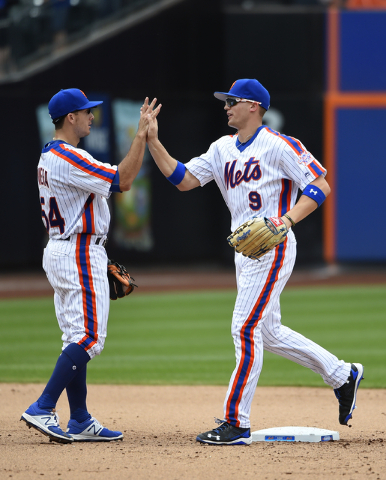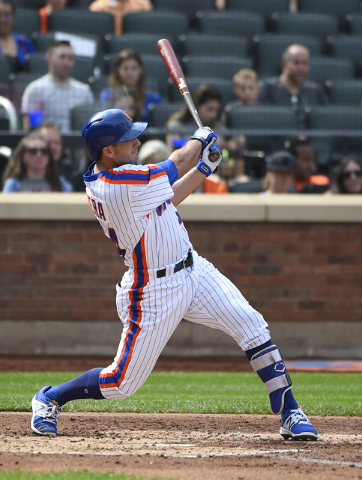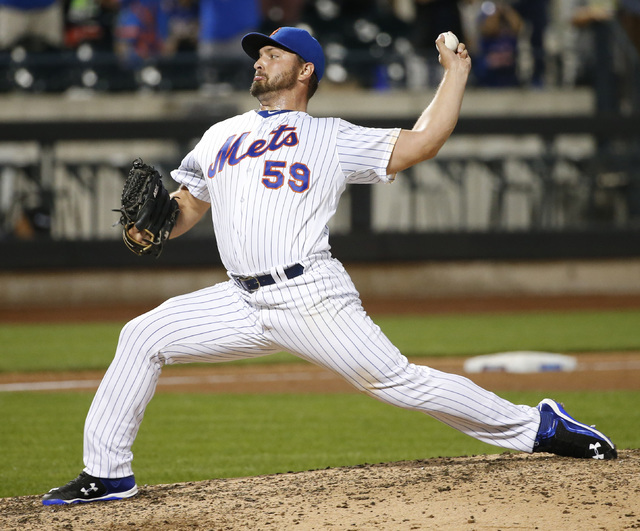 NEW YORK — A few hours before Monday's game, reliever Josh Smoker whizzed through the spacious Mets clubhouse on a scooter.
"Beep, beep," Smoker said as he scooted by teammate T.J. Rivera.
Rivera laughed as he watched Smoker go.
"You can't do that in the Vegas locker room — you'll crash everywhere," Rivera joked.
Thousands of miles away from the cramped quarters at Cashman Field, several of this year's 51s are enjoying life in the majors in the middle of a playoff race now that rosters have expanded.
"It's great because you get to learn what this atmosphere is like and obviously it's a great atmosphere to be part of," outfielder Brandon Nimmo said.
Nimmo was one of the New York Mets' 11 September callups. After going back and forth throughout the year, he joined the Mets in early September after the 51s wrapped up their season.
Then there are players like Smoker who weren't technically September callups but were summoned shortly before that after spending most of the year at Triple-A.
All that makes for a very Las Vegas feel inside the New York clubhouse.
"(Robert) Gsellman and (Michael) Conforto and Ty (Kelly), a lot of the guys on this team were in Vegas," Smoker said. "It's a good vibe and a good mixture of veterans and younger guys, so it's a lot of fun coming to the field."
So far, it's been a good experience for the rookies, being able to learn how to handle themselves in a playoff race.
Some, more than others, have made an impact on that race as the Mets battle for a wild-card spot. Rivera is one of them, seeing time at second base with Neil Walker out for the season.
Entering Thursday, Rivera was hitting .347 and had started eight consecutive games. His first career home run — which came in the 10th inning of Sept. 13 against the Washington Nationals — was part of a three-RBI day and helped the team to an important victory.
Because of injuries in the rotation, two players who spent significant time in Triple-A throughout the season — Seth Lugo and Gsellman — have also been given sizable opportunities. Lugo is 4-2 with a 2.35 ERA with the Mets, appearing in 15 games (six starts) and Gsellman is 2-2 with a 3.13 ERA in six games (five starts).
Out of the bullpen, Smoker has been used in high-leverage situations. He's pitched in 17 games and has two wins.
"Every game matters and you definitely have that feeling — it's kind of a different buzz in the air," Smoker said. "Obviously this is my first time being in the big leagues, but you can definitely tell there's a different sort of feeling than on any other team I've been on."
With the Mets heading into Thursday tied for a wild-card spot, some rookies aren't getting a chance to play much — like top prospects Nimmo and Gavin Cecchini — but they're picking up information just by sitting on the bench.
"Most of the guys that are September callups are guys that are used to being everyday players and whatnot so you get to learn a different side of baseball and how to be ready on the bench and it's a totally different experience and something that has to be learned," Nimmo said. "Just being ready at the drop of that hat … to be able to learn that is going to be a valuable experience."
While some of the callups will be back in Las Vegas next season, having so many in New York now undoubtedly has helped them adapt to life in the majors.
"Your first year in the big leagues, you don't want to be out of line or be uncomfortable because you don't know how things go, but it's really the same game," Rivera said. "All the veterans have taken us in pretty good and then it's nice to have all the guys that I've come up with, that I've played with so it's a little easier to adapt."
Betsy Helfand can be reached at bhelfand@reviewjournal.com. Follow on Twitter: @BetsyHelfand