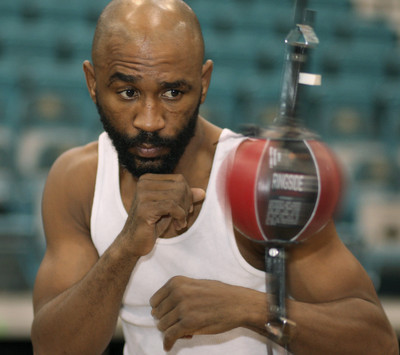 Joel Casamayor is having too much fun to quit fighting. Besides, the 37-year-old lightweight isn't sure what he would do if he wasn't competing in the ring.
"I love boxing," Casamayor said through an interpreter at the MGM Grand Garden, where he will face Juan Manuel Marquez on Saturday. "I was fighting as I came out of the womb.
"I feel God put me on the earth to box. I'm always happiest when I'm fighting."
Riding a six-fight unbeaten streak, Casamayor is confident as he prepares for Marquez, who is moving up to 135 pounds for the first time in his career.
"I didn't train any differently for this fight," said Casamayor, a two-time world champion. "We ran a few more mountains. Other than that, I trained for this fight the same as for every fight."
Casamayor said the extra running could help him in the 12-round bout against Marquez.
"To be honest, he may try to run," said Casamayor (36-3-1, 22 knockouts). "I want him to come fight me, not run."
Casamayor said he'll be ready for anything against Marquez (48-4-1, 35 KOs).
"In every aspect I have an advantage," Casamayor said. "I'm more experienced. I'm faster. I have fought at 135 my entire career. He's going to fight a real man."
Casamayor, a 1992 Olympic gold medalist, turned professional in 1996, shortly after defecting from Cuba on the eve of the Atlanta Games.
He has fought everyone put in front of him, with his losses coming against Acelino Freitas, Diego Corrales and Jose Luis Castillo.
Casamayor also beat Corrales twice, defeated Nate Campbell and, most recently, scored a 10th-round knockout of Michael Katsidis, who lost a tough 12-round split decision to Juan Diaz on Saturday.
Casamayor spent part of Wednesday visiting Corrales' grave. The former champion died in a May 2007 motorcycle accident in Las Vegas.
"I wanted to pay my respects to a great fighter and a great champion," Casamayor said. "Yes, there was bad blood between us when we fought. But that's in the past."
Surprisingly, Saturday will be the first time Casamayor has headlined a pay-per-view fight. A win over Marquez not only would allow him to retain his Ring Magazine belt but might lead to a big payday against Diaz or WBC lightweight champ Manny Pacquiao.
"I'd love to fight Pacquiao," said Casamayor, a 4-1 underdog against the 35-year-old Marquez. "I feel I can beat anyone in the world right now."
But Casamayor isn't looking past Marquez.
"I have no next opponent," he said. "I only got one, and that's Marquez, because if we don't get Marquez, there is no next fight."
Contact reporter Steve Carp at scarp@reviewjournal.com or 702-387-2913.