Changes ahead next year in Review-Journal Sports, from staff to daily notebooks
December 20, 2015 - 3:52 pm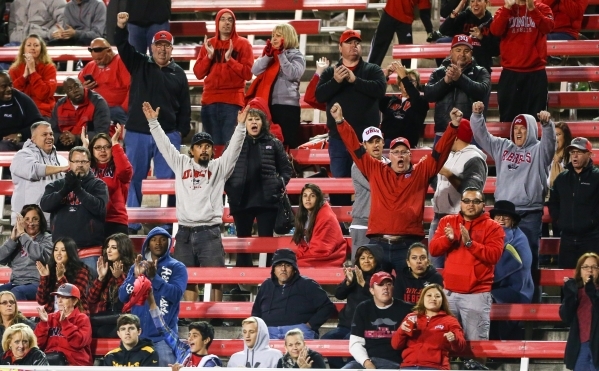 When I arrived here as Sports Editor about three months ago, I quickly found the Las Vegas sports landscape was unlike any other.
No other U.S. market has so much interest in sports betting and mixed martial arts. No other market has so many "one-off" events because, after all, this is Las Vegas, the entertainment capital of the world.
But like every other market in the country, the sports landscape is changing. Every minute. Las Vegas is on the verge of gaining a National Hockey League franchise, one which will change the way this city's sports are viewed. Readers are getting their news from their phones while waiting for the next technological advancement. And Las Vegas will have a new arena, possible a new football stadium and, maybe, new soccer and baseball venues.
To meet all of these coverage issues, we will be making some major changes next month in the people who report sports for us and the way we cover the games.
One change you have already seen: Adam Hill has moved to become a full-time writer covering the UFC and all mixed martial arts for the website we have created, CoveringTheCage.com.
The other changes will have just as much impact:
— Matt Youmans will become a full-time sports betting writer, looking at the daily odds that impact the games and taking you behind the scenes from the bookmakers to the bets.
— Mark Anderson, who has covered UNLV football for 17 years, will become our main basketball writer, reporting on UNLV basketball as well as the NBA Summer League, Team USA and other UNLV events.
— Todd Dewey, who has covered a variety of sports, will take over the UNLV football beat, from game coverage to recruiting. He also will help cover other UNLV events.
— Ron Kantowski will take over our coverage of motorsports, from NASCAR races to motocross events. He will still write two columns a week, including a Sunday potpourri of items he collects throughout the week.
— As the NHL gets closer to granting Las Vegas a franchise, Steve Carp will lead us on league coverage and creation of the expansion team. He will still keep his hand on the pulse of the boxing world.
These moves will allow us to focus on some of our core beats that readers have told us they care about. They also will allow us to write deeper stories that explain the games and the people involved.
We will still devote significant resources to high school sports, including our prep sports website NevadaPreps.com. There you will find stories, stats and a deep database on every high school team in the Southern Nevada.
We also will be rearranging our lineup of daily notebooks in our print section next month. We still will offer Doug Nielsen's Outdoors column and Richard Eng's outlook on horse racing. We will add a weekly notebook on local golf as well as notebook on area participatory sports, like running, cycling and mountain climbing. And Kantowski will contribute a weekly notebook on the area's auto racing news.
All of these additions will do a better job of helping us connect to the local readers and the activities they enjoy beyond the events on TV.
However, there are some features we will be eliminating at the beginning of the year:
— The entries, picks and results for horse racing tracks in Southern California will no longer be carried on Scoreboard.
— The weekly TV Timeout on Fridays will be replaced with a list of five best bets to watch each weekend.
— Channel numbers for Cox cable will no longer run with the TV listings in Sports. We feel this causes too much confusion for area customers of Century Link cable, AT&T U-Verse, DirecTV and Dish Network.
We understand change will be hard. It is for everyone. However, all of these moves will make for a better Sports report in print, on the web and on your phone or tablet.
Is there something you think we should do to improve? Let me know by emailing me at bbradley@reviewjournal.com or calling me at 702-387-2909.